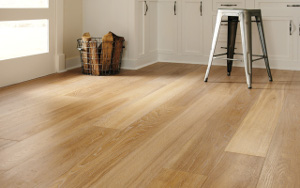 Horizon Floors has partnered with Wanke Cascade to introduce Montage European Oak, 7-1/2in Wide Age Crafted Natural Oil European Oak Collection, in the Pacific Northwest markets. Wanke Cascade will be distributing Montage European Oak throughout its entire footprint and seeking placement with key Dealers.
Last week was the official launch with a successful sales blitz joined by Horizon Floors sales team and Wanka Cascade Reps to introduce the line to their Dealers. "We are very excited to partner with a strong Distributor like Wanke Cascade to offer the most recent trends, quality and value to market. Montage European Oak launch was very well received by many Dealers taking on the program and even featuring our products on showroom floors. This market is very important market for us and we will continue to bring the latest styles to Horizon Forest's customers," said Alex Shaoulpour, Horizon Floors.
"The Montage Oak collection is creating immediate demand. Not only is a the wood a delight to look at, the program is simple and priced right. Oil finishes are getting a lot of buzz, and we believe this trend is here to stay as more consumers understand that these products are easy to handle and maintain.  Horizon has nailed the colors and styling and we're excited to have a quality, natural oil finish collection that will fit into many more budgets," said  Mark Buckwold, president of Wanke Cascade.
Montage European Oak is a vintage hardwood flooring captures the essence and beauty of European Renaissance Era with its antiquing and aged reclaimed style European Oak Flooring. These natural distressed textures give everlasting beauty and unique character while maintaining and enhancing the natural grain patterns of European Oak characterized with artistic design. Horizon's age crafted flooring merges the rustic style of Old World European manors with a modern inspiration for a timeless floor for today's busy life. Our floors rejuvenated Old Century décor and maintain the true representation of European Oak's grain texture that highlights its natural distressing and rustic knots.  Horizon Old World craftsmanship and New technology combined to create an inspiring and original masterpiece.