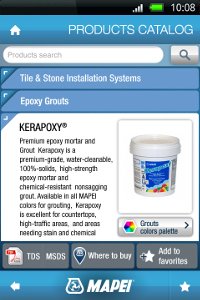 MAPEI has produced a free app for tablets and smart phones that is now available in the app stores for both Apple and Android applications. "This app will make it easier for flooring contractors and installers to access information about MAPEI products on the jobsite and in other mobile locations," said Steven Day, operational marketing manager for MAPEI Americas. "It can also be used by distributors in the warehouse when answering questions for customers. Plus, architects and designers can use the app when they want to quickly look up a MAPEI product for specification."
With the MAPEI app, users can swiftly acquire product information they can explore and email to themselves or a colleague, including:
Product listings by product line
Technical Data Sheets (TDSs)
Safety Data Sheets (SDSs)
Ancillary data (guides, brochures, bulletins, etc.)
With the locator tool on the main page of the app, contractors can easily locate distributor and retailer locations carrying the products that interest them. The MAPEI grout color palettes are also a feature of this new app, giving tile installation contractors the opportunity to discuss grout colors with their customers by just tapping the screen.
Corporate information is important, too; this data is also available on the MAPEI app. If a contractor needs a question answered, technical and customer support are available via direct email from the app.
"What we offer customers with our MAPEI app is a quick, easy, convenient way to stay in touch with the most up-to-date information on all available products," Day said. "The information on the app is connected to our core database; whenever an update is made, it immediately appears on the MAPEI app."