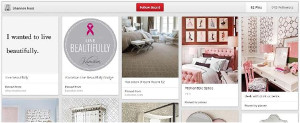 Shannon's winning "Live Beautifully" Pinterest board.
In support of Susan G. Komen, Mohawk commemorated National Breast Cancer Awareness Month with two consumer-based social media contests.
The contests were designed to engage consumers by sharing courageous stories of breast cancer survivors as well as creating room scenes inspired by living a beautiful life. The tremendous response and outpour of support were both inspiring and heartwarming. The winners, which were announced earlier this week, were selected via social media voting. 
The "Survivor Spotlight" Facebook Contest asked Mohawk Facebook fans to nominate a hero in their life who was a survivor or who was fighting breast cancer. After narrowing the nominees down to three finalists, who were awarded 6x9 SmartStrand bound carpets, Facebook fans were then asked to vote for one winner. That winner was Lydia, a nurse and mom from Hooks, Texas, who was diagnosed with breast cancer at the age of 35. Her fight continues today, but her undeniable spirit and smile serve as a constant reminder to live life to the fullest and think of others first. As the winner of the Dream Room Makeover, Lydia receives a 9x12 SmartStrand area rug, $500 cash and a 2-hour professional design phone consultation.
Karastan, a division of Mohawk, invited consumers to create "Live Beautifully" boards on Pinterest. Participants were required to include the Karastan Breast Cancer badge, five Karastan room scenes and 15 of their own "Live Beautifully" elements. These masterfully created boards were then eligible to win a Karastan bound carpet, plus a $250 donation to a Breast Cancer charity of the winner's choice. The contest received many submissions and, after much-anticipation, Pinterest user Shannon was announced the winner as a result of her creativity and complete vision of the contest theme.
"Promoting breast cancer awareness is at the forefront of both of these fun, meaningful contests," says Mollie Surratt, senior director of PR and content for Mohawk. "Our social media followers engage with us year-round and we knew they would help us spread the word about Breast Cancer Awareness through these contests. We were overwhelmed by their response and inspired by the stories and Pinterest boards submitted in honor of these courageous women."
Throughout the year, Mohawk continues to promote Breast Cancer Awareness and support Susan G. Komen through its Specify for the Cure and Decorate for the Cureprograms.  For more information on these programs, visit MohawkFlooring.com/Komen.