Registration Open for The International Surface Event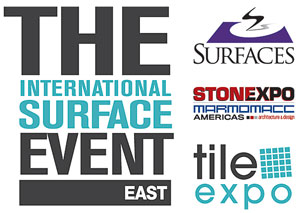 Las Vegas—Attendee registration for The International Surface Event 2014 is officially open. Surfaces, StonExpo/Marmomacc Americas and TileExpo make up the mega event and will be held Jan. 27 to 30 at the Mandalay Bay Convention Center here.
Attendees are encouraged to register early, especially for those people interested in any of the market's multitude of educational offerings as some classes have size limitations while others are bound to fill up quickly.
 Registration will be easier than ever on the newly redesigned websites, which launched in September. Advance registration will not only save attendees money, but also time by not having to wait in on-site registration lines. 
Dana Teague, vice president of Hanley Wood Exhibitions, owner of the event, commented, "The International Surface Event 2014 will be a turning point for the industry as we introduce TileExpo. Attendees will see a wide array of products, services and trends, as well as have endless networking and educational opportunities. This will create an environment that will manifest business knowledge, skills and growth." 
There are a variety of registration packages available:
•Exhibits Only package includes Tuesday, Wednesday and Thursday access to exhibit halls, all on-floor education/demonstrations, and some select classroom sessions.
•Exhibits with Education package includes the same benefits as the Exhibits Only package and full education program admission Monday, Jan. 27 through Thursday, Jan. 30.
Pricing for each package will increase for on-site registration.There are also various other educational opportunities available as an add-on to either package for additional fees.
(Editor's note: To learn about all the various activities taking place at The International Surface Event 2014, see Floor Trends'exclusive interview with Teague starting on page 21.)
Online registration is available by visiting surfaces.com, stonexpo.com or tileexpo.com.
Mannington Laminate Now 100% USA Made
Salem, N.J.—Mannington Mills announced it was moving production of its Diamond Bay laminate flooring collection to its facility in High Point, N.C. from its current production location in China. As a result of this onshoring, 100% of Mannington's laminate products will be domestically manufactured.
Mannington has consistently invested in state-of-the-art technology that allows it to manufacture the most realistic laminate visuals in the industry, noted Dan Natkin, director of hardwood and laminate. "Until now, we just didn't have the capability to achieve the visuals and high clarity finish that is the hallmark of Diamond Bay. But thanks to Mannington's expertise in styling and manufacturing innovation, we were able to work through those challenges,"
As a result, he noted, Mannington is "very pleased and proud to say that our entire laminate line is Made in the USA."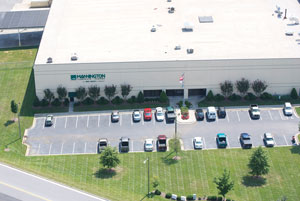 Mannington is now making its Diamond Bay laminate flooring at its facility in High Point, N.C., meaning all the company's laminate products are domestically manufactured.
In addition to Diamond Bay, Mannington manufactures it award-winning Restoration Collection of vintage, handcrafted looks as well as a wide variety of plank and tile designs in Revolutions Plank, Revolutions Tile and Coordinations collections in High Point.
Mannington has long been a proponent of bringing manufacturing jobs back to the U.S., even going so far to start a campaign during the height of the recession called, Let's Make Some Noise, which contrasted the company's bustling U.S. factories with those of empty lots from companies who packed up and moved their operations to other countries in favor of cheap labor.
For more information, contact Mannington at (800) 356-6787 or visit mannington.com/residential/laminate.
Armstrong Investing $41 million for LVT Plant

Lancaster, Pa.—Armstrong World Industries has selected its world headquarters here for a $41 million investment to allow it to manufacture luxury vinyl tile (LVT).
This marks the company's second investment in its Lancaster operation since 2008, when it added fiberglass-backed sheet vinyl manufacturing to its production portfolio. Frank Ready, Armstrong Flooring's recently retired CEO, said this latest investment demonstrates the company's confidence the plant will continue to be competitive on cost and quality. "By bringing this manufacturing to the U.S., we leverage our manufacturing expertise and create a strong cost, quality and service position for a very exciting product category."
The LVT market is experiencing double-digit growth in North America, largely because of product performance, appearance and ease-of-installation. By on-shoring LVT manufacturing from China, Ready said Armstrong expects to realize a more competitive cost structure with shorter lead times and improved customer service.
Construction is scheduled to start the first quarter of 2014, with projected completion in early 2015. The company expects to add 57 employees to the plant, starting in early 2015.
Commenting on Armstrong's announcement. Pennsylvania governor Tom Corbett, said, "The addition of 57 new jobs at this site in Lancaster County continues the progress toward our goal of making Pennsylvania a national model for job creation and innovation."
For about Armstrong, call (717) 397-0611 or visit armstrong.com.
EPA Restricts Use of Harmful Chemicals in Carpet Imports
Washington—Nearly five years after the U.S. carpet industry proclaimed it had voluntarily ceased the use of C-8 chemistry in stain-blocking and -resistance formulas because they produced unintended traces of Perfluoroactanoic Acid (PFOA), the U.S. Environmental Protection Agency (EPA) is finalizing a rule that will allow it to restrict imported carpets containing the potentially harmful perfluorinated chemicals.
Known as a Significant New Use Rule under the Toxic Substances Control Act, it requires anyone who intends to manufacture (including import) or process any long-chain perfluoroalkyl carboxylic (LCPFAC) chemicals for use in carpets or carpet products submit a notification to EPA at least 90 days before beginning the activity. This will give the agency an opportunity to review and, if necessary, place limits on manufacturers or processors who intend to reintroduce or import products with these chemicals.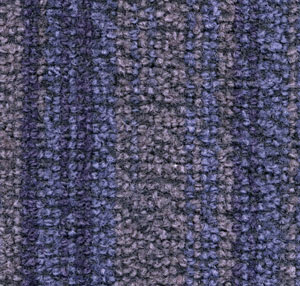 Though the EPA has issued a ruling against the use of certain chemicals, specifically in the making of carpet, domestic manufacturers had voluntarily stopped using these chemicals more than five years ago.
Jim Jones, EPA's assistant administrator for the Office of Chemical Safety and Pollution Prevention, said, "While this category of chemicals has largely been voluntarily phased out by the U.S. chemical industry and not in use in this country, they could still be imported in carpets."
He noted the rule ensures EPA "has the opportunity to take action to restrict or limit the intended use, if warranted, for any new domestic uses or imports. This action will also provide a level playing field for those companies who stepped up to cease the use of these chemicals in this country, while at the same time protecting the American public from exposure to these chemicals in imported carpet products."
Werner Braun, president of the Carpet & Rug Institute (CRI), which conducted the survey of U.S. mills in 2008 that found domestic suppliers had already voluntarily phased out the used of these chemicals, applauded EPA's action, saying it will help "level the paying field. Switching out these chemicals was not a cost-saver for our member mills, but they did it without government intervention because they knew it was the right thing to do once they learned of the chemicals being used created an unintended reaction byproduct present at trace levels in some carpets."
While he wondered why it took the EPA so long to force importers to play by the same rules as domestic carpet makers, Braun said the new rule "provides a mechanism for the safety of U.S. citizens" because now all products are "complying with the same guidelines."
An EPA spokeswoman told Floor Trends, the agency "learned in 2012 the domestic carpet industry [was]
no longer using LCPFAC chemical substances in carpets or to treat carpets." And the Significant New Use Rule is "part of EPA's Stewardship Program to phase out the use of perfluorinated chemicals by 2015."
She added, "Although LCPFAC chemical substances are not currently imported as part of carpets, this use could potentially be reinitiated, resulting in continued exposure to humans and the environment…[This rule] ensures the EPA will receive notice from any company intending to reintroduce LCPFAC chemical substances for this use, domestically or through imports."
For more information on the EPA rule, visit epa.gov/oppt/existingchemicals/pubs/actionplans/pfcs.html#final.
Shaw Named Top 50 Company to Sell For

Dalton—Shaw Industries was ranked No. 15 and the only flooring manufacturer on the Selling Powermagazine's "50 Best Companies to Sell For" list.
Each year, the magazine's research team assembles a list of the 50 best companies to sell for, based upon the following criteria: Company revenue and growth; sales compensation packages; sales culture; onboarding and sales enablement strategies; training and coaching process; annual turnover percentage, and company recognition and reputation.
This recognition by Selling Powervalidates Shaw's approach to developing a sales culture that supports continued learning and opportunities for growth," said Chris Clement, the mill's director of corporate sales training and development.
He added the company's sales culture is supported by multi-dimensional training and development opportunities available through Shaw Learning Academy (SLA). "SLA supports Shaw sales associates at every stage of their career— from a 14-week sales trainee program to ongoing training provided via blended learning."
In a recent blog post, "My Thoughts on the 50 Best Companies to Sell For," Selling Power'sfounder and publisher Gerhardt Gschwandtner identified the Top 3 characteristics of superlatives and sales-friendly companies: They offer industry-leading solutions; they communicate well, and they empower their salespeople.
Clement said embedded in the SLA training is the Shaw approach to customers as true partners. "The Shaw sales team focuses on helping customers achieve their objectives and to grow their business."
For more information on the ranking, visit sellingpower.com For more about Shaw,
call (888) 742-9932 or visit shawfloors.com.
Armstrong Takes Gold in Hanley Wood's First Brand Builder Awards
By Matthew Spieler, Editor
Chicago—To help recognize the most innovative and effective marketing campaigns throughout the residential and commercial design and construction industry, Hanley Wood, owner of The International Surface Event featuring Surfaces, created the Brand Builder Awards contest. In the competition's first year Hanley Wood doled out 40 awards in 20 categories, and one of them went to Armstrong, which also happened to be the only flooring company recognized for its marketing excellence.
Frank Anton, vice chairman of Hanley Wood, said the Brand Builder Awards is designed to honor the organizations that have demonstrated superiority in their ability to develop, create, implement and execute marketing strategies and tactics that define excellence, and that "Armstrong is well deserving of the recognition it received," adding, "The quality of the entries was exceptional."
Armstrong won the Gold Award for "Best Local Marketing Co-Op Campaign," which was designed around helping the Home for Our Troops (HFOT) program by donating proceeds from its American Scrape engineered and solid hardwood flooring collection as well as the fact the company is contributing approximately 100,000 square feet of both the engineered hardwood and its Alterna engineered stone tile—both of which meet the criteria for the severely injured vets' homes.
Mara Villanueva-Heras, Armstrong's vice president, said the company wanted "to support a cause that aligned with our core values, our employees, and our customers; it's an extension of our brand and a natural partnership. Honoring those who have served our country and given so much is simply the right thing to do. But in addition, we see that our customers are increasingly more concerned about the behaviors, values and actions of the companies from whom they purchase."
Hanley Wood honored Armstrong, along with the other winners, during a special awards dinner at the company's Foundations conference at the Spertus Center here.
or call (717) 397-0611, and to learn about HFOT, visit hfotusa.org/get-involved.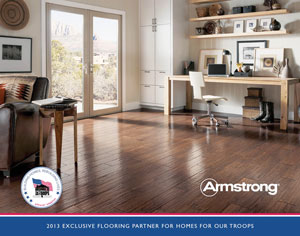 Armstrong's Brand Builder Award came from its campaign to help the Home for Our Troops (HFOT) program by donating proceeds from sales of the wood floor as well as contributing approximately 100,000 square feet of both the engineered hardwood and its Alterna engineered stone tile to help house severely injured U.S. veterans in homes that can meet their unique needs.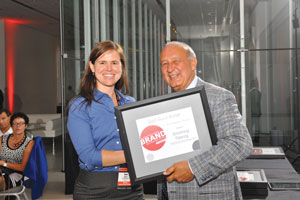 Frank Anton, vice chairman of Hanley Wood, presented the company's Brand Builder Award to Dawn McElfresh, builder channel marketing manager for Armstrong Flooring Products. Armstrong was the only flooring company to receive one of the 40 honors handed out by Hanley Wood. 
Flooring Investments Earn Mills Recognition
By Matthew Spieler, Editor
Macon, Ga.—It's no secret the flooring industry was one of the hardest hit by the recession, and it's no secret things are starting to come back as manufacturers across all categories have announced various expansion projects this year with investments totaling upwards of $1 billion
Each year in the state of Georgia, the Georgia Economic Developers Association (GEDA) honors industry professionals, public policy leaders, volunteers and committees as well as presenting the prestigious economic development "Deal of the Year" awards in four geographic categories.
GEDA is a non-profit association of professionals and volunteers who work to promote the economic development of communities throughout Georgia.
At this year's event, both Engineered Floors and Mohawk Industries were honored with Deal of the Year awards. Engineered Floors received the regional award for the company's $450 million plans to expand in northwest Georgia, creating 2,000 new jobs in the process. Meanwhile Mohawk's Summerville, Ga., facility expansion, which helped create 500 jobs, was named Deal of the Year for communities with a population under 50,000.
In both cases, Georgia governor, Nathan Deal was on hand to present the awards and further encourage economic development projects across the state.
In accepting the award for Engineered Floors, Bob Shaw, chairman and CEO, said, "Our company's commitment to the region is reflected in our plans for this expansion that will more than double our workforce. We are excited to bring this opportunity to northwest Georgia as we, as a company, grow."
During an exclusive interview, James Lesslie, executive to the chairman at Engineered Floors, toldFloor Trendsthe company was the only one to win a regional award because its investment spans both Whitfield and Murray counties thanks to the joint development authority they formed to help bring projects such as the one Engineered Floors is doing.
"We're really doing two things at once," he explained. "We're filling the original plant with equipment, as we went through two phases of expansion on it this year. And, we're erecting a new facility. And, while this will be similar to the one we have, in which everything will be under one roof, it will be twice at big. Plus at over 2 million square feet on 200 acres of land it will be the second largest manufacturing facility in Georgia."
Lesslie noted he is glad to see other flooring companies making investments as well. "There's been a great deal of investing in infrastructure; it's good to see we're all coming back." He added the Deal awards are a big deal because the state "truly recognizes that floor covering took a severe blow and officials are encouraged by how we are coming back."
Mark Dye, vice president of recycling at Mohawk, said the award represents "the value of our project to multiple constituencies: It's a win for our company, of course, but it's also a win for our community; and it's a win for our customers and consumers because of the exciting new products we'll be able to create. It's also a win for the environment because this entire expansion is a continuation of our commitment to sustainable manufacturing."
He noted the company's Summerville facility, recycles billions of reclaimed plastic bottles and containers into polyester fiber used to produce carpet. "Through the expansion project, Mohawk will improve the efficiencies of its recycling and manufacturing processes to produce soft polyester fiber with improved durability and greater stain resistance…[and] our next generation soft products, the Soft Appeal polyester collection expands the company's presence in that high growth category."
To learn more about GEDA, call (404) 962-4110, or visit geda.org. For more about Engineered Floors, call (706) 625-4334, or visit engineeredfloorsllc.com. For more about Mohawk, call (706) 629-7721 or visit mohawkind.com.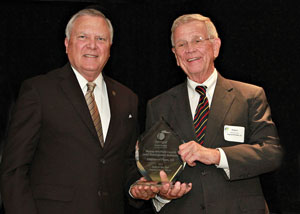 Bob Shaw, right, chairman and CEO of Engineered Floors, accepts the Deal of the Year Award from Georgia governor Nathan Deal during a special ceremony by the Georgia Economic Developers Association.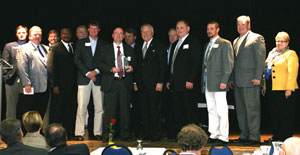 Mark Dye, vice president of recycling at Mohawk, holds the Deal of the Year Award that was presented to him by Nathan Deal, Georgia's govenor. With them are many of the other public partners in the company's Summerville, Ga., facility expansion. 
Invista Introduces Stainmaster PetProtect Carpet and Cushion System
By Matthew Spieler, Editor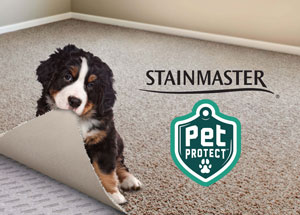 The new Stainmaster PetProtect carpet and cushion system, is designed to not only easily release pet hair when vacuumed but be an easy-to-clean carpet that resists most difficult pet stains, such as vomit, feces and urine.
Kennesaw, Ga.—It's no secret, Americans love their pets. So much so there are actually more houses in the U.S. with pets than with kids. In fact, the American Pet Products Association estimates Americans will spend more than $55.5 billion this year on their furry companions, a 4% increase over 2012. And projections show the trend to keep growing for the foreseeable future as that figure has risen every year since 1994 when it stood at $17 billion.
Considering how much people love their animals, Invista has launched Stainmaster PetProtect carpet and cushion system, which is designed to be an easy-to-clean Stainmaster carpet that resists most difficult pet stains—vomit, feces and urine—and easily releases pet hair when vacuumed.
Melissa Minihan, vice president of marketing for the Stainmaster brand, noted, while "pet owners love their pets, our consumer research shows they want tidier pet-friendly living spaces. Stainmaster PetProtect carpet allows pets to be pets, so that homeowners can maintain pride in their homes."
Stainmaster PetProtect is made with the built-in stain protection of Invista's SuperiaSD solution-dyed nylon 6,6 fiber, making it resistant to fading, even when exposed to intense sunlight and powerful cleaning agents.
Gary Johnston, Invista's marketing communications manager, said SuperiaSD is actually the company's SolarMax fiber being reintroduced under the new moniker following a series of tests that showed the yarn to be advantageous to those who own pets. "We will be phasing out the SolarMax name but will give dealers the option to keep it if they want; we just won't really be including it in our marketing."
To accommodate for the new brand, Invista was shipping retrofit kits to allow retailers to update their SolarMax units to the new Stainmaster PetProtect brand featuring SuperiaSD fiber.
Three companies, Dixie Home, Beaulieu Canada and Phenix, have already committed to introduce styles under the PetProtect brand and Johnston said, "As we move into Surfaces, we will focus aggressively on promoting PetProtect as other manufacturers come on board."
This includes a consumer campaign, including national advertising, as well as contests and other marketing programs to drum up excitement and notoriety around the PetProtect brand.
Minihan said the conversion from SolarMax to SuperiaSD and the PetProtect brand was "consumer led. We're constantly doing consumer research to find what they want from their carpets and they told us they need something for their pets. So we went to our research and development people to see what we had that could help solve this need."
The result, Johnston added, was the SolarMax fiber, which showed an "exceptional ability to release pet hair during vacuuming," and the Stainmaster carpet cushion with a unique moisture barrier, which plays an integral part of the PetProtect system.
When it comes to the vacuuming part, Minihan pointed out, "This means more pet hair in your vacuum and reduced pet hair on your clothes, something almost every pet owner will appreciate."
As for the padding, Johnston said the proprietary moisture barrier found on Stainmaster carpet cushion helps keep moisture and spills from soaking into the cushion and subfloor, allowing for more thorough cleaning and odor reduction.
So, when purchased together, he noted, the consumer gets the "best value. The system is really maximized by using the cushion which keeps pet stuff from leaking to the subfloor. In addition, because the color is locked in to the SuperiaSD fiber, you're not going to bleach it out, meaning consumers can use more powerful cleaning agents to clean up messes. Basically, the Stainmaster PetProtect system featuring SuperiaSD and our Stainmaster carpet cushion gives consumers the best of everything and, most of all, peace of mind."
To show how confident Invista is in the PetProtect system, Johnston said the company is not only keeping what it had in place, "which was already very aggressive," it enhanced the guarantee to include pet vomit and feces.
In addition to sending dealers retrofit kits for their displays, Invista is working with some of its mill partners, such as Dixie and Phenix, to create a special unit for only PetProtect products. This will allow retailers to cluster these types of products as opposed to having them scattered throughout their stores in different displays.
"We continue to challenge ourselves to look for opportunities to differentiate the Stainmaster brand in the marketplace, help our retail and mill partners show the value of Stainmaster products and appeal to the needs of consumers," Minihan said.
"Our consumer research indicates pet owners specifically want stain resistant and easy-to-clean carpet, easy removal of pet accidents and pet odors when cleaning their carpet and quick and easy pet hair removal," she concluded. "They now have that with the new Stainmaster PetProtect carpet and cushion system."
To learn more about Stainmaster PetProtect, contact your local Invista rep, call (800) 438-7668 or visit invista.com.
Shamrock Adds Pre-Finishing to U.S. Facility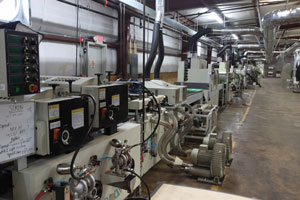 Hernado, Miss.—Shamrock Plank Flooring announced it is adding a pre-finishing plant here that will be unique to the U.S.
"I wanted to bring jobs back to American workers and to our local community" said Jack Shannon Jr., Shamrock's president. "By overseeing the process from standing timber to finished flooring, we have quality control throughout every step. The techniques and processes we have in place are second to none."
Shamrock is partnering with Valspar to offer a 10-coat finishing system utilizing scratch-resistant aluminum oxide. Distressed flooring, featured in the mill's Rancho Madera collection, German Gasthaus series and Irish Pub series, will showcase a "cutting edge dual-tone color process of water base and UV solid stains that brings out the true beauty in each flooring plank and enhances the depth and texture of the distressing technique," he explained.
Shannon added, the addition of the pre-finishing plant allows "us to offer designer colors and textures, and even the ability to create custom colors, that designers, architects and contractors want and the marketplace needs. The new techniques we are using are unique, and I'm proud to have this located here in the U.S."
For more about Shamrock, call (866) 473-3765 or visit shamrockplankflooring.com.
FCICA Updates Concrete Moisture Testing White Paper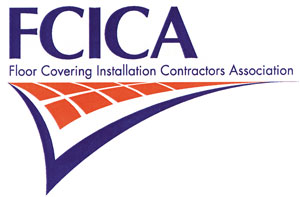 Kansas City, Mo.—Realizing that changes have occurred in the construction and flooring industry, The Flooring Contractors Association (FCICA) has updated its "Concrete Moisture Testing" white paper, which was originally released in October 2001.
Kim Oderkirk, FCICA's executive vice president, said the document was originally written from a flooring inspector's standpoint, and that "enough has changed over the last 12 years that we at FCICA believed a new treatment was warranted."
She added, the information contained in the updated white paper "better reflects the best flooring installation practices of 2013. We have worked directly with our contractor members and associates to present to the industry what we believe is the most responsible position with regard to the testing and evaluation of concrete floor slabs as it pertains to floor covering installation."
Interested parties can download the Concrete Moisture Testing white paper at fcica.com/
technical-resource-library/white-papers.
For more about FCICA or the white paper, call (248) 661-5015 or visit fcica.com.
WFCA and CFI Collaborate on Installation Workshops
Anaheim, Calif.—In an effort to promote professional installation, the World Floor Covering Association (WFCA) announced it is underwriting the launch of the first nationwide flooring installation-training showcase and that it will be overseen and taught by the International Certified Floorcovering Installers Association (CFI). This collaboration was born out of WFCA's long-standing relationship with CFI dating back to 1998. 
As part of the coordinated effort, WFCA is sponsoring six regional training programs offering complete installation coursework on every category of flooring. The CFI team of over 80 instructors, comprised of some of the most knowledgeable trainers in the industry, will provide the instruction. 
"Just like many other industries, our reputation rests on the final product," explained Scott Humphrey, WFCA's CEO. "Second-to-none products and exceptional customer service are essential but if the flooring is not installed correctly and does not perform as expected, no amount of initial legwork is going to fix the problem."
Students will participate in hands-on training in the areas of carpet (in accordance with the upcoming ANSI S600 Carpet Installation Standard), carpet installation inspection (including application, demos and problem solving) and other floor covering materials. Training in the program will also include material presented by Tom Jennings, WFCA's vice president of member services, who will instruct students on client service and customer relations.
At the conclusion of the training, installers who successfully complete the coursework will receive entry-level CFI certification in the surfaces for which they register, as well as a CFI identification badge, a completion certificate, and a listing on CFI's website.  
He added the first program sponsors, filling four of the six planned training sessions, are WFCA affiliates: Chicago Flooringcovering Association, the Seattle Floor Covering Association along with Mason Contracting, Maryland Northern Virginia Floor Covering Association and the Delmarva CFI Chapter, and Wichita hosted by Star Lumber. The remainder of cities will be made available soon. (Editor's note: Exact dates are pending with sessions expected to take place starting in the first quarter of 2014.)
In order to qualify for this training and CFI certification, installers must have completed at least two years of active installation work. Standard program fees for the course is $495, however, as an incentive for WFCA members, the fee is $295. In addition, members may be eligible for greater discounts through the WFCA Scholarship Fund.
Class space will be limited in order to ensure each student receives maximum attention, so interested individuals and companies are encouraged to sign up soon.
For more information, visit cfiinstallers.org or call (816) 231-4646. To learn more about the WFCA Scholarship Fund, call (800) 624-6880 or go to wfca-pro.org.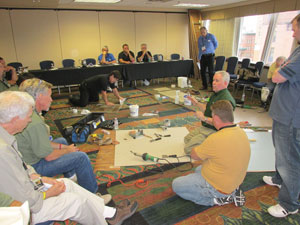 Installation training sessions such as this will be taught throughout the country next year via a partnership by the WFCA and CFI.
First Installers Pass ACT Certification
Atlanta—Eight industry professionals were announced as the first group of people to have passed the Advanced Certifications for Tile Installers (ACT). The test was administered during Coverings held here earlier this year and with the eight passing students being announced this fall.
ACT addresses four technically-challenging installation areas of current importance: Large Format Tile Installation and Substrate Preparation; Mudwork; Shower Pans, and Membranes. A specific certification demonstrates the installer's skill and knowledge in each of these four segments.
The eight professional installers not only passed all four certifications, they did so under the watchful eye of thousands of attendees at Coverings, the leading tile and stone show in the U.S. Because the program was in the developmental phase when the show was held, the installers recently completed the online written test that comprises 25% of the certification score, which accounts for the delay in announcing who received certification.
The eight professionals were: Brent Monroe of Artcraft Granite Marble & Tile Co. in Glendale, Ariz.; Tyler Nequist of Welch Marble & Tile in Kent City, Mich.; Keith Tavshanjian of KT Marble & Tile in Oceanside, Calif.; Dan Welch of Welch Marble & Tile; Gavin Collier of Trostrud Mosaic & Tile Co. in Palos Heights, Ill.; Bill Dumas, trainer for Bricklayers and Allied Craftworkers in Livermore, Calif.; Eric Manzaroli of Artisan Tile in Sterling Heights, Mich., and Terrance Trame of Trendell Consulting in Clayton, Mich. 
Partners in the ACT program are five of the largest organizations representing tile contractors, installers and manufacturers: Ceramic Tile Education Foundation (CTEF); Tile Contractors Association of America (TCAA), representing IUBAC signatory tile contractors; International Union of Bricklayers and Allied Craftworkers (IUBAC); International Masonry Institute (IMI), and National Tile Contractors Association (NTCA). In addition, Tile Council of North America (TCNA) manufacturer member companies contributed to development of the modules and tests.
For more about ACT, call CTEF at (864) 222-2131 or visit tilecertifications.com.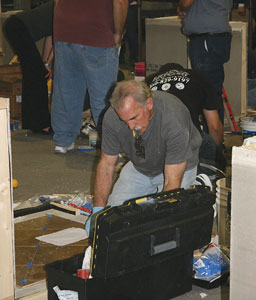 Keith Tavishanjian of KT Marble & Tile in Oceanside, Calif., was one of the first eight installers to be ACT certified.