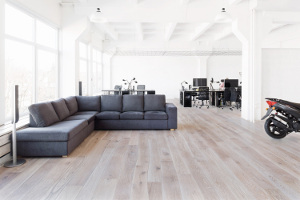 Bolefloor has introduced Curv8, modular natural curved-length flooring for the DIY channel.
Bolefloor's new Nature's Fit technology has preserved the eight forms most true to the way they grew in nature. These eight patterns are derived from Bolefloor's scan data from more than 100,000 trees.
"For every Curv8 floor, natural edged raw boards are selected to fit one of these eight forms," says Hannes Tarn, the head of development of Bolefloor and Curv8. "Curv8 curves are never cut from straight boards in a wasteful manner."
Each Curv8 module matches perfectly with every other Curv8 module, making an endless pattern possible without noticeable repetition. Modules, eight planks covering a total of 2.8 square meters, are packaged in separate cartons for easy installation, accompanied by installation instructions. 
Thanks to Curv8's Nature's Fit design delivery via warehouse stock is fast, no precise measuring is needed. Curv8 floors are ideal for residential apartments, offices, as well as other commercial premises. 
Curv8 is currently available in 12mm engineered parquet made of 3.2mm natural German oak on top of 9mm high quality Finnish plywood. Finishing options include unfinished, and natural, light, grey, brown oil wax.