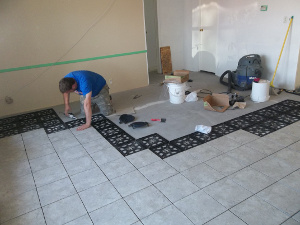 Designed to provide both contractors and the DIY market with a fast and easy way to install tile floors, Bullet Tools will launch the EZ Tile System at the International Surfaces Event in Las Vegas, Jan. 29-30, at booth B2526. The system will also be unveiled at the National Association of Home Builders (NAHB) International Builders' show in Las Vegas Feb. 4-6, at booth S2202 in the South Hall.
The new EZ Tile System cuts installation time in half and eliminates the need for demolition, backer board, mortar, lengthy drying time and various mixing tools. Featuring durable polymer blend EZ Tile Trays that adjust to fit any 12" by 12" tile, the simple three-step process also includes EZ Adhesive, a fast-setting waterproof adhesive; and EZ Grout, a specially developed grout that seals and secures tiles while also providing a tough, flexible bond that is waterproof, stain resistant, impervious to household cleaners and UV light, and fully-sealed to prevent mold growth. Click here for a one-minute introduction video and here for a photo of trays, adhesive and grout. 
"We're really excited about the EZ Tile System which marks our first move into the tile market and supports our mission to improve the lives and livelihoods of contractors across the globe with innovative installation solutions that save time and increase job site efficiency," explained Ben Toews, president and CEO of Bullet Tools. "In addition, the EZ Tile System answers the consumers' need for a tile floor so easy they can do it themselves with no previous tile floor experience."
The EZ Tile System features three easy steps. First, connect the durable polymer blend EZ Tile Trays while laying them over an existing hard floor surface. Second, apply a thin bead of the fast-drying, waterproof EZ Adhesive around the tray's perimeter and insert and lower the tile into the tray. Third, secure and seal the tile seams with the specially developed waterproof, stain-resistant EZ Grout. Remove any excess grout with a towel or sponge. Click here for a photo of the three easy steps.
Unique to the EZ Tile System, the connecting trays are separate from the tile, providing a "stand-alone" system that allows the builder or consumer to select from a wide variety of manufacturers' tiles, unlike other systems that require selecting the style and color that comes with their system. The EZ Tile System is more affordable and is only the second floating tile floor installation system in the marketplace that provides a viable and much easier non-traditional solution.
According to Toews, a traditional tile installation for a 300 square foot job takes about four days and requires about 1,300 pounds of backer board, mortar, grout and equipment along with messy mixing and clean up. Using the EZ Tile System, the same job requires 300 trays, two and a half cases of adhesive and ten tubes of grout that weigh in at 100 pounds and can be installed and used in just two days.
The EZ Tile system also provides easy repairs to broken or cracked tiles that are effortlessly removed and replaced. As well, an entire EZ Tile installation is easily removed if needed. While the EZ Tile System requires all three products (EZ Tile Trays, EZ Adhesive and EZ Grout) the EZ Grout can be used with any traditional tile floor installation and can also be used as a floor perimeter seal.
The EZ Tile System joins Bullet Tools' line-up of industry-changing installation solutions including the legacy Maganum nd EZ Shears for cutting flooring, siding, siding trim and roofing products without need for electricity and without producing harmful, irritating dust and debris.