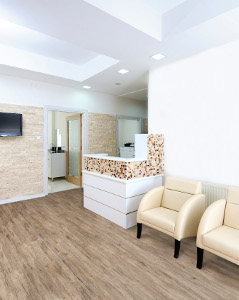 Mohawk Group's new Select Step LVT
Mohawk Group recently introduced PrimaVida and Select Step, expanding the company's breadth of luxury vinyl tile (LVT) products to the marketplace.
The addition of these new products reinforces the company's commitment to building an extensive product offering in this growing flooring category. Like all of Mohawk Group's LVT product offerings, PrimaVida and the Select Step collection combines style, durability, performance and under foot comfort.
"Our approach to designing product isn't looking at one product at a time, but rather every aspect of a space and its requirements," said Allie Finkell director of resilient marketing for Mohawk Group. "It's extremely important to our team that we bring to market flooring solutions that are beautiful, high-performing and fit the needs of our customers."
Having Mohawk Group's design studio responsible for development of broadloom, carpet tile and LVT product collection ensures unity between all of the company's product offerings. Today's projects use multiple product types, and in an effort to deliver total flooring solutions, it's important that color lines across flooring categories allow for easy transition between soft and hard surface. All of Mohawk Group's LVT products can be found in stand-alone architectural folders. In an effort to provide designers with even more product tools, PrimaVida is also sampled with Mohawk Group's broadloom collection, Silk Road, showing the connectivity between these product categories.
Prima Vida, appropriate for light commercial traffic, can be used in applications such as assisted living, dormitories, hotel rooms, residential units, light retail, meeting rooms and break rooms. In addition, PrimaVida's wide planks install without adhesive, and its Uniclic locking system is milled into all four sides for maximum stability. Select Step was developed for heavy commercial use and is the perfect flooring solution for environments such as retail stores, restaurants, hospitality, non-aseptic healthcare, medical offices and corridors. Maintenance on both PrimaVida and Select Step is simple and can be done without the use of acrylic polishes, reducing occupied costs over VCT flooring. The Select Step collection includes tile and wood aesthetics that cover a variety of species and realistic embossed textures.
For more information on PrimaVida and Select Step's Wood and Stone, visit www.mohawkgroup.com.