Shaw Exiting Rug Business in Favor of LVT
By Matthew Spieler, Editor
Dalton—Citing an unfavorable structure and economics in the area rug business, while at the same time noting the tremendous growth of luxury vinyl tile (LVT), Shaw Industries announced it is exiting the former in favor of the latter. In doing so, Shaw announced it will invest over $100 million to convert its Ringgold, Ga., rug facility into a state- of-the-art LVT manufacturing facility.
So, while Shaw exits the manufacturing of one category it is entering the manufacturing of another. Currently the company markets and sells LVT products by sourcing through other suppliers.
Shaw entered the area rug business with its purchase of West Point Pepperell's carpet and rug business in 1987. As area rugs grew in both use and popularity, the company formed the Shaw Rugs division. By the late 1990s it was considered one of the larger machine-made producers in the country.
The mill would eventually change the division's name to its current one of Shaw Living, which has showrooms in Atlanta, Las Vegas, New York, High Point, N.C., and Bentonville, Ark.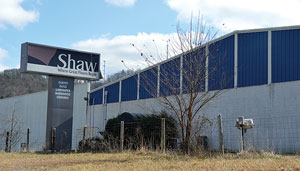 Shaw will invest $100 million in its rug manufacturing facility in Ringgold, Ga., to convert it into an LVT plant with a projected startup in 2015.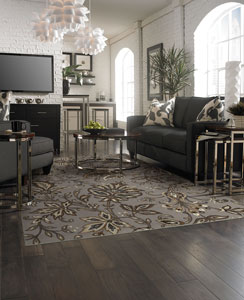 Randy Merritt, Shaw's president, said the company has available rug inventory to service customers through a transition period, which may vary by customer.
Besides the plant being converted to an LVT plant, the rug division operated two facilities in Calhoun, Ga., Plant DW and Plant 7Y. Randy Merritt, Shaw's president, told Floor Trends, a portion of the DW facility will continue to operate as a carpet tile cutting facility for the immediate future, while 7Y, which is a leased facility, will be returned to the landlord once all manufacturing ceases.
A fourth facility, known as Plant 37 and located in Ringgold, is for rug distribution, and Merritt said it will continue to operate for the next several months and then future plans will be finalized for the facility. "The office operations for corporate sourcing will be unaffected."
Vance Bell, Shaw's chairman and CEO said, "The economics of the rug business today simply do not allow for future growth or encourage further investment. We have been intentional about exiting this business at a time when more opportunities exist for our associates."
While all 400 positions at Shaw Living will be eliminated throughout the first half of the year all 400 employees in the division will have opportunities at other locations in the company.
In fact, this move should actually bring forth a net gain in employment, noted Susan Rich, director of corporate communications. "In 2013, we hired 3,000 associates, 700 of those being newly created positions. Through the first half of 2014, we will have over 600 job openings in Northwest Georgia. The majority of associates who are interested in staying with the company will have opportunities at other Shaw locations. And, 200 new positions will be added in 2015 to support the LVT manufacturing facility."
Bell noted in repurposing the current rug facility to a new LVT manufacturing site, Shaw will not only be able to shorten the timeframe to begin manufacturing the product it will keep jobs in the Ringgold area."
He added LVT is the fastest growing category in the flooring market today. And while Shaw has been participating in this market for three years, up until this point has not manufactured the product. "Over the past few years, we have developed a significant business and market-leading position in the LVT category. This new facility will provide domestic manufacturing for a portion of our product line, allowing us to further enhance our product development, service, and overall customer satisfaction."
Merritt called the manufacturing of LVT by the company "the next logical step," noting, "as rug manufacturing begins to phase out over the next few months, the conversion will begin."
Due to how rapidly LVT is growing, and how large Shaw's business in this area has become, he said, even though the company will soon be manufacturing its own products it will also continue to source products to meet all its customers' needs.
In fact, supporting the needs of it customers is "extremely important" Merritt noted, including those who bought from Shaw Living, which is why "we have available inventory to service our customers through a transition period, which may vary by customer over the next few months."
Shaw will also continue to accept nylon 6 rugs for recycling purposes via its Evergreen operation.
"We will continue to invest in businesses where we see future growth and opportunities," Bell concluded, noting how the $100 million announced for the LVT conversion follows $250 million in other recent expansion announcements by Shaw in carpet tile, hardwood flooring, yarn extrusion, and distribution.
For more information, contact your local Shaw rep, call (888) 742-9932 or visit shawfloors.com.
Davis and Campbell Elected to WFCA Hall of Fame
Anaheim, Calif.—In announcing D. Christopher Davis and Keith Campbell as the 43rd and 44th inductees to the World Floor Covering Association's (WFCA) Hall of Fame, both men were not only noted as being well known and respected for their individual expertise and industry contributions, but what sets them apart from others—their big hearts.
Described as an exemplary mentor, sounding board and valuable resource, the industry not only lost a powerful voice, but a helping hand when Davis passed away suddenly in 2012. Campbell, who is chairman of Mannington Mills, the company founded by his great grandfather in 1915, continues to maintain the values of hard work, honest dealing, faith, family and community, in helping the company become a model for many others.
In 1994, Davis became CEO of the then Western Floor Covering Association. Soon after his appointment, he spearheaded the merger of the organization with the American Floorcovering Association (AFA). Through this merger, the WFCA was born in January 1995 and Davis became its president and CEO.
One of Davis' most notable and lasting contributions to the industry is the exponential growth of the industry's largest trade show Surfaces, which was once owned by the WFCA. During his tenure, Davis's acute sense of business was able to make Surfaces one of the 50 largest trade shows in the world, with attendance at one point topping 40,000.
In 2000, Davis strategically negotiated the sale of the show to its current owner Hanley Wood for $40 million plus an annual sponsorship fee of $125,000 for a minimum of 25 years. This sale placed WFCA in its most financially solid position in its history. As a result, the association will not only remain in a cash positive position for many years to come, it allowed the organization to move from being one that spent nearly all its time managing a tremendously large trade show to one that could focus on helping its members and industry succeed on a daily basis through a variety of educational and marketing efforts.
Thanks to the sale of Surfaces, Davis focused his attention on increasing professionalism and profitability in the industry. This led to the implementation and success of initiatives such as the trade scholarship program as well as a consumer awareness education campaign. This trade scholarship program alone helped the WFCA grow membership by over 40%.
And, 10 years after its inception, the consumer awareness campaign, which was designed to educate end users about flooring and its impact on residential interior designs, is still up and running.
While these are just two examples of successful programs Davis implemented during his 18 years at the helm of WFCA, many of the initiatives launched under his leadership have been recognized with national awards for excellence.
In terms of his heart, few have one that is equal to what his was. Davis genuinely cared and wanted to help people at every level succeed. He would not only take the time to listen and offer thoughtful, sound advice, those who knew him knew they could count on him to always go the extra mile.
As an example of how big his heart was, Davis often said one of his greatest honors was to serve as chairman of the Floor Covering Industry Foundation (FCIF), a charitable organization dedicated to assisting members in the floor covering industry who experience catastrophic illnesses, severe disabilities or life altering hardships. Under his guidance, FCIF was able to generate more donations than it ever did and, as a result, help more people in the industry who need its assistance in a compassionate, confidential manner.
Family History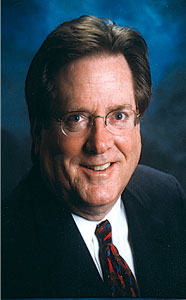 D. Christopher Davis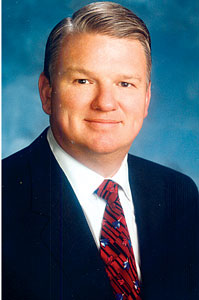 Keith Campbell
Campbell, who has spent his entire career at the family company, joins his father Johnny as the first father-son team to be inducted into the industry's Hall of Fame. The late Mr. Campbell was inducted in to the Hall in 1997.
Before joining Mannington's board of directors in 1983 and eventually being named chairman 12 years later, the younger Campbell had to earn his stripes and did so by working from the ground up in a wide variety of capacities.
 With Mannington's corporate mission "to be the best people to do business with in the flooring industry" ever present, the company has accomplished a tremendous amount under Campbell's leadership.
Today, Mannington employs more than 2,400 people across the globe and in nine manufacturing plants across North America. With Campbell's direction, the company has experienced its greatest era of corporate growth and successfully acquired Burke Industries in 2008 and Amtico International in 2012, making the company the largest LVT manufacturer.
Besides running Mannington, Campbell's industry involvement includes serving as an associate director of the WFCA and serving on the association's finance committee since 1996. He also serves on the board of the FCIF, and is a past chairman of the organization, of which he is passionate about—similar to Davis' feelings about it.
Campbell applies Mannington's corporate values, "Care. Do the Right Thing. Work Hard/Play Hard. And Control Your Own Destiny," to all aspects of his life. In addition to his professional involvement, Campbell is actively involved in community activities. For over 23 years, he has served as trustee of the John B. Campbell Family Fitness Center of Salem County, N.J., where Mannington is headquartered. The non-profit facility provides an array of community services to local residents. He is also on the board of South Jersey Industries, an organization dedicated to climate change solutions and conserving energy. Campbell also serves on the boards of many charities, including United Way and Ranch Hope for Boys.
Scott Humphrey, WFCA's CEO, said the date of the formal induction ceremony for Davis and Campbell will be announced in the near future.
For more information about the WFCA or the Hall of Fame, call (800) 624-6880, email wfca@wfca.org, or visit wfca-pro.org.
Beaulieu Reduces Waste at 22 Facilities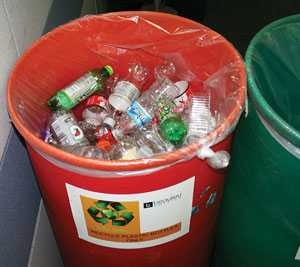 In just six months, Beaulieu and its employees have reduced waste by 30% across all 22 of the company's facilitates.
Dalton- In an ongoing effort to reach a "landfill free" status by the end of 2015, Beaulieu America announced it has reduced waste by 30% across all 22 of its facilitates in just six months.
"This is Beaulieu's commitment to being a good environmental neighbor by diverting waste through repurpose, reuse and recycle practices," said Beth Randolph, director of risk management who is heading up the program. "Floor sweeps and other process waste are either reused in production or transferred to someone else who recycles it."
Randolph and her team regularly promote the effort company-wide and have seen some plants reduce waste by as much as 69%, she noted.
Beaulieu's waste reduction program is a "home grown" effort from within the company and is not without a bit of creativity, according to Randolph. "The distinctive system of receptacles we use at each facility are actually the reuse of containers from retired spinning mills that we had by the thousands."
For more about Beaulieu and its landfill free initiative, call (800) 227-7211 or visit blissflooring.com.
16th Domotex asia/ChinaFloor to be a Massive Event
Shanghai, China—With less than two months to go before the 16th edition of Domotex asia/ChinaFloor (DACF) opens its doors, officials are anticipating a packed show based on numerous factors—from total amount of exhibition space to pre-registration numbers, both of which are up over last year. This year's event takes place March 25 to 27 at the Shanghai New International Exhibition Centre.
David Zhong, president of DACF's managing company VNU Exhibitions Asia, said like last year exhibit space needed to be increased. For this year's show space was upped to just over 1.5 million square feet "to accommodate new exhibitors, more visitors and additional programs and services. The show's dedication to innovation and network building for our constituents has contributed to increasing the importance of this event in the industry."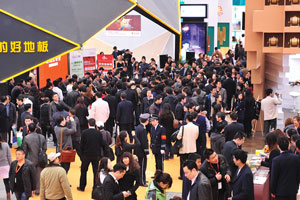 With both exhibitor and pre-registrations numbers up, officials expect a large turnout for the 16th edition of Domotex asia/ChinaFloor.
Some of the new or expanded specialty venues include the World of Handmade Carpets and an enhanced appointment setting feature in the InnovActionprogram.
Zhong noted in the past, handmade and machine-made carpets and rugs from international exhibitors were shown in the same halls. This year, international handmade carpet producers will appear separately in hall W5 where "rugs, education, demonstrations of techniques and historical and cultural influences will merge to create an educational buying experience."
He added, machine-made carpets and rugs will remain in hall W1, the traditional international hall for this product category.
The World of Handmade Carpets hall will not only include pavilions from the leading producing countries, Zhong said it will feature daily live performances that will demonstrate techniques, materials, cultural influences and distinguished product characteristics, providing both entertainment and education value for visitors and increased opportunity for exhibiting manufacturers. And, manufacturers were being invited to submit one example of their work for display which will be judged by visitors whose vote will decide the most beautiful handmade rug at the show.
InnovActionis returning after a successful debut last year in which nearly 4,000 visitors voted in the online campaign where 200 new and innovative products could be previewed.
"The InnovAction program," Zhong said, "is designed to highlight the show's newest products, and is also meant to increase interaction between visitors and exhibitors by providing a convenient, online method to set appointments with manufacturers. In its first year, the program resulted in 644 pre-show contacts."
This year's show also promises to connect visitors with exhibitors and their products prior to and during the show online and with a new mobile app.
The app functions include free online pre-registration, a showcase area for the new products presented by the InnovActionprogram with information on related exhibitors, a detailed floor plan and an agenda to help organize the onsite visit in a productive way. It also includes the event program with locations and times, a QR code scanning function to join onsite interactive activities, and much more.
Visit domotexasiachinafloor.com for more information about the show or to register.
'Prosumers' Placing Greater Emphasis on Sustainability
New York—New research shows consumers are placing greater emphasis on how green and sustainable companies are when making product selections.
International marketing company, Havas Worldwide, which conducted the survey labeled these proactive consumers as "prosumers."
"One of the overriding results of the survey is most consumers now want brands to not only do good...but contribute to the effort," says Jennifer Meek, marketing director for Charlotte Products/Enviro-Solutions, which manufacturers green-certified cleaning products. "This builds trust and, increasingly, trust can lead to sales."
The research company said the study's findings come at a time when consumers have more choices than ever when selecting products and services.
Among some of the study's conclusions are the following:
• The concept of "buying local" has changed. A brand's location is less important than having a positive relationship with the communities it markets to, according to 87% of prosumers.
• 80% of prosumers and 65% of mainstream consumers believe businesses bear as much responsibility as governments for driving positive social change. It's no longer acceptable to operate solely in service to one's profits.
• 86% of prosumers and 72% of consumers expect full disclosure on a whole host of subjects, from environmental impact to the treatment of workers. "Authenticity is the way to the consumer's heart," said the report.
For more information about the report, contact Havas at (212) 886-2000, or visit havasworldwide.com.
Flooring America Receives Pet Hero Award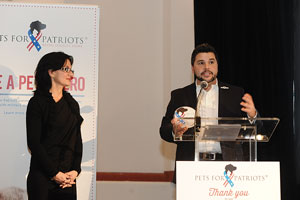 Frank Chiera, Flooring America's vice president of marketing, accepted the first ever Pet Hero award given by the non-profit Pets for Patriots.
Manchester, N.H.—Flooring America was awarded for its support of Pets for Patriots with the organization's first "Pet Hero" award.
The honor was given to the buying group for its support of the non-profit's mission to transform the lives of veterans by helping them save at-risk shelter dogs or cats. Thanks to the support of its members and customers Flooring America, at press time, has raised nearly $75,000 for the organization. The company's goal is to raise more than $250,000 for Pets for Patriots.
Frank Chiera, Flooring America's vice president of marketing, said, "It's a great honor to be the first organization to receive the "Pet Hero" award. I am incredibly proud of our hundreds of members who have dedicated their time and resources to raise money for this worthy cause. Pets have an amazing ability to bring joy to our lives and Pets for Patriots connects at-risk pets with veterans and military personnel and gives them both a second chance at life by allowing them to forge powerful bonds."
For more information, about Flooring America, call (800) 435-6677, or visit flooringamerica.com. To learn more about Pets for Patriots, call (877) 473-8223 or visit petsforpatriots.org.
A&M Supply Acquires Atlantic Plywood Distribution Center
Richmond, Va.—A&M Supply Corp. has acquired Atlantic Plywood's distribution center here. Employee owned since 1951, A&M is a distributor of flooring, hardwood, plywood lumber, laminate and cabinet hardware.
With the acquisition, A&M now operates 12 branches, serving customers from Maryland to Florida.
"I am extremely excited about the opportunities to increase our service area in Virginia and to expand the manufacturing capabilities of the Richmond location into the Southeastern region of the company," said Raymond Prozzillo, A&M's president and CEO.
He added, "Atlantic Plywood is a tremendous company and the quality of its personnel, combined with its strong emphasis on quality products, will continue to provide customers in the Northeast with exceptional customer service well into the future."
Prozzillo noted Atlantic Plywood will continue to service its core customer base from New Jersey to Maine.
For more about A&M, call (800) 877-8551 or visit a-msupply.com.
Mohawk Named Most Sustainable Flooring Manufacturer
Calhoun, Ga.—For the third consecutive year, Mohawk Industries was honored as the most sustainable flooring manufacturer in the 2013 Southeastern Corporate Sustainability Rankings, the only annual assessment of such practices among the region's publically traded companies.
In addition, Mohawk also increased its overall regional rank by two places to just outside the Top 10, even as the geographic reach of the rankings was expanded to include both Mississippi and Kentucky for alignment with the Environmental Protection Agency's regions. Among Georgia-based companies, Mohawk retained its 3rd place rank, just behind international giants UPS and Coca-Cola.
"This ranking reflects the exceptional work and dedication to sustainable practices of every individual at the company," said Bill Kilbride, chief sustainability officer for Mohawk.
Mohawk employs a three-factor strategic approach to sustainability, he explained, focusing on the company's processes, products and people and the company also continues to pursue a 25% intensity reduction in energy consumption, greenhouse gases, water use and landfill waste by the year 2020.
For more about Mohawk, call (706) 629-7721 or visit mohawkind.com.