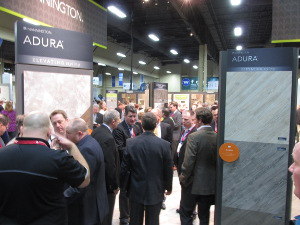 A renewed sense of energy and excitement was visible at The International Surface Event (TISE) 2014, held Jan. 27-30 at Mandalay Bay Convention Center in Las Vegas.
Hanley Wood Exhibitions announced that attendance at Surfaces| StonExpo/Marmomacc Americas | TileExpo, experienced a 7% increase over the 2013 show, a strong indicator of the industry's growth and bright future in a period of continued economic recovery.
This year's show attracted exhibitors and attendees from 90 countries with significant representation from global markets such as Italy, Germany, Spain, China, Canada, and Mexico. A total of 706 exhibiting companies showcased their products and services on two floors of the convention center covering just under 350,000 total square feet. Twenty percent of exhibiting companies were new participants to the show, further demonstrating the growth of the floorcovering, stone and tile industries in both residential and commercial design and construction markets. Exhibitors presented a wide range of new products, demonstrated tools and equipment, and introduced innovative technologies that are leading the way in revolutionizing today's industry.
"The International Surface Event 2014 was one of the strongest in recent history. You could feel the excitement throughout the halls, during all three days of the show," said Dana Teague, vice president, Hanley Wood Exhibitions.
"Over 80 percent of exhibitors have already committed for the January 2015 event which will be co-dated with the International Builders' Show (IBS), the Kitchen and Bath Industry Show (KBIS) and the Las Vegas Market. "We are excited to partner with these shows to promote Design & Construction Week, which will allow attendees from all four events the opportunity to conveniently attend all," Teague said. "The future of the floorcovering, stone and tile industries looks bright."
Highlights included a "Designer Day" luncheon featuring international design trends presented by Mark Woodman, president, Color Marketing Group; an off-site tour of The Club at Madeira Canyon sponsored by Pulte Homes and Del Webb; "Design & Color Trends" with Victoria Redshaw, lead trend forecaster, Scarlet Opus Limited and "Architect Day" hosted by Marmomacc Stone Academy featuring an off-site tour to the Las Vegas Rock Quarry.
"The response from exhibitors at this year's show was very positive," commented Amie Gilmore, associate show director for TISE. "Our exhibitors understand the importance of participating in the show and how it can impact the future of their business."
"The International Surface Event 2014 was fantastic. The organization of the show and attendance was the best we have seen in years. In addition, many qualified attendees were eager and ready to purchase. We actually hit a record with show leads in both the GranQuartz and Pearl Abrasive booths. We look forward to accelerating this momentum in Miami at the TISE East show this October," said Ted Skaff, director, marketing and communications, GranQuartz and Pearl Abrasive Co.
"Once again, Surfaces I StonExpo/Marmomacc Americas I Tile Expo has proven to be a prime venue for Bedrosians for promoting our extensive line of tile and stone products to the dealers that count. We look forward to next year!" said Ara J. Movsesian, exhibits manager/marketing, Bedrosians.
"For Mannington, Surfaces was a huge success. It gave us the opportunity to introduce our 2014 new products and programs to thousands of dealers from all over North America. It's the premier industry show of the year, and one that we will continue to support," commented Ed Duncan, Sr. vice president, residential marketing, Mannington Mills.
"From education and networking opportunities, to product and equipment display, StonExpo/Marmomacc Americas continues to be the number one trade show in our industry," said Stephanie Kadlec, marketing manager, Park Industries.
Hanley Wood Exhibitions recently announced the launch of TISE East, which will be held Oct. 20-22 at the Miami Beach Convention Center in Miami Beach, Fla. "There has been tremendous enthusiasm industry-wide about the addition of a fall show. Attendance by the architect and design communities is expected to be significant based on the large number of show inquiries from this audience segment," reported Gilmore.
Save the Dates
The International Surface Event (TISE) 2015 will be held Jan. 20-23, 2015 at the Mandalay Bay Convention Center, Las Vegas.
The International Surface Event East (TISE East) will be held Oct. 19-22, 2014 at the Miami Beach Convention Center, Miami Beach, Fla.
For more information, visit www.surfaces.com