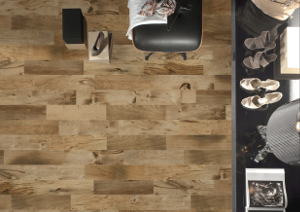 Bayside is one of the core products Del Conca is now making in the U.S. at its new plant in Loudon, Tenn
Del Conca USA, the North American subsidiary of Del Conca has begun production at its new factory in Loudon, Tenn. after an initial investment of more than $50 million, $30 million of which have been invested in world-class Italian tile technology.
"Construction of the buildings, and the installation of the production machinery (all strictly Made in Italy) were completed at the beginning of February, just 10 months after the start," said Paolo Mularoni, president of Del Conca USA. "From there, we went on with extensive testing of the machinery and training of the new employees who, after learning "Del Conca theories" (safety, product technology ...) traveled to Italy for highly professional, hands-on training in the other plants of the group. It is essential that our Made in USA production has the same high levels of quality and style as offered in our products Made in Italy."
Today officially starts the production of the first tiles by Del Cona USA, with quality testing on raw materials, process and finished goods.
"To begin, we are working with one shift, but as soon as possible, we plan to be working 24 hours a day," stated  Mularoni. "Initially, we forecast a production of 30 million sq ft per year. Having a domestic product allows us to increase our market penetration, the ability to be more cost-competitive and to be able to respond in a quicker and more flexible way to the needs of the many US customers we are fortunate to already have. In Loudon, Tenn., we will also stock a selection of our Italian-made tile materials to improve our customer service on those products, too."
Del Conca USA launched its new products last month during Surfaces 2014 in Las Vegas, but plans for its grand presentation of these products to be held at Coverings 2014, the largest North American trade exposition for the tile industry, which takes place at the end of April in Las Vegas.
The global revenue of the Del Conca Group is $165 million, out of which one-third already comes from the U.S., where sales increased by 12% in 2013 compared to the previous year.
"One of the things that impressed me most, when we decided to build in the USA is the warm, 'welcome to business' attitude which we continually received. Those who invest are welcomed as bringing something positive into the region; the institutions are actively involved into facilitating investments, not giving out dollars but rather, service and infrastructure," added Mularoni. "The State of Tennessee and Loudon County and City helped our investment with fast response to all bureaucracy and building. As a tangible welcome, the road to our new factory was even named 'Del Conca Way.'"