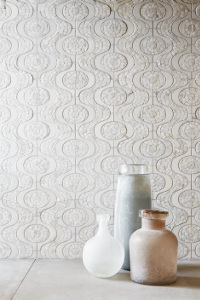 Walker Zanger captures tangent themes, geometrics and imaginative new explorations in its new Tangent collection of marble mosaics. A broad offering of inventive motifs and classic patterns ideal for residential and commercial applications.
"When we launched into the design process for Tangent, we knew we wanted to create something contemporary that drew on classic modern and mid-century influences," notes Jared Becker, Walker Zanger vice president of design and marketing. "With Tangent, we've developed an original vocabulary that has not been realized in stone before."
Pushing the limits of stone-cutting technology and water-jet-cut stone, Tangent offers 15 different mosaic patterns in rich marble of varying colors, veining and brightness, creating a unique collection that speaks a new design dialect.
"Tangent allows you to cover whole floors or walls in decorative patterns that are both a background and a focal point in a space," adds Becker. "It's a collection in which abstract geometry merges with the unmatched beauty of natural stone, creating a richness that will captivate your imagination each time you see it." 
Among the mosaic patterns which comprise the Tangent collection are the mid-century-inspired Ripple, Apex, Zephyr, Merge and Ipanema (each available with an accent border); the delicate Honeycomb, Hive and Chevron; the "depth-defying" Facet and Prism, featuring a 3-D look; the geometric Lattice; the classic Vector and Brick; and the artful Astral Night and Ellipse. The colors of the Tangent collection vary from light to dark and warm to cool, including hues such as ash gray and Calacata.
Tangent mosaics range in price from $29 to $145 per square foot with the entire collection available nationally in spring 2014.