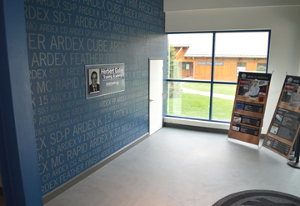 The lobby of the new Ardex Training Academy Training Center, which has been dedicated to the late Herbert "Gr" Goller, company founder. 
Ardex Global CEO, Mark Eslamlooy recently led ceremonies to dedicate the Ardex Academy Training Center at the Americas Headquarters in honor of the late Herbert "Gr" Goller.
"One of the principles of Ardex that was core to Herbert Goller was his conviction that once a customer saw and worked with Ardex materials, they would be convinced of their value," Eslamlooy said, explaining that there is special purpose to naming the Academy after Gr. "He was completely dedicated to making sure that craftsmen were competent and confident to install Ardex products, and his focus was to make sure that an Ardex installation was done right the first time, every time."
Dozens of Ardex employees who worked with "Gr" during the early growth in North America attended private ceremonies to honor their "founder, mentor and friend" who sparked a revolution in their careers and personal lives as much as the construction industry.  
Goller began his journey with Ardex in Germany, the company's global headquarters, as its export manager in 1973. He relocated his young family to the U.S. to create a fledgling business in 1978. Gr introduced self-leveling underlayments to the United States with Ardex K 15 Premium Self-Leveling Underlayment, soon followed by Ardex Feather Finish. Both Ardex K 15 and Feather Finish remain the most specified and trusted products in the industry more than 35 years later.
"Gr, as many of us called him, was highly respected for the significant impact he made on the U.S. construction market," said Jesse David, president of Ardex Americas U.S. and Canada Division. "He had a profound and lasting impact on our business in the Americas. Many of the guiding principles and core values established by Gr still exist today and are part of the fabric of our organization." 
"It is most appropriate that the Academy is dedicated to Gr," said, W. Michael Crouch, president, Ardex Americas, Latin America, America's Innovation and R&D. "His passion was to demonstrate the product to the customer. At the Academy, attendees work directly with Ardex high-performance products. His will be a lasting legacy based on the significant impact he had on so many lives and families at Ardex and the industry."
More than 100 employees at the Aliquippa Campus attended an open house in the Ardex Academy product demonstration area. Following brief remarks by Eslamlooy, members of the Ardex family, from a few months to more than 30 years of service, shared "Gr stories." Those stories presented a man with a strong business sense and customer focus as well as a compassionate man whose actions spoke louder than words ever would.
Eslamlooy, on behalf of the shareholders, described the significance of the day quite simply. "The success of Ardex Americas and the Ardex Group would not have been possible without Herbert Goller." The quality of Academy training, and the people who deliver it, are a direct result of the principles Gr infused in Ardex Americas from the beginning.