INSTALL Doubles Down on Warranty
Las Vegas—At last year's NeoCon, the International Standards & Training Alliance (INSTALL) announced a Warranty on Labor program that guaranteed the installations done by INSTALL Certified Contractors to the customer. At the time, John McGrath, INSTALL's director, told Floor Trends, "We guarantee the job will be done right and customers will have the peace of mind knowing the installations are guaranteed."
Because of how well the program is going, INSTALL announced it is doubling the warranty—in length and in dollars—making it valid for two years and $10,000.
"Since we launched the program," McGrath said, "it has taken off. More installers are getting certified, more contractors are getting certified, and customers are noticing and considering the warranty benefit when awarding jobs."
He noted by doubling the warranty coverage, "it is a clear message INSTALL Certified Contractors provide quality work, security and peace of mind for flooring installations across the USA and Canada."
Leonard Zmijewski, CEO of Mr. David's Flooring International, and an INSTALL Certified Contractor, said the warranty is "a key addition not just for our company's bid proposals, but for the industry as a whole, because it forces the standards of installation to be increased. It also gives customers the knowledge our work has been vetted and our crews are safe, reliable and professional."
For more information, call (215) 582-4108 or visit installfloors.org/warranty.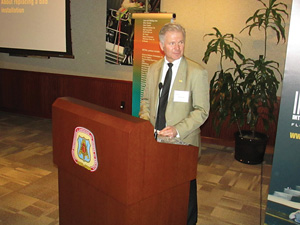 John McGrath, director of INSTALL, announced the organi- zation is doubling its Warranty on Labor program.
Fabrica Celebrates 40th Anniversary
Santa Ana, Calif.—Fabrica International is celebrating its 40th anniversary this year. As the company recognizes this milestone, co-founder Al Frink recently reminisced on its humble beginnings.
Frink and two partners decided to open a small carpet mill in Southern California in 1974. With experience and ideas, but little money, they obtained a U.S. Government Small Business Administration (SBA) loan for $50,000 to start the business.
While completing the SBA paperwork, they realized they had no name for the business. The only thing they knew was that their building would be located at 1700 Fabrica Way. "Fabrica in Spanish means factory, fabric is a derivative of textile, fabricate means to make, carpet's a fabric, it's there." recalled Frink.
Fabrica focused on design, creating unique yarns and colors, adopting new shearing processes, choosing high quality backings. "Carpet is something you design with, not just a product to protect your floor until you can afford wood. It's designed to be something of beauty and fashion and treated with respect," he explained.
"We were very lean, nimble, and we built a beautiful product and had unique employees," Frink added. "Customers would ask for employees by name, and even when the company was up to $60 million in sales, employees still served customers as a boutique company would."
In 2000, Fabrica was acquired by The Dixie Group. "One of the reasons we sold was because we were concerned about the availability of raw materials and Dixie was just about fully vertical," he explained.
During Fabrica's first 40 years, the company has prospered through innovation, and in 2004 was inducted into the SBA Hall of Fame.
In 2010, Dixie merged its Carousel division with Fabrica as an upward extension of the brand, and appointed Frink to guide the operation. Carousel was a manufacturer of high-quality custom wool floor coverings and fit in with Fabrica's reputation of quality and fashion. "Carousel has great potential, and I'm very honored and happy to be leading it," said Frink.
Frink points to innovation as an important reason for Fabrica's staying power. "What has allowed Fabrica to grow is that it has continued to innovate, growing its core competencies and the best is yet to come."
For more information, call (949) 261-7181 or visit fabrica.com.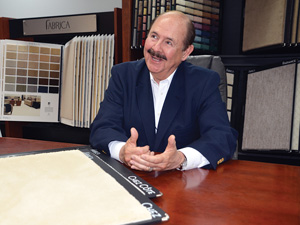 Al Frink
Florida Tile Opens Dallas Showroom, Warehouse
Dallas—Florida Tile's newest designer showroom and warehouse, here, features an extensive design center with the company's latest products and styles.
"The Dallas showroom and warehouse is the newest in Florida Tile showroom concepts in a large-scale installation, with specialized lighting plus merchandising and sample support," said Sean Cilona, the company's marketing director.
The company celebrated the new 15,000-square-foot facility with nearly 200 guests at a VIP reception. Attendees included Florida Tile CEO, Michael Franceschelli, and Luca Setti, senior executive vice president branch sales and organization. Also in attendance were various business and government officials from both the city and state.
"[This] marks the first opening of a new location since the purchase of Florida Tile by Panariagroup in 2006," noted Cilona. "Though we have had many successful remodels in that time, there is no greater sign of progress than expansion."
For more information,
call (800) 352-8453 or visit floridatile.com.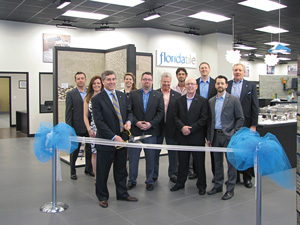 Michael Franceschelli, CEO of Florida Tile, cuts the ceremonial ribbon officially opening Florida Tile's newest showroom and warehouse in Dallas. With Franceschelli is the Florida Tile team responsible for the new facility.
CTEF Certifies 1,000th Installer
Portland, Ore.— The Ceramic Tile Education Foundation (CTEF) has met its goal to certify 1,000 tile installers by 2014.
Developed in 2008 in response to a lack of a credible mechanism to help consumers gauge the level of proficiency of prospective tile installers, the Certified Tile Installer (CTI) Evaluation Program has provided a means for top-quality, highly knowledgeable installers to verify their skills and subsequently promote themselves to potential clients and employers, noted Scott Carothers, CTEF's executive director.
CTEF certification enables professional installers to provide industry-recognized proof of their abilities, which ultimately helps them get more work, he explained.
Carothers noted CTI is a comprehensive testing of the skills and knowledge of experienced tile installers which includes both a multiple-choice exam and hands-on test based upon current industry standards and best practices for producing sound installations that exhibit good workmanship.
Installers, who successfully complete the CTI testing receive nationwide recognition of their accomplishment by being listed on CTEF's website.
For more information, call (864) 222-2131, or visit tilecareer.com.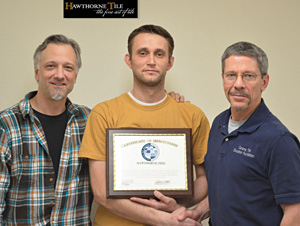 From left, Dirk Sullivan, owner of Hawthorne Tile; Vladimir Blashchishchin, CTEF's 1,000th certified tile installer, and Scott Carothers, CTEF's executive director.
MS International Opens 22nd Distribution Location
Deerfield Beach, Fla.—MS International (MSI) opened its 22nd U.S. distribution facility last month. The new 165,000 square feet facility is located here at 2900 SW 15th Street.
The family-owned company celebrated the new location with a ribbon cutting and grand opening event. Guests included Jean Robb, the city's mayor, along with commissioners and chamber members.
MSI has offices worldwide, including India, Italy, Turkey, China and Brazil.
For more information, call (954) 247-0834, or visit msistone.com.
Owning a Home Still Part of the American Dream
Las Vegas—Findings from Better Homes & Gardens'6th annual survey on the attitude and spending trends of home buyers revealed 79% of millennials believe owning a home is still a part of the American Dream, and 77% believe owning a home is a good investment.
The survey, which focused on this particular generation—which is slated to outnumber baby boomers 78 million to 56 million in the next 15 years, according to the Boston Consulting Group, asked more than 3,200 prospective home buyers to share their thoughts on home improvement spending, the importance of personalization and technology in home value. Millennials currently account for an estimated $1.3 trillion in direct annual spending.
"Millennials are swarming into the home marketplace armed with information, ideas and a passionate desire for personalization. Home builders, designers and remodelers should know this generation expects you to work with them as collaborators not just contractors," said Jill Waage, editorial director of home content for Better Homes and Gardens.
Personalization is key to the generation, with 34% of those surveyed saying they plan to change the function of a room, such as a nursery, office, craft/hobby space. Tech-savvy millennials are conveniently using social media platforms such as Pinterest and Instagram right from their smartphones to find decorating ideas and products for their homes. Nearly six in 10 respondents reported using a smartphone or tablet to access home- related information, stating they are primarily using their mobile device to find decorating ideas or shop for items for their home.
For more information, visit bhg.com.
Shaw Adds Sustainable Style to HGTV's Smart Home
Nashville, Tenn.—Shaw Floors has once again partnered with HGTV to be the exclusive flooring provider and a sponsor of the network's HGTV Smart Home Giveaway. The company provided all types of flooring to this year's home.
"The HGTV Smart Home showcases Shaw's wide variety of flooring and accent tile collections in an impeccably designed home," said Heather Yamada, Shaw's director of consumer marketing and merchandising. "Not only does one winner get to experience the warmth and comforts of home that our products help create, but the house provides inspiration for millions of homeowners who tour the home virtually via HGTV's TV broadcasts and its website."
Jack Thomasson, HGTV's professional house planner, said the English Cottage style house emphasizes energy-saving features, green living and technological developments.
The 2014 HGTV Smart Home is built to meet the Consumer Electronics Association's (CEA) TechHome Rating System (THRS), a nationally-recognized specification for residential technology infrastructure. The home also has earned a Silver Level certification from the National Green Building Standard.
For more information, call (800) 441-7429 or visit shawfloors.com.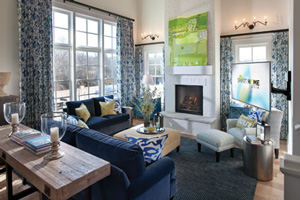 Shaw is the exclusive flooring sponsor of the HGTV Smart Home Giveaway.
Armstrong Recognizes 'Elite' Retailers
Lancaster, Pa.—Armstrong's residential division recently announced its Elite retailers for 2013, and The Floor Store of Richmond, Calif., was named its Gold Elite Retailer of the Year.
To be considered for an Elite Retailer of the Year Award, retailers must hit key performance indicators including showroom and website excellence; lead conversion rate; sales and mix performance; and overall support of the program and the initiatives.
The Floor Store is a family-owned San Francisco Bay area establishment that has been in business for 27 years. It currently has six locations and is planning to open a seventh this year. Stephen Staikos, Armstrong's general manager, national strategic accounts, said the dealer's employees are "highly trained in every kind of floor covering they offer and its installers are not independent contractors, but expert craftsmen who work exclusively for them."
The Floor Store was awarded for showroom and website excellence, its lead conversion rate, sales and mix performance and overall support of the program and initiatives.
The 2013 Silver Retailer of the Year Award was awarded to AJ Rose Carpets & Flooring of Burlington, Mass., with a second location in Natick, Mass. Opened in 1977, AJ Rose is a family-operated retailer. Staikos said while its has grown substantially over the years, "they haven't lost sight of providing comfort and trust to consumers."
Long Island Paneling Ceilings and Floors-based in Lindenhurst, N.Y., received the 2013 Bronze Retailer of the Year Award. Celebrating its 50th anniversary this year, the chain has six locations covering Long Island.
In other news, Armstrong announced personnel changes in its flooring business in which the company said are "intended to strengthen its capabilities to deliver industry leading quality, innovation and service in North America and around the world."
Effective June 1, Kevin Biedermann took on the newly created role of vice president, global sales execellence. He was most recently vice president and general manager of Armstrong's North American residential flooring business. According to the company, the purpose of the new position is to help "drive more global selling capability."
Filling Biedermann's former position is Joseph Bondi, who joined Armstrong from North American Specialty Products where he was vice president and general manager of the North American Pipe Corp. division.
Also, as part of the changes, Dominic Rice, vice president and general manager of Armstrong's North American commercial floor business, assumed manufacturing responsibility for North America commercial resilient products, while Charles Grogan becames vice president of global floor operations.
For more information, call (717) 397-0611 or visit armstrong.com.
Denmark Trade Association Adopts CRI SOA Program
Copenhagen, Denmark—Dansk Fashion and Textile of Denmark has become the first international trade organization to adopt the Carpet & Rug Institute's (CRI) Seal of Approval (SOA) testing and certification program for carpet cleaning products and equipment.
"In the Danish carpet industry, we want our customers to have access to the best possible cleaning methods and service and this can be obtained by using CRI's SOA system," explained Aage Fedderrsen, head of standardization and environment for Dansk.
Dansk is the trade association for Danish textile and clothing companies, representing 340 companies.
"Danish carpet cleaners should have their equipment and products tested at CRI and included in the SOA in order to guide potential cleaning customers to the best cleaning solutions for them," Fedderrsen said.
While Dansk is the first international trade association to endorse SOA, it is not the only international entity to participate in the program. Last fall, Angtvattbilen of Scandinavia, which manufactures carpet cleaning equipment for the Swedish market, began certifying its products under the SOA program. Other international manufacturers have their equipment and products SOA certified for sale in the U.S. market.
SOA was established in 2005, when the first U.S. products were tested and evaluated for their effectiveness by an independent facility. Products that meet or exceed the program requirements earn bronze, silver, gold or platinum approval.
"Having SOA certification is important," says Pat Jennings, CRI's director of standards and specifications. "Several major carpet manufacturers recommend the use of SOA products and service providers in their residential warranties. In the commercial world, we are seeing more cleaning customers requiring the use of SOA products and providers in their specifications, so it benefits everyone to be on the list of certified products."
For more about CRI and its SOA program, call (706) 278-3176 or visit carpet-rug.org.
NWFA Gives Back During Expo
Nashville, Tenn.—The National Wood Flooring Association (NWFA) gave back to the local community with two service projects during the association's Wood Flooring Expo, which was hosted in the city.
NWFA member volunteers donated their time and talents to Operation Finally Home, a non-profit that provides custom-built, mortgage-free homes to wounded veterans and their families, as well as the widows of fallen veterans.
NWFA volunteers installed more than 1,000 square feet of wood flooring donated by Mohawk Industries in the home of veteran Adam Montavon, who served as a flight medic for a MEDEVAC air ambulance company, evacuating and treating thousands of soldiers during tours in Honduras and Afghanistan. He has received the Meritorious Service Medal, Air Medal, Army Commendation Medal and other awards during his tours.
In addition to installing flooring, NWFA volunteers performed a variety of other tasks to transform the home, including cleaning, landscaping and maintenance.
NWFA Expo attendees also donated hundreds of books to Book'em, a non-profit that provides new and gently used books to low-income children. NWFA's book drive contributed to the more than 40,000 books Book'em distributes annually.
For more about NWFA, call (636) 519-9663 or visit nwfa.org.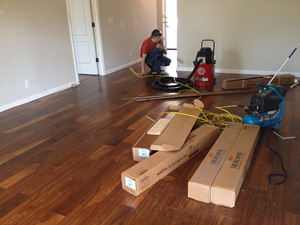 An NWFA member volunteer installs flooring donated by Mohawk for an Operation Finally Home project in Nashville, Tenn.
Starnet Closing in on Reclamation Goal
Darien Conn.—Starnet's Reclamation Program, which set a goal to recycle 50 million pounds of reclaimed carpet by 2015 is surging ahead and is looking like the co-op may actually beat the date.
The commercial buying group recently announced member companies had recycled nearly 44.7 million pounds since the program was launched in 2006.
In conjunction with Carpet America Recovery Effort (CARE), which helps companies recycle their used carpets, Starnet's Reclamation Program allows its members to assist clients with everything from removal to compliance to certification, and alleviating the hassles that can be associated with environmentally responsible disposal of commercial carpet materials.
In order to achieve these figures, Jeanne Matson, the group's president and CEO, said, "there has been a team effort between Starnet, Starnet members and CARE." She added in the eight years that Starnet has had the program the group as a whole has reclaimed 8,859,124 square yards of used carpet, with a total weight of nearly 45 million pounds.
To help people follow the program's progress Starnet has created a reclamation tracker which can be viewed on the group's website, starnetflooring.com.
For more information, visit the website or call (800) 787-6381.