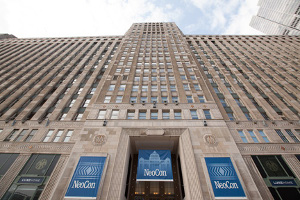 NeoCon, June 9 to 11 at the Merchandise Mart in Chicago, promises an array of special events, keynotes, exhibits and resources.
According to show officials, an array of special events, exhibits and resources await the over 40,000 architecture and design professionals that will attend this year's NeoCon June 9 to 11 at the Merchandise Mart in Chicago.
In addition to showcasing products, many exhibitors are hosting guests, hospitality or giveaways as extended offerings, while others are creating exhibits and installations. With over one million square feet to cover at the Mart, there will be spaces provided for show attendees to take five and recharge as part of NeoCon's resource component, according to show officials.
A multidisciplinary line-up of designers and and industry leaders will take part in the seminar program as Keynote.
Todd Bracher, Todd Bracher Studio 
Founder of Todd Bracher Studio, Todd Bracher is a designer and strategist who, having spent a decade working in Copenhagen, Milan, Paris and London, has collaborated with prestigious brands and was formerly the head of Tom Dixon Studio and Creative Director of Georg Jensen.
Tom Eich, IDEO
The CTO and partner of IDEO, Tom Eich has led the design and innovation firm's New York office and Consumer Experience Design practice (CXd). An engineer by training, he has served as chief build officer for IDEO's development across all locations and practices.
Scott Barry Kaufman, cognitive psychologist
Scott Barry Kaufman studies the development of intelligence, creativity and personality. Kaufman's deeply researched, personal talks address how to find and follow our individual paths to greatness.
Adrian Smith, Adrian Smith + Gordon Gill Architecture
Co-founder and design partner of AS+GG, Adrian Smith's extraordinary body of work includes landmark structures, including the Jin Mao Tower in Shanghai and the Burj Khalifa in Dubai.
All Keynote sessions are free. Visit neocon.com for more information.