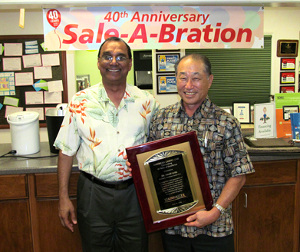 Pami Bhullar, left, Invista director of retail development presented David Arita, president of American Carpet One, with the Ambassador Award.
Invista recently honored American Carpet One, a Stainmaster Flooring Center (SFC) retailer, with the Stainmaster Ambassador Award in recognition of the retailer's 40th anniversary.
"[American Carpet's] longevity is a testament to understanding consumers' expectations of receiving superior products delivered through an easy-to-understand process by supportive and responsive retail associates," said Maggie Bidlingmaier, vice president, retail channel for Stainmaster.
According to the company, American Carpet is the first-ever SFC in Hawaii and the only SFC in Oahu. "Invista continues to bring us a broad range of products like the new Stainmaster PetProtect carpet that enhances our offerings to customers. We have Stainmaster carpet to suit every customer's need, style and budget," said David Arita, president of American Carpet.
"I have been coming to American Carpet One since 2000. Even though Mr. Arita is receiving the award, it represents a team effort of demonstrated hard work and commitment to superior customer service," said Pami Bhullar, Invista's director of retail development who presented the award. "He and his team provide value to their customers by building trust and sharing knowledge to help customers make informed decisions about the best flooring to meet their needs."
For more information, visit invista.com.