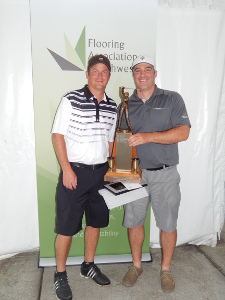 Paul Cook, left, FAN's golf chairman presented Mark Buckwold with the trophy for winning the association's stroke play tournament.
Flooring Association Northwest (FAN) recently held its 46th Annual Golf Tournament at Fairwood Golf & Country Club in Renton, Wash.
146 players attended the event and Mark Buckwold of Wanke Cascade won the stroke play tournament.
More than 30 people joined the golfers for more fun at the social events following 18 holes including a Hole-in-One Shoot Out for a chance to win a BMW Z-4 Roadster, a Horse Race Tournament for the top 20 golfers and the awards banquet. Door prizes, refreshments, give-aways and additional competitions on the course were also enjoyed by attendees.
Funds raised at the event help pay for education and communication expenses during the year, according to the association.
For more information, visit flooringassociation.org.