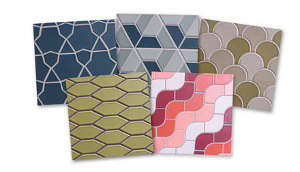 Clayhaus has expanded its collection of handcrafted ceramic tile with the addition of 10 shapes and 24 matte finish glazes.
Clayhaus Ceramics has added 10  shapes and 24 matte finish glazes to its collection of handcrafted ceramic tile offerings.
The new designs give homeowners and interior designers the opportunity to create a wide variety of bold, modern looks, according to the company.
One of the new tile designs, Triad, is the result of a new collaboration with Portland, Ore. designer Stephanie Dyer. Clayhaus previously worked with Dyer to create the company's Topo Collection of 3-D tile designs.
"We now offer more than two dozen shapes and sizes of loose or sheeted field tile in addition to our Futura and Topo collections and with our new matte finish glazes, we offer 72 different standard color options, in addition to custom color matching on request," said Megan Coleman, Clayhaus co-founder.
According to Coleman, the new shapes are inspired by mid-century modern design and its emphasis on geometric patterns. Included in the new offerings are Triangle, Diamond; 2x2 Offset, 1.25 inch Circles; 2.5 inch Hexagon; Crystal Hex; Half Hex; Plume; Flow and Triad.
Coleman noted, Clayhaus' new matte finish glaze offerings carry unique names such as kodiak, cinnabar, lichen and beeswax, providing a nice complement to the company's 48 gloss finish glazes. By mixing gloss and matte finishes, designers can create a wide range of interesting looks and textures for the surfaces they create. 
"There is nothing more rewarding than exploring the creative process and having the end result bring joy and happiness to someone else. I truly hope these new offerings will inspire some really cool designs," said Jason Coleman, Clayhaus co-founder.
For more information, visit clayhausceramics.com.