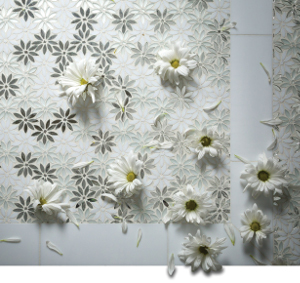 Dapper Daiy glass mosaic, new from Artistic Tile.
Artistic Tile has added Dapper Daisy, a floral glass mosaic to its Jazz Glass Collection.
According to the company, Dapper Daisy is the result of years of experimentation and play by Nancy Epstein, its founder and CEO. Dapper Daisy evokes a feminine, sophisticated design that adds versatile elegance to home and commercial projects. 
Dapper Daisy is available in three unique blends—grey/beige, blue/silver and white/silver—for both interior and exterior applications.