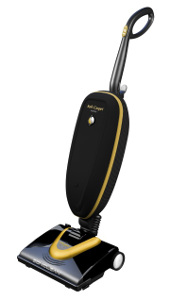 Soniclean's new Soft Carpet vacuum for ultra soft carpet.
Soniclean has launched its Soft Carpet vacuum cleaner to address the growing demand for a vacuum cleaner capable of successfully cleaning luxurious ultra soft style carpeting, according to the company.
"It is forecasted that 30% of the carpets produced by leading manufacturers will be "ultra soft style" by the end of 2014," said Mark Bosses, CEO of Soniclean. Although ultra soft style carpets are at the forefront of residential carpet technology, their lush, dense carpet piles make routine vacuuming a difficult task. Soniclean has designed a vacuum specifically capable of efficiently cleaning ultra soft style carpets in addition to normal carpeting and hard floors.
"As the ultra soft style carpet market continues to flourish, we wanted to meet the growing demand for a vacuum that simplifies the often difficult cleaning process," said Bosses. "Our new Soft Carpet vacuum technology will not only make the cleaning process easier for the consumer, it will also help protect the plush fibers found in luxurious ultra soft style carpeting."
The Soniclean Soft Carpet vacuum also features a patented sonic bar, located behind the brush roll, that produces 200 sonic vibrations per second to dislodge and remove embedded particulate from the carpet pile. The vacuum cleaner also features a jam protection system that automatically shuts the power off if there is a jam in the brush roll. The Soniclean Soft Carpet vacuum cleaner weighs 10.5 pounds, which allows it to be carried from room to room and up and down stairs with ease, according to Bosses.
The Soniclean Soft Carpet Vacuum is now available for purchase at select independent carpet and flooring dealers throughout the U.S. and Canada as well as online at mysoniclean.com.