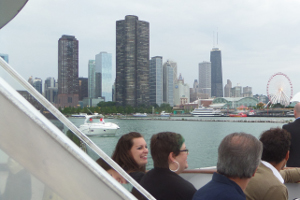 Architects and designers touring Chicago as part of  Mid-America Tile's Ragno USA product introduction.
Architects and designers in the Windy City were recently treated to a sunset cruise featuring Chicago's architectural landmarks as part of Mid-America Tile's Ragno USA product introduction. While cruising the Chicago River, more than 50 guests enjoyed refreshments, as a local American Institute of Architects (AIA) representative provided insights on the skyline views.
On board, Mid-America  displayed the Ragno USA collections it recently added to its product offering: Cambridge Oak Glazed Porcelain Tile, Villa Medici Glazed Porcelain Tile and Arte Color Body Porcelain Tile.
"The on-trend looks will continue to inspire the Chicago design community," said Gina Bartuch, director of sales and marketing at Mid-America.
The event was part of a full week in which Ragno USA and Mid-America Tile representatives visited area dealers and designers, introducing them to the new tile offering.
For more information, visit midamericatile.com.