HomerWood hosted several retailers from the Fairfield, Calif.-based Tom Duffy network.
Retailers included Jeff and Wendy Meltzer of Los Angeles-based Universal Hardwood; Jeremy Probell and Jennifer Shaw on behalf of Pioneer Floors of Santa Barbara, Calif.; Donovon Johnson of Finishing Touch; and Andy Moore with Precision Flooring.
"In promoting and selling HomerWood, our sales partners need to effectively tell our story and convey our value message. When a flooring retailer is effectively presented with all that HomerWood offers to their business, we get 100% buy-in," said Paul Walker, general manager, HomerWood.
The retailers were able to see how the mill employees work together to create the product and how well they interacted with each other. "The teamwork that we saw was great and it was refreshing," Meltzer said.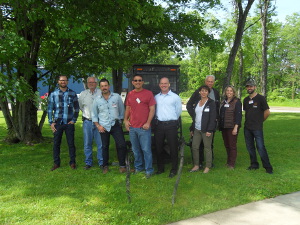 Tom Duffy Co. retailers touring HomerWood.
And while the mill tour was eye-opening for the group, it also provided them with an education that they could bring back to the show floor to help boost future sales, according to Walker.
Meltzer noted that after being on the tour, she could sell HomerWood even more confidently than she could before. "The quality control at the mill is great," she said. "I can tell them all about quality control and how so many eyes are on a piece of product before it goes out the door. HomerWood's history and product offering is unique, and communicating this 'story' to our customers  improves our own selling opportunities, but my favorite part is that HomerWood products are 'Made in America'. That's still a  huge story and it's something I am proud to tell my customers." 
For more information about HomerWood products, visit Homerwood.com.