Quick•Step now conveniently offers inexpensive flooring samples online for consumers.
"There is nothing like seeing the actual product in a space to either confirm your vision or send you back to the drawing board," said Erinn Valencich, Quick•Step's celebrity designer partner, owner of Erinn V Design Group and recent contestant on NBC's design reality show American Dream Builders. "That's why I'm thrilled Quick•Step gives consumers the option to purchase samples online."
Letting consumers see and touch a floor in their own home has always been a part of the Quick•Step sales process, according to the company. That's why Quick•Step offers samples of its laminate flooring. But the brand realized just how important it was to consumers when they first began offering "online" samples.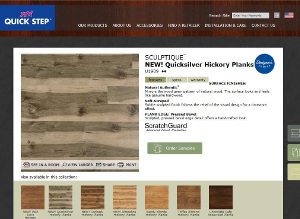 Customers can now order Quick•Step flooring samples online.
"Sample requests went through the roof when we made them available online," said Paij Thorn-Brooks, vice president of brand marketing for Unilin, Quick•Step's parent company. "Making it so incredibly easy to bring samples into a home is great for the consumer. When she finally purchases a floor, she can feel confident that she will like the color, texture, and style in her own home. It's also great for our retailer partners, because ordering samples puts a consumer into the evaluation/consideration stage of the sales process. This means when they enter a store, they are more ready to buy."
Consumers can order Quick•Step product samples through the Quick•Step website and Quick•Step's Style My Floor app.
"Bringing product samples into a home doesn't get any easier than these two options," said Thorn-Brooks. "Making it effortless and affordable to order samples is just one more way that Quick•Step is helping make shopping for flooring fun and easy. Our brand continually sets our retailers up for success by providing a superior product line that is wrapped in a comprehensive merchandising system. Every aspect of our comprehensive merchandising and selling system is designed with one purpose in mind—to help our retailers make more money by selling more Quick•Step product."
For more information, visit quickstepstyle.com.