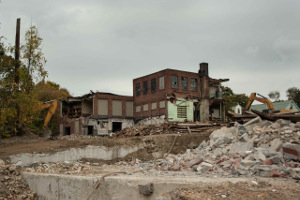 Longleaf Lumber will recycle salvaged wooden beams from the 45-47 Bacon Street manufacturing and warehouse in Watertown, Mass. into flooring, paneling and other millwork products.
Salvaged wooden beams used in the early 20th century construction of Watertown's 45-47 Bacon Street manufacturing and warehouse building in Massachusetts are being recycled into flooring, paneling, and other millwork products by reclaimed lumber company Longleaf Lumber.
Last used by the Circle Supply Co., the industrial building at 45-47 Bacon was demolished in October as the first stage of a 66-unit development project on the Howard/Bacon Street block, above the Charles River. During the demolition process, workers rescued large Heart Pine beams from the warehouse's frame. 
Originally cut from old-growth southern longleaf pine trees and shipped north for industrial building, Heart Pine wood is prized for its incredibly slow growth, density, stability, and rot/insect resistance. Today, the longleaf pine tree has been logged out of commercial existence, surviving only in preserved areas of the south. 
"This timber was reclaimed just down the road from our Cambridge, Mass., office and warehouse, so we are keeping it hyper-local with this project," said Marc Poirier, owner of Longleaf. "It's a gnarly lot, with a lot of water damage and embedded metal, but we'll still be able to saw some beautiful quartersawn boards from it." 
Longleaf, a specialty Heart Pine mill with a showroom and warehouse in Cambridge and a mill in Maine, is manufacturing the salvaged Heart Pine into six different grades of flooring and paneling for historic and new flooring projects, according to Poirier.
For more information, visit longleaflumber.com.