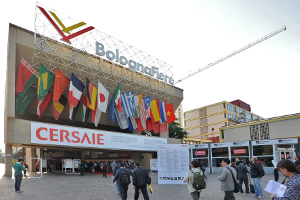 Attendance at this year's Cersaie, which was held in Bologna, Italy, topped 100,000 visitors.
Attendance at Cersaie, in Bologna, Italy, once again topped 100,000 visitors, with increases in numbers of both unique visitors and international attendees, according to show officials.
The commercial side of the event was complemented by initiatives catering for the world of architecture, interior design, installation and end consumers.
Representativeness and international appeal are the key characteristics of Cersaie, which for the first time opened its doors to exhibitors of wood, marble and natural stone. The show hosted 945 exhibitors (45 more than in 2013), including 339 non-Italian companies from 38 countries. It also attracted total attendance of 100,985 visitors, including 46,599 international visitors.
According to show officials, these figures confirm Cersaie's position as a key venue for developing global business in the ceramic floor and wall tile and bathroom furnishing sectors, while the more than 150 countries of origin of the visitors underscore the show's role as an engine for international trade.