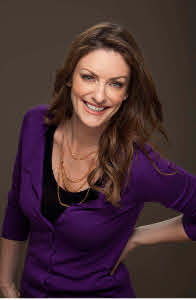 Erinn Valencich, Quick•Step's celebrity designer partner, presented a design seminar to the Wisconsin retail sales teams of Nonn's Design Showplace as part of the mill's "Long Live Style" campaign.
As part of Quick•Step's "Long Live Style" campaign, the brand's celebrity designer partner, Erinn Valencich, recently presented a special design seminar to the Wisconsin retail sales teams of Nonn's Design Showplace. Valencich shared her insights regarding the latest style and design trends in the home decorating market with the group. Valencich has been Quick•Step's designer partner since 2010 and is nationally known for her unique, contemporary-glam style. She was also among an elite group of designers selected to compete this year on NBC's new design reality show American Dream Builders, hosted by designer Nate Berkus. 
"To be successful in today's market, specialty retailers need to excel at those unique aspects of service that they alone can effectively provide customers—that most home centers do not—such as providing customer service in the areas of style and design assistance, guidance through the selection process, and product knowledge," said Paij Thorn-Brooks, vice president of brand marketing for Unilin, Quick•Step's parent company. "Quick•Step has made this type of 'value-added' design and selection assistance a hallmark of our comprehensive online and in-store merchandising system to ensure consumers purchase a product they will be happy with for years to come and to also help our retailer partners increase their revenue by selling more Quick•Step product." 
Thorn-Brooks added, "Nonn's Design Showplace is one of Quick•Step's most savvy retail partners and has a unique and effective strategy—the majority of their in-store sales reps who interface with customers are certified professional interior designers. It is this interior design knowledge that gives the Nonn's sales team a very keen appreciation for everything Quick•Step offers the consumer. Quick•Step flooring is all about style and design. We are a fashion-based product line and offer the most sophisticated, high style designs available in laminate flooring today. By recommending Quick•Step to their customers, Nonn's designers know they are offering products that bring a high level of style into a home, at a price that comfortably fits into most decorating budgets." 
Kelly Lehr, co-owner of Nonn's said, "At Nonn's, we are focused on providing customers with overall design expertise at no extra charge when they purchase flooring in one of our showrooms. The majority of our in-store sales reps are certified interior designers. This free design advice is a tremendous added-value perk and also ensures that the customer selects the right flooring for her needs, while keeping the larger design perspective in mind. Quick•Step's 'Long Live Style' seminar for our sales team fit hand-in-glove with what our store is all about offering to our customers." 
For more information, visit us.quick-step.