Color enriches and influences every aspect of our lives; from what we wear to the environments we create. Of course, floorcovering is an integral foundation for our environments, and the right colors are critical. The connection between colors we choose to live with and where we live is hardwired and always evolving—but with deep-rooted influences.
It is timely, then, that Color Marketing Group has adopted a new methodology of developing its color forecasts. CMG now holds regional ChromaZone meetings in key metropolitan areas across the country throughout the year. Designers and color professionals analyze color directions for their part of the country, and based on that collective, nationwide information, the final forecast is derived and announced at CMG's annual summit meeting.
The floorcovering industry knows how valuable this forecast is in determining its palettes for 2013 and 2014, because they were well represented in Miami in October 2012. Among the contributing color professionals present were representatives from Mohawk Flooring, J & J Industries, Mannington/Amtico, DalTile, Bigelow Commercial Carpets, Centiva, Congoleum, Shaw Industries, Johnsonite and Beaulieu.
The actual names and color formulas generated by CMG are proprietary to members only, so I have built a comparable reference palette that will give you accurate insights as to the emerging colors.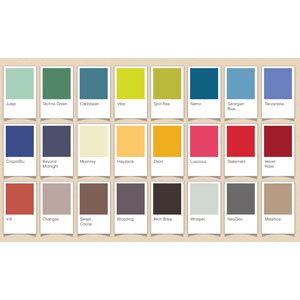 Greens and Blue-Greens
Julep
Mint Juleps on a hot summer's day reflect this cool green that has Art Deco roots.
Techno Green
A mid-toned green that works for interiors or exteriors.
Caribbean
A perfect balance of deep green touched by blue. Area rugs will capture this color.
Yellow-Greens
Vibe
Bright and optimistic, this green is a new version of lime and a bit acidic.
Split Pea
Still keeps green on the light side with this mid-toned color.
Blues
Nemo
A velvety blue with enough clarity to keep it lively.
Georgian Blue
Definitely a "past meets present" color drawn from colonial times. A favorite color-to-be, especially in the Northeast.
Tanzanista
This gem-like blue captures the essence of tanzanite. Blue kissed with purple.
CrispinBlu
A deep, thoughtful blue that is peaceful and pairs beautifully with white.
Beyond Midnight
Black has been replaced by this color. It's less stark than pure black and also more interesting.
Yellows
Moonray
A true neutral, this is a warm beige with a miniscule touch of green.
Haystack
Natural, warm and golden in tone with a slight undertone of orange.
Dijon
Yellow goes deep with this hue. The color of pure egg yolks, it's definitely one of the optimistic colors.
Reds
Luscious
Pinks and reds are important and well-represented for the next two years. They reflect health and well-being. Luscious has pink undertones and lightens red to a livable interior color.
Statement
Lipstick red and interiors can wear it with confidence. A great accent color.
Velvet Rose
Picture a freshly painted New England barn trimmed in crisp white.
V-8
Orange is not gone, but reconfigured wearing a coat of red.
Warm Neutrals
Changes
This is the color you've been waiting for, a complex mid-toned neutral that harmonizes with just about everything. Every floorcovering type will pick up on this color because it is timeless and easy to live with.
Sweet Cocoa
Just as it sounds, it's a rich, but neutral, brown.
Brooding
Another alternative to black, Brooding is deep and grounded, but with a touch of brown.
Rich Brew
Even darker than Brooding, black has some new competition.
Cool Neutrals
Whisper
Grey is stepping back from its current huge presence in interiors. But Whisper represents grey well, with a "whisper" undertone of soft green.
NeoGeo
Not black, not grey, not green, it's a blend of all three producing a chameleon color that is mineral-like.
Metallic
Metallica
We are ready for a new metal color that hasn't been overdone. Metallica is a hybrid that defies an accurate label. Picture bubbling champagne that is a no-color color. Special finishes with color flecks will give it glimmer and substance. Carpet manufacturers will enjoy playing with this color and varying luster levels. Tile and LVT manufacturers will love it as well.
Since these are emerging colors, you will see some new product introductions wearing these hues in the very near future. It's exciting to watch colors of the future come to life before your eyes.
Most of these colors won't appear until later in the new year or into 2014, but they are on the way. The forecast colors bring energy and a message of new beginnings to interiors. The new color harmonies that can be created are a break-away from what we've seen the last few years. The muted, grayed-down colors are waning and making way for crisp, clean hues.
It's all about new beginnings and colors will be our roadmap to the future.