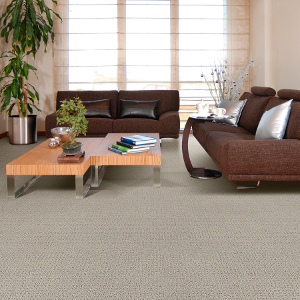 Bliss Concerto, new from Beaulieu.
Consistent with its "Family Owned, Family Focused" theme, Beaulieu America product introductions for January are heavily influenced by input from its "Dealer Family," according to the company.
Last summer, Beaulieu sent 22 corporate executives to each of its sales regions for over 100 face-to-face 'family meetings.' "We also gathered feedback from over 400 additional dealers through a digital survey," said Karel Vercruyssen, president and CEO of Beaulieu. "The goal was to determine how we could better serve our family of dealers."
According to Vercruyssen, what they learned influenced their 2015 introductions in three key ways: more focused and productive introductions, balanced construction and changing selling dynamics.
"Dealers told us they get 'covered up' with too many new products every January," said Randy Sanford, head of product development. In response, Beaulieu will introduce 19 carefully selected products across a variety of fibers, price points and style categories.
"Each is designed to meet dealers' requests for products that are well styled, priced right and provide real consumer value," added Sanford.
Three introductions will feature the proprietary Beaulieu Soft Sense fiber, each with 3M Scotchgard soil protector and exclusive Magic Fresh odor reduction technology.  
Instead of "softer, softer, softer," dealers told Beaulieu they want "soft enough" with the right balance of styling and durability. Seven of the introductions feature the new Beaulieu Tryelle fiber system. Dealers also emphasized color is still important, so each will have an extensive color line, ranging from muted neutrals to earth tones, to contemporary shades reflecting decorating trends.
The final message dealers communicated is their showrooms are overflowing—they simply do not have the space, or the desire, for more bulky display furniture. They also said they are doing many more presentations off-site, so selling collateral must be mobile. Beaulieu is responding in three ways:
Updating the existing Magic Fresh Display which is already widely placed, transforming it with exciting new graphics and adding six update cards. 

Transforming deck boards to include more inviting visuals, along with consumer-friendly product features and benefits. This will allow presentations in homes, offices or other off-site locations to be just as effective as in the showroom itself. 

Introducing a compact deck board swing-arm display with all the new products for easy shopping and access while maximizing precious floor space and minimizing dealer investment.
"Beaulieu understands both the challenges and rewards of running a family business. We look forward to helping our dealers make their family owned businesses more successful with these new products and initiatives. That's what 'Keeping the Family in Flooring' is all about," said Vercruyssen.
For more information, visit blissflooring.com.