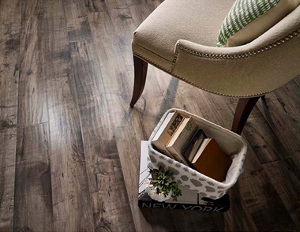 Included in Quick•Step's TISE product introductions is Smoked Maple Grey, new to the company's Dominion Collection.
Quick•Step is launching a collection as well as products into existing laminate lines this week at The International Surface Event (TISE) in Las Vegas.
According to the company, Quick•Step's new decors feature a superior level of realism and design, providing customers with a combination of style and value.
"Quick•Step is a fashion-based product line that is on pace with the latest styles and trends," said Paij Thorn-Brooks, vice president of brand marketing for Unilin, Quick•Step's parent company. "Our brand prides itself on being the first to market with the hottest styles, latest trends, and most sophisticated features. Quick•Step has the technical ability to produce visuals and an unmatched level of realism that competitors cannot. This year's Surfaces launch is the right mix of products to keep our brand firmly in the position of style leader." 
The new Quick•Step products will be featured during TISE, which runs through Jan. 23, in the Quick•Step booth #S6549.
Quick•Step's new Envique Collection features visuals and textures including fire-charred, sandblasted, "wood concrete," and hand-scraped designs. The new designs are featured on 12mm thick in 7½ x 54-inch. The single plank designs includes four oak and two pine decors with deeply embossed textures.
Envique is made with GenuEdge Technology, allowing the surface design to "roll over" the edges of the plank for an authentic look. The top layer of each plank also features ScratchGuard Advanced Finish Technology helping the floor resist micro-scratches that can dull a floor's surface over time. In addition, an anti-static surface repels dust and dirt, making Envique floors virtually maintenance-free, according to Thorn-Brooks.
Envique features Uniclic, a glueless installation locking system. Uniclic provides quick and easy installation as well as increased protection against water damage and warping. Because of the edge design and tight-locking fit of Uniclic joints, Envique's HDF core will not swell when exposed to localized spills provided they are removed within 24 hours. These floating floors may be installed on, above, or below grade level.
These designs feature wear-layer materials found in AC5 rated floors and are backed by a limited lifetime residential warranty as well as a five-year medium commercial warranty. All Envique products are CARB compliant and NALFA Certified, according to the company. These Quick•Step floors can be re-used up to three times.
Quick•Step's Reclaimé line extensions offer consumers the rich, character look of three reclaimed, vintage hardwood designs and one rustic, "skip-sawn" textured surface, reminiscent of wood originally cut in a bygone era. The sophisticated styling and detailed designs achieve a heightened level of realism in these visuals. The four new oak decors feature a single plank design and these new designs offer realistic texturing. Effective high shade variation throughout the planks lends further authenticity.
Following the Reclaimé platform, the new designs are featured on 12mm thick and 7½ x 54-inch extra-long planks. Micro-beveled edges frame all four sides of each Reclaimé plank. The top layer of each plank features a special anti-static surface that repels dust and dirt, making Reclaimé floors virtually maintenance-free, according to Thorn-Brooks.
The Dominion Collection's line extensions include three character Maple visuals and a new fusion design inspired by today's popular "ceramic wood tiles." The domestic exotic wood decors range from light to high shade variation, further heightening the authenticity of the hardwood visuals. The inspired ceramic wood tile decor offers a distinctively different design that lends a high level of contemporary style and artistry. All four Made in the USA decors feature soft-scrape texturing, single plank designs, and are offered in longer length planks (6 1/8 x 54-inch) on a 12mm platform.
Quick•Step's has also added new single plank designs into its Veresque Collection. The designs feature a smooth furniture finish and provide the look of one character Maple, Applewood and one painted distressed Oak.