As my long-time editor and chief mistake-fixer Matt Spieler can tell you, I often start out writing about one subject and end up finishing on an entirely different one. Well that happened again with this article.
In preparing to write a column on luxury vinyl tile (LVT), I went to the Internet to get some background information. I searched "LVT" and, of course, hundreds of sites popped up. One was for USFloors, which is a product we now carry in our store. We brought in its LVT hybrid COREtec Plus and COREtec Plus XL. So now I'm off on this newest tangent and I bring up its website. The first thing I see is XL won the Best of Surfaces 2014 Style and Design award. That's something I didn't know and will certainly use in my customer presentations. Reading on I learned a few more interesting tidbits about the products that I will use in presentations.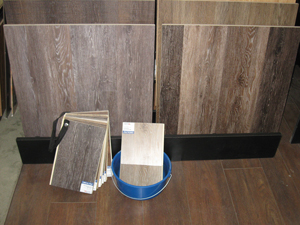 While going online to learn about a product can help you in your selling presentation, Kramer says he won't make a manufacturer's claim about a product to a buyer unless he has proved it to himself and can show that proof to his customers, such as he did here in demonstrating how a plank showed no damage after sitting in the pail of water for more than two weeks.
I scrolled further down the website and came to installation instruction videos. I watched the one on installing its luxury vinyl planks (LVP). Being a know-it-all type, even I learned a few tips on installing this type of product. Learning new ideas that I can pass on to my buyers just makes me look like even more of an expert.
It was at this point when I realized just how much information I really find on the Internet. Let's face it, if you're in retail you generally have "free" time. Even at my busiest times I still have a couple of hours a day with nothing to do or get finished. I use that time to improve myself on everything from product knowledge to what my competition is doing.
Here's a short list of things to research, which will help improve your sales totals every month:
Learn the lingo. When I first saw the USFloors XL product, it was new to me. I looked it over and said it looks like it's built like a laminate plank but the top is more like commercial quality vinyl. I'm proud to say my first guess was to call it luxury vinyl plank. Just a lucky educated guess, but I followed up by going online to see if I was calling it the right thing. Because I write this column I try to be precise on the terminology/lingo I use.
Believe me, I hear about it when I'm wrong. My readers can agree with much of what I write and never call or e-mail me to say so, but mispronounce or misspell one word and the e-mails start snowballing. Having credibility in what you are selling also has to do with the lingo and correct descriptions you use.
Selling techniques. Reading what manufacturers say about their products on their websites also gives you the lingo to make you sound more informed to your customers. Even though any website or commercial is slanted in favor of that company's product or service, you still can pick out what sets them apart and hopefully distinguishes them from the competition.
Any smart marketing/advertising writer knows what sets you apart and makes you better and different is what you have to talk about. If they are really smart, they will point out how their honorable competition has a good product, but they are several steps behind what you have to offer.
Competition. In the "old days," we had to go to your competitors' stores to shop them on what brands they carried and how their pricing structure worked. Today you can simply enter their name and they give you all that information on their website.
They'll tell you their store hours, location, what they specialize in and even what products they feature. If those products are different than what you sell, go to the manufacturer and see what that product has to offer.
When you can tell your buyer about the features and benefits of competitive products, what they cost, and why your product lines have better features for a better value, you have done their shopping for them.
For example, my store is very close to Home Depot and Lowe's. I assume my customers have either looked there or could be looking there in the near future. I explain what their products are good for and what my products are good for: They offer an untouchable price on low-end and I offer the best value on higher quality, longer-lasting products. How do I know what they sell? I could easily drive there or, easier yet, I click a button on my computer.
Know website locations. Recently, I went out with my installers to start a very large hardwood install. When we got to the site, the owner I had sold the job to said something I'll never forget. Out of the blue he said, "Kelly, I've been reading your articles."
Confused, I asked, "How did you find those?"
He said, "I entered your name and it took me to your website and the Floor Trends site.
I asked, "What did you think?"
"Well," he noted, "it's why we bought from you. We shopped at several other stores and even though your price was not the lowest, I liked how you teach ethics and customer education in sales in your articles."
That gave me a lift in my step that day. But it also made realize the power of the written word on a website. My suggestion to my readers is you write down the websites for the products you carry, then either show your customers the information at a terminal in your store or give them the address to look at when they get home. You can bet I now show the USFloors website to my customers from my desktop.
I'd be remiss here if I didn't give you my own website, kellykramer.com (see ad on this page), so you can read why ordering my training manuals will make you more money. Thanks for reading.
---
Based in Loveland, Colo., Kelly Kramer is an author, inventor and owner of Kelly's Carpet Wagon. He is a 27-year veteran of the flooring industry, with 25 of those years as a retail sales advisor. To contact him with questions or to book him for public speaking engagements, call or email: (970) 622-0077 retaileducation@netzero.net