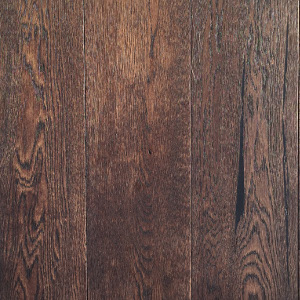 New from Mullican's Mount Castle Collection.
Mullican has expanded some of its most popular collections, adding new color variations to three product lines made in the U.S.
"Mullican Flooring is introducing nine new color choices in 2015 in response to consumer interest in these tried-and-true collections," said Brian Greenwell, vice president of sales and marketing for Mullican. "These solid collections—Castillian, Chatelaine and Knob Creek—are consumer favorites. Every collection offers its own unique appeal to consumers, and each individual color selection upholds Mullican's tradition of quality and beauty."
In an expansion that almost doubles the size of the Castillian Collection, the addition of four new color selections also introduces maple as a new wood species to the collection. Two of the new selections are in the maple species, offered in taupe and truffle, while the other new selections are wire-brushed oak options in granite and harvest wheat. 
Together with Mullican's patented Aqua Shield system, the Castillian Collection provides a lifetime moisture warranty. This revolutionary system includes the application of the Mullican Moisture Mat, the company's own moisture-retardant underlayment, along with the installation of a Castillian product. When used together, this method allows the bottom of the wood to expand if exposed to moisture, with little to no effect on the floor's surface.
The Chatelaine Collection has three new color selections. With the addition of maple taupe, hickory burnt umber and hickory granite, the collection now features seven hand-sculpted offerings. All of the selections are available in 4- and 5-inch widths. 
Maple truffle and maple slate have been added to the Knob Creek Collection, increasing its available selections to five. This hand-sculpted collection features widths of 3- and 4-inches.
The Castillian, Chatelaine and Knob Creek collections are protected by Mullican's Alpha A'Lumina Real World Finish, a third-generation aluminum oxide finish with a subtle satin look. Alpha A'Lumina is backed by a 25-year finish wear-through warranty.
Also new to the company's product line up is the Mount Castle Collection, which was introduced at The International Surface Event in Las Vegas.
The Mount Castle Collection is available in a 9/16- or 5/8-inch-thick option. The collection features 12 selections in oak and walnut. The oak selections include autumn bronze, brownstone, charcoal, colonial grey, fawn, harvest wheat, ivory, natural, seashell, stirling and truffle. Majestic walnut is also available. 
"The Mount Castle Collection highlights today's flooring trends of wider boards and textured surfaces," said Greenwell. "With hand-sculpted and wire-brushed options and the large array of colors, this new collection offers something for everyone."