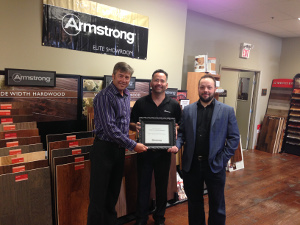 From left, John Fitzsimmons, president and owner of Fitz Flooring; Jordan Ross, Fitz' retail strategic accounts manager, and Brody Lynch, store manager of Fitz' Bow Trail Elite location in Calgary, Canada. Fitz' two Calgary showrooms have been named Armstrong Elite Retailers.
Fitz Flooring's two Calgary, Canada showrooms have been named Armstrong World Industries' Elite Retailers.
"Fitz Flooring is a great organization of people who love the home building and home improvement industry," said Steve Staikos of Armstrong. "You can see the pride they take in combining their resources to fulfill the home décor needs of their customers."
The first Canadian-based retailer to join the Armstrong Elite Retailer program, Fitz has six store locations, a separate administration/warehouse location and employs over 35 people. John Fitzsimmons, president and CEO, credits the firm's basic philosophies of how it works with clients, its strong reputation and its affiliations for its continued growth and success. 
"Armstrong has been a great partner of Fitz flooring throughout the years. They have great brand recognition, quality products, sales support and seem to be as concerned with environmental stewardship as we are," said Fitzsimmons. "It seemed like the next natural step to solidify our commitment to each other to provide our customers with the best selection and value possible with Armstrong's large array of products and merchandising."
New Elite merchandising displays will be added to each showroom to provide an even wider range of hard surface floor covering options for customers to choose from. An additional benefit of the program for the retailer is that the store is co-branded on Armstrong.com which also helps to provide qualified leads direct to the retailer.
For more information, visit armstrong.com and fitzflooring.com.