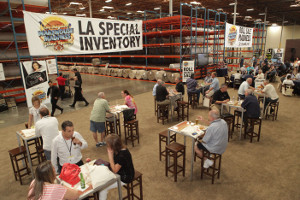 Engineered Floors kicks off West Coast dealer event.
This year, "March Madness" inspired Engineered Floors and Dream Weaver Carpet to open their own "home court" in Los Angeles last month to service dealers on the West Coast. "Warehouse Madness" was the theme of the grand opening of the 125,000 square-foot facility designed to inventory more than 225 skus of the mill's product.
More than 200 dealers attended the event where they enjoyed the Warehouse Madness Sale, food, festivities and prizes, including wide screen TVs and tickets to Los Angeles Lakers basketball games. Especially popular were commemorative autographed basketballs signed by Engineered Floors founder Bob Shaw, who was also in attendance.
Gary Hollowell, vice president of sales for Engineered Floors and Dream Weaver, said that this opening was a natural progression for the company. "This is part of our continued commitment to growth and service for our dealers in California, Washington, Oregon, Arizona, Utah, Nevada and New Mexico," he said.