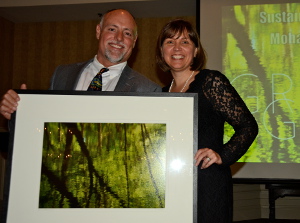 Jenny Cross, Mohawk's vice president of corporate sustainability, accepted the Greenie Award from David Tucker, CRBI's executive director. 
Mohawk Industries has received the Sustainability Greenie Award from the Coosa River Basin Initiative (CRBI).
The award recognizes excellence in the area of sustainability and the company's extraordinary efforts to protect and preserve natural resources in the upper Coosa River basin of northwest Georgia and northeast Alabama.
"Mohawk's commitment to sustainable business benefits not just Georgia, our corporate home, but all the communities in which we operate," said Jenny Cross, Mohawk's vice president of corporate sustainability. "As a global company, we have proven that we can make a positive impact with our manufacturing processes and our products. We have demonstrated that we can create beautiful flooring while decreasing our environmental footprint and enriching our communities. This award is a testament to the more than 8,000 employees in the region who dedicate themselves each day to making a difference."
According to Cross, Mohawk's sustainability achievements include:
•Reducing overall water use by over 300 million gallons since 2010.
•Initiating a zero process waste to landfill program and has since internally certified 27 of its facilities for recycling or reusing 100% of their process waste and sending none to landfills.
•It converts nearly five billion plastic bottles each year into EverStrand carpet fiber and processes about 24 million pounds of tires into outdoor welcome mats. 
•Mohawk Group has now successfully introduced 395 sustainably certified products, the largest and most varied selection of products achieving environmental product declarations (EPD), health product declarations (HPD) and Declare labels.
•Mohawk's SmartStrand Forever Clean carpet featuring DuPont Sorona is made from 37% renewable resources. 
•All of the ceramic products produced by Mohawk contain recycled materials.
"Mohawk has made significant progress in reducing impacts on our natural resources and in reusing and recycling materials," said David Tucker, CRBI's executive director. "Mohawk employees are leading the way toward not just a more efficient, profitable business, but also toward cleaner, healthier communities." 
For more information, visit mohawkflooring.com.