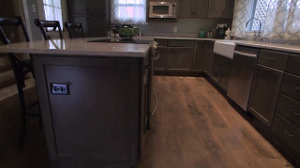 Quick•Step was recently featured in an episode of "Fix It Finish It.
Quick•Step was recently featured in an episode of Antonio Sabato, Jr.'s new television series "Fix It Finish It."
In this episode, Antonio and his team were joined by interior designer Nicki Huggins to remodel a kitchen from top to bottom in one day for the Mercer Family of Louisville, Ky. The Mercer's needed a clean environment for their baby, Hadley, who is in recovery from battling leukemia for nine months.
"It was a heartfelt renovation, one that everyone involved felt deeply about because the Mercer's youngest daughter, Hadley, had just been through three rounds of chemo and a bone marrow transplant, starting at 6 months," said Huggins. "With all her treatments, she had very little immune system left. Germs flourishing in the grout of their 1940s kitchen were a very real threat to her recovery." 
By selecting gray varnished oak planks from Quick•Step's Eligna Collection designer Huggins chose a versatile, medium gray-brown foundation for the Mercer's new room. According to Huggins, the gray-brown color of the floor is on-point with the latest color trends in both high-end hardwood flooring and the overall home design industry.
Due to a special anti-static surface on each plank that repels dust and dirt, periodic sweeping with a dry dust mop is just about all that is needed to keep Quick•Step floors looking like new, according to the company.
"With the show's aggressive one-day-room-transformation deadline, Quick•Step was the perfect flooring choice—a floor with enduring beauty, but quick and easy installation," said Sabato. "Quick•Step floors are easy to install, because they feature the patented Uniclic glueless installation locking system. Quick•Step planks simply click together to form a lasting connection. The team laid the Mercer's entire floor in just hours."
For more information, visit us.quick-step.com.