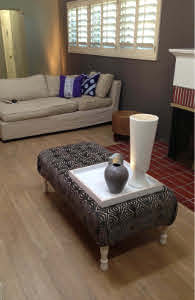 Quick•Step's Reclaimé Malted Tawny Oak Planks were used in the living room of Oprah's Winfrey's "Home Made Simple" Los Angeles episode.
Quick•Step was recently featured in a "living room transformation" episode of Oprah's "Home Made Simple" television series.
Each Saturday morning on the Oprah Winfrey Network (OWN), the "Home Made Simple" designers meet a couple who find themselves stuck in their quest of making over a room. The show's room refresh designers guide the couple through surprisingly simple do-it-yourself projects to complete their room transformation. 
Quick•Step's Malted Tawny Oak from the Reclaimé collection was selected by the show's interior designers for use in a Los Angeles living room transformation. 
"The show's designers were starting with a room that was not very stylish and felt dated," said Paij Thorn-Brooks, vice president of brand marketing for Unilin, Quick•Step's parent company. "The designers' goal was to add style and design to the room by making just a few key changes. Changes that would be within both the budget and DIY skill level of a typical homeowner.
"The two biggest key changes were new wall color and new flooring," she continued. "They replaced the old flooring with our Reclaimé collection's Malted Tawny Oak, adding a softness and artistry to the room. The floor was complemented with a very nice shade of grey on the walls and white trim. These changes alone substantially moved the room toward achieving the stylish, contemporary look the designers were going for." 
"Reclaimé's Malted Tawny Oak planks offer the same visuals and charm of a hardwood floor constructed from reclaimed, vintage wood," said Thorn-Brooks. "Like all Reclaimé decors, this product is both versatile and beautiful. It's a light oak look that features a 'skip-sawn' textured surface, reminiscent of wood in a bygone era." 
She noted, the skip sawn visual and texture of each plank include kerf marks that mimic the saw marks caused by the starts and stops of a cutting blade—nostalgic hallmarks of a time when planks were cut by hand, before modern mills. Reclaimé's oversized, extra-long planks deliver unmatched realism and expansive style in a room, according to the company.
"The designers were very taken with this romantic hardwood design," added Thorn-Brooks. "They absolutely loved it! It added the softness and the style they were looking for."
She added, an important premise of the show is that the designers purposely use products and make changes that are both affordable for consumers and also easy to achieve. 
Click here to see a clip of the segment. For more information, visit us.quickstep.com.