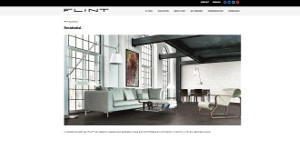 Flint Floor has updated its website and joined popular social media platforms to better reach consumers.
Flint Floor's updated website provides users with information about its collection of laminates, HPB technology and Hi-Floor flooring.
The website's Hi-Tech section includes information on HPB technology which ensures the robustness of the Hi-Floor flooring, according to the company, and an explanation of the 10 Key Tech—the technical qualities that have made these laminates waterproof, anti-scratch, impact resistance, fire resistance, fast installation, wear resistance, easy-cleaning, anti-static and long lasting.
In the Collection section, visitors can view the company's products, discover their specifications and finishes and even create a specific reference based on needs, according to the company.
The site also brings together the latest creations of the company, such as Living Floor and the Stonist collections, and includes new sections with technical documents, a general catalog and brochures.
In addition to the updated site, the company is now on Facebook, Twitter, LinkedIn and Google+ social network sites. According to the company, through these platforms, Flint Floor will announce new products, participation in fairs, jobs and information that might interest customers and consumers.
For more information, visit flintfloor.com.