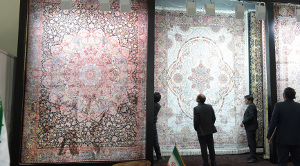 Industry professionals gathered in Gaziantep for Domotex Turkey.
Domotex Turkey brought industry professionals and 198 companies together in Gaziantep—the center of machine-made rug manufacturing, according to show officials.
"Organized with the participation of leading companies in the industry, Domotex Turkey showed the power of Turkey in machine-made rug manufacturing once again," said Alexander Kühnel, general manager of Hannover Fairs Turkey. "On the other hand, it also proved its success to become an international platform for the Eurasian region with increasing number of international exhibitors and visitors this year. Totally, 8,734 people from targeted countries, mainly from Middle East, visited the exhibition where exhibitors showcased their unique designs and new collections produced with state-of-the-art technology."
Flooring companies displayed their wide product range under the Domotex brand. One of the eye-catching products for visitors was a self-cleaning rug, which was developed using nano-technology, according to show officials. Visitors were able to watch live demonstrations of the impermeability of nano-technology, where the technology for the production of luxury cars has been adopted to rug manufacturing.
"This year, we exhibited the new and more stain resistant version of our nano rug innovation, which we launched in 2013," said Meric Bebitoglu, general manager of Atlas Hali. "We are delighted for making a global invention. As it is known very well in the market, the nano rug cleans itself continuously with the energy from light and indoor lighting."
According to show organizers, the exhibition has put in a strong performance, consolidating its position as the leading trade fair for the rug industry in Turkey and Middle East which offers an important opportunity for companies to improve their business volume. As a result of a fruitful four days, the majority of exhibitors expressed their willingness to exhibit at the show next year, again.