The Shaw Flooring Network convention, held at the Rosen Shingle Creek resort in Orlando, Fla., January 15-18, opened with a record crowd of nearly 4,000 people, representing almost 1,000 dealers. Called "Connect 2017," the event was about members connecting to better manage the dizzying pace of change. Shaw, with more than $5 billion in annual sales, is celebrating its 50th anniversary this year and used the convention as a platform to ready its retailers for the future.
"This is a multi-generational business," said President Randy Merritt. "I've had the great fortune of holding babies and dancing with children who are now second- and third-generation store owners. These relationships, partnerships and friendships have been a critical part of Shaw for 50 years and that will continue for the next 50."
The Connect 2017 concept was originated by Shaw Flooring Network's Dealer Council who said they wanted opportunities to network with other retailers and learn from each other. "It is critical for our continued success that we share our assessments of the rapidly changing competitive environment so we win together," said Tim Baucom, executive vp-residential business. "The pace of change will continue at rapid speeds, and it's the company's role to help retailers by providing innovation, products and tools they need to grow their businesses."
In addition to many networking opportunities, Shaw network dealers had the opportunity to learn tips and business best practices from nearly 30 outside experts and third parties such as Google, Houzz and Synchrony. "These sessions are designed to get you thinking about your business," Merritt noted.
In 2016, Baucom said the company made significant internal changes to bring its dealers the best mix of flooring solutions. "We have combined marketing and product development for soft surface and hard surface flooring under the leadership of Scott Sandlin," he said. "Scott and his team are empowered to translate deep and profound consumer understanding into inspired designs that earn consumer preference."
The changes to Shaw's product mix and its revamped strategy to more closely integrate hard and soft product development was informed by consumer research. "The way consumes shop and expect to experience products is changing," said Scott Sandlin, vp, marketing and product design. "Together, we must change the way we think and approach their business."
Speaking to 1,000 consumers through a variety of methods, the company found that the average consumer journey includes 88 days where the consumer is aware of the project, 36 days of research and 25 days of shopping. Because flooring is a major investment of time and money, consumers also feel the pressure to "get it right." In the big picture, samples sell, customers are more design-savvy than ever before, and renovation projects never seem to end.
The expo floor showcased Shaw's consumer findings in a variety of ways. First, retailers were given a variety of design inspiration, such as vignettes featuring Shaw's Color of the Year, Lush. Hard and soft surface integration was clearly noted with a sneak peak of Floorigami, a modular flooring collection that combines a variety of materials. Created in collaboration with global design firm IDEO, headquartered in Palo Alto, Calif., the collection would allow consumers to create unique looks by mixing materials, colors and patterns.
In soft surfaces, the Tuftex brand showcased new merchandising displays that are intended to get the consumer physically closer to the product, encourage them to feel the material and displays samples in sizes that are easier to lift and carry. "Carpet is a textile that is warm and inviting, and we needed to do something to make the shopping experience more inviting and easier for the consumer," said Doug Jackson, vp, sales and marketing at Tuftex, who said he spent a lot of time in the field studying how consumers shop fashion and decor stores. New product introductions included more visual texture and tactile appeal, soft tone-on-tone cut pile, patterned loops and cut/loop patterns.
Shaw introduced TruAccents, a new display that blends hard and soft surfaces so that consumers can see what their carpet and hard surface will look like together. The display has two quadrants that feature Anso nylon and two that feature ClearTouch Platinum, and each include pattern, twist, loop and non-solid texture at one price point for easy shopping and upselling. The compact design spins easily and can be placed anywhere in a flooring showroom. The Caress brand, Shaw's soft premier collection, has introduced an elaborate color refresh to include warm taupes, cool grays, soft white, golden beiges, soft pastels and jewel tones.
In hard surface flooring, the high-end Anderson Hardwood brand expanded its selection of rich visuals with introductions that showed more of the natural character of the wood. "There is a trend toward minimal applied distressing and decreased saw marks," said Pamela Rainey, vp hard surface product design. The collection Fired Artistry was inspired by Yakasugi, a Japanese tradition of charring wood to preserve it to make the grain more prominent.
With the acquisition of USFloors in December 2016, Shaw has added the Coretec brand to strengthen its position in the LVT and WPC markets. Piet Dossche, CEO of USFloors, provided attendees with a history of the company and an outlook of where the division is headed within Shaw. He said USFloors will introduce an exclusive collection of 24 SKUSs for dealers within the Shaw Flooring Network and encouraged dealers to replace competitor products with the Coretec options.
In moisture-proof laminate, Shaw's new Repel collection is marketed as kid and pet friendly and made in the U.S. The collection carries a warranty for everyday household spills, and can be wet mopped. Repel also features design-forward visuals with the look of reclaimed hardwood and rich colors.
Floorté, the company's resilient flooring collection, now includes an antimicrobial attached pad to provide noise reduction. Thanks to the collection's success, Shaw added six new styles in the Largo Mix line that boasts multiple lengths and widths in each carton for more realism and easier installation.
Philadelphia Commercial introduced several carpet tile and broadloom options, in addition to a new custom program that allows customers to receive carpet personalized with color and design in just four to six weeks.
Side Bar: Warren Buffet Speaks Out on U.S. Economy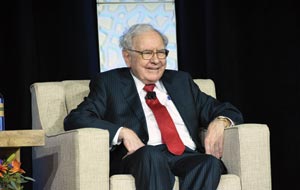 Warren Buffet, CEO of Berkshire Hathaway.
Warren Buffett, CEO of Berkshire Hathaway, made a guest appearance at the Shaw Network conference in Orlando. Shaw Industries is a subsidiary of Berkshire Hathaway, and Shaw CEO Vance Bell moderated a question-and-answer session with Buffet during the convention. Here is an excerpt from the conversation:

Bell: What worries you about the economy?
Buffett: I never really worry about the economy. The only real worry I have regarding America's future is the use of weapons of mass destruction, either chemical or biological. Every day, there is a very tiny probability that some individual or some group or perhaps some nation will do something extremely foolish. That's the only thing that could hurt America. We've had hiccups in this country. From 2008 to 2009 we went through something that was really a shock to the American people, and that has taken us some time to get over. But you can't stop the United States. In 1790, we had less than 4 million people; 240 years later we represent almost 25% of the world's GDP. We've got the secret sauce; Donald Trump knows it; Hillary Clinton knew it; and Barack Obama knew it. I never worried about the economy because of either candidate. I did campaign for Hillary. But when Trump was elected, we probably net invested over $10 billion since then.

Bell: Given the recovery in housing, lower rates of home ownership, millennials struggling with debt and student loans, what's your outlook?
Buffett: Housing is going up, but it's coming out of the biggest shock I've seen during my lifetime. You have a $20 trillion asset class, which you can borrow on. That turned into a bubble, and it was a huge bubble. When something so fundamental shatters like that, it takes a while to regroup. We had this huge falloff, not only in housing starts but also household formation. But we're seeing housing starts come back quite significantly and more of the shock of 2008-09 is receding. We have established momentum, but it has taken a while.
I see this country just exploding moving forward. We're enjoying better transportation, better entertainment, education, medicine—you know, name it—than John D. Rockefeller, who was the richest man in the world at one time. We've only just started to unlock the human potential. Just think of the things you're doing differently compared to 20 years ago. Now think about how people were living 240 years ago compared to the way we live today, it's just unbelievable.

Bell: This year marks Shaw's 50th anniversary. We've spent a little bit of time celebrating that milestone but not a lot of time. We've been focusing on what the next 50 years are going to look like. In your opinion, what are the traits of successful, long-running companies and what does Shaw need to do to ensure success over the next 50 years?
Buffett: You have to satisfy customers' basic needs. You've got to keep in tune with what your customers are telling you. You have to listen to your customers. If you have happy customers, then you're going to do well in this world.