Style-Focused Selling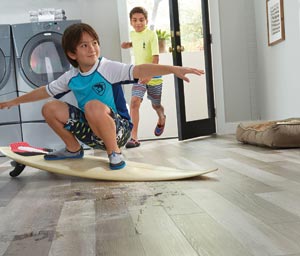 ProGen, Tarkett's popular LVT collection.
John Heckman, senior marketing manager, Tarkett, said the company recommends a number of training approaches to get retail sales associates (RSAs) ready to sell LVT, which is a combination of fitting the right product to the right environment with color and design.
ProGen, Tarkett's poplar LVT collection, offers a variety of selling points that focus on performance—rigorous engineering that can withstand water, temperature changes, sunlight, denting, warping and resists buckling—but the end user often has a specific aesthetic in mind. The durability and ease of maintenance is a given.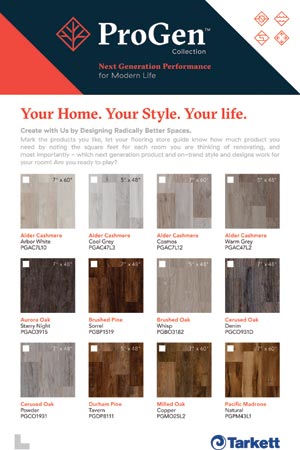 Tarkett offers a Design Guide for its ProGen LVT collection to help RSAs walk consumers through the selection process.
"We take a more consumer-focused view of ProGen, offering not just the usual sell sheet of information but also a design guide that gives the customer insight into what you can do with the product," Heckman said.
Once the RSA and customer settle on ProGen as an option, the RSA will share a design guide, which provides a menu of color options and an estimating tool, which helps the consumer visualize the design options. They start with small swatches that the consumer can use to select the materials that will fit in their home based on color, moving from light to dark and cool to warm tones. The checklist then walks them through each room of their home to help the estimate how much square footage will be needed for the project.
"Some retail reps are more old school and they will focus on the technical data, but we find that the younger folks are more interested in sharing the trends in colors and designs, which appeals to the consumer," Heckman said.