A Look at Locking Systems
One of the biggest benefits to luxury vinyl tile is different installation methods available to match a variety of project needs. As the products evolved with different cores and thinner profiles, so have the systems that help to lock them in place.
The global flooring industry patent landscape has dramatically changed over the last few years and I4F competes by offering its licensees a variety of cutting-edge technologies.
By partnering some of the world's leading producers and innovators in flooring technologies—including Kronospan, Classen and Kowon—I4F is powering new business development by combining innovation and patented technology to deliver new future-driven solutions for the industry.
3L Triplelock and Click4U is a one-piece drop-lock installation system for flooring panels that eliminates the need for an additional insert on the short side. This offers manufacturers the possibility to improve their productivity levels as well as reduce costs and carbon footprint. For consumers and installers, this means much easier and faster installation.
Välinge began working on glueless click flooring in 1994 and changed the way floorings are installed and used. The company's portfolio of locking technologies offers a locking system suitable for each type of flooring material, width and thickness.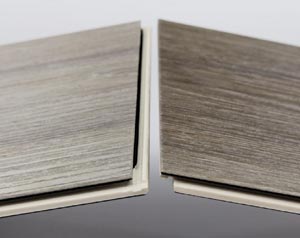 Karndean's Korlok with 5G locking mechanism.
Floor installation should be a fast and simple process with perfect result every time for the end consumer. No gap openings nor height differences should appear between the floor panels during the lifetime of the floor. Välinge has had this in mind for over 20 years as it developed new locking systems for flooring products, such as 5G-i and 5G. Those systems are endorsed by installers worldwide as they enable shorter laying time than traditional angle-angle systems.
Välinge's integrated 5G (called 5G-i) is a one-piece locking system (without any additional insert) making push-down installation easy and intuitive in LVT, WPC as well as in the latest SPC products. It also offers versatility: many LVT products can now be installed in herringbone, square or basket weave patterns with the latest version of the 5G-i locking system.
The 5G locking system enables installation of LVT, WPC and SPC products by simply folding down the panel; the rest of the job is done by the flexible glass fiber-reinforced tongue placed in the panel during production.
Global LVT brand Karndean Designflooring and European luxury vinyl flooring specialist Designflooring both use 5G.
"We have sold a lot on esthetics the last 30 years—the look and the feel," said Steve Curry, sales director at Designflooring. "Thanks to 5G we also got technical attributes. The combination of the two is very important and now we have an ideal story. The combination with 2G and the 5G works very well for us. You simply slide the plank in and drop it into place. It saves several hours of the installation, which is a great appeal for the installer."