Rapid Setting Latex Smoothing and Leveling Compound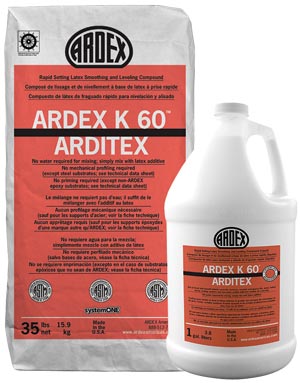 K 60 Arditex is a blend of Portland cement and other hydraulic cements that is a self-smoothing, trowelable, latex leveling compound with excellent adhesion, flexibility and moisture resistance. The product can be used to smooth interior concrete, wood, terrazzo, ceramic and quarry tile, steel, select epoxy coating systems and non-water-soluble adhesive residue on concrete prior to the installation of finished flooring on-, above- or below-grade.

Radiant Warmth and Moisture Reduction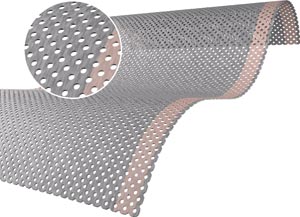 Schönox HPS ComfortSafe is a radiant warmth and moisture reduction layer. Suitable for either residential or commercial installations—projects where floor where warmth and surface moisture reduction is desired. Each kit comes with an easy-install ComfortSafe mat and a step-by-step installation manual. Pair with Schönox cement or synthetic gyspum self-levelers, on a variety of substrates, to create a warmer, dryer subfloor solution.

Protects Floating & Loose-lay Flooring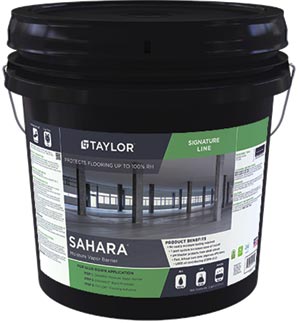 Engineered to combat extreme moisture installations, Sahara is an aggressive moisture vapor barrier that can solidify your construction timeline by eliminating the need for costly moisture testing. The simple one-part self-leveler protects floating and loose-lay floors with a permanent, waterproof membrane that inhibits mold and mildew growth. It can smooth up to 1/8" of floor irregularities.

Quick Leveling and Smooth on Troubled Surfaces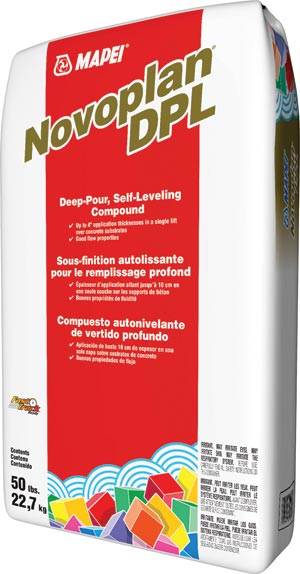 "When your floor needs to quickly be level and smooth and there are some deep deficits to contend with, Novoplan DPL self-leveling, self-curing compound is an excellent, time-saving option," said Jeff Johnson, Mapei's business manager for Floor Covering Installation Systems.
Novoplan DPL, a self-leveling, calcium-aluminate-based underlayment and repair mix, is designed for use with interior concrete and engineer-approved floors. It can be deep poured, allowing installers to place up to 4" (10 cm) in a single lift. Designed for interior residential, interior commercial, interior heavy commercial and interior institutional installations.