While everyone is vying for center stage with new visuals and longer, wider planks at The International Surface Event, Mohawk brought a number of innovative technologies and product stories to market in each of its brands. Aladdin Commercial, the main street commercial division, is moving toward a more design-centric approach that gives RSAs more range when it comes to product offerings. 
Calling it a "curated coordination story," according to Aladdin Commercial's Robb Myer, vice president of business development, the brand is focused on product, platform and pricing. Now, each product offering—broadloom, carpet tile, hard surface, stone, wood visuals and accessories such as the Tailored Trim platform which is made up of stair solutions, trims and accessories—along with the EnviroStrand and ColorStrand platforms, offers a spectrum of visuals that coordinate across the product categories. 
According to Myer, to keep the momentum going throughout the year, Aladdin Commercial will launch new products each quarter rather than launch all of them at Surfaces like the company has done in years past.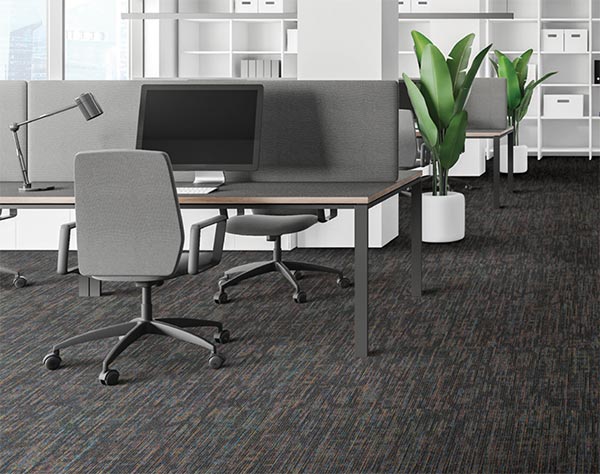 The Road Ahead collection with new Here to There style in color Asphalt. 
Aladdin Commercial launched two new soft surface products at Surfaces. The Road Ahead collection with new Here to There carpet tile uses Color Pulse technology in eight color options to create the look of space dyed yarn with ColorStrand SD (solution dyed) nylon. This allows for a unique blending of color that ranges from subtle to eye-catching. It is worth noting that the ColorPulse dyeing process uses no water. Calculated using the company's 2019 statistics, this equates to 76,500 gallons of water saved. 
"In the past, when we would make a space dyed yarn, we had limited use of the yarn. We have a lot of color with the [solution dyed nylon], but with a space dyed yarn, we would have to incrementally dip this in dye so, it was a piece dyed product," said Myer. "If you were in education or healthcare or multi-family, they wouldn't use a space dyed product because bleach or a harsh chemical would pull the color right out. This is ColorPulse technology exclusive to Mohawk. So, what that gives us is a solution dyed, spaced dyed look." 
Myer says he will be adding some additional carpet tile and broadloom options to the collection in the near future. 
Aladdin launched the Mass Media collection two years ago, and it quickly became a top-seller. With that in mind, the company decided to reinvest in the collection and added the new Current Events style. Myer refers to it as "elevated design at an affordable price point." To illustrate this point, he explains that the European designing found in Current Events carpet tile will sell for $35 to $38 per square foot in Europe and $11 to $12 per square foot in the U.S. 
"The new Current Events carpet tile is a beautiful new addition that provides superior performance and coordinates seamlessly with Aladdin's other offerings," said Myer. "Our design team in Dalton is really looking at how we are taking products to market and launches and getting elevated styles and designs through our EnviroStrand platform." 
Current Events is created with EnviroStrand fiber, which combines PET carpet and Mohawk's Protection Plus Soil Resistant Technology for ease of maintenance, and its UltraSet Matrix Backing, which protects against moisture damage. According to Mohawk, UltraSet Matrix Backing is manufactured using less energy than other carpet tile products and contains a minimum of 40 percent pre-consumer recycled content. To round out its sustainability story, UltraSet Matrix Backing is completely recyclable at the end of its life.
On the hard surface side, Aladdin showcased the Halong Bay and Old Quarter collections. Both LVT products are made with a rigid composite core, come with an attached pad and are 100% waterproof. They continue the curated coordination story, allowing for design continuity throughout a project. 
Halong Bay offers organic, natural wood grain and stone looks in two styles with 16 total visuals. The collection is constructed for commercial and multi-family use with a high-level of durability with an enhanced urethane finish to protect against wear and resist stains. It is available with a 6-mil flexible wear layer or a 12-mil rigid wear layer. 
From the new and improved SolidTech platform, Old Quarter features warm wood and cool stone visuals with a 12- or 20-mil wear layer and four plank sizes. Old Quarter is designed for commercial and residential applications and is also stain and scratch resistant. 
For more information, visit aladdincommercial.com.