Independent flooring retailers want three things: to drive traffic to their stores, profitability, and help with business operations. In advance of Mohawk's Edge Summit in Nashville, Tennessee, a conference for retailers who participate in the manufacturer's loyalty strategy, Mohawk executives shared a candid vision of where the business is headed—and how insights from retailers are reshaping where the company is investing innovation digitally and in-store.
"Retail is entering a new era," said Kelli Widdifield, Mohawk's senior vice president of marketing. "We did lots of surveys and got feedback from the broad base of Edge dealers and our council members to determine how our Edge partnership strategy is going to help them with their business—the things they haven't had time to think through and worry about over the past two years."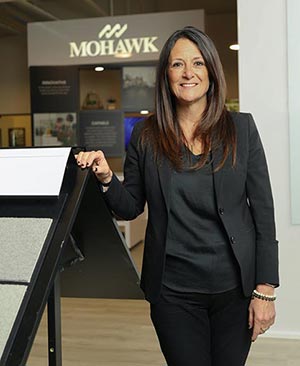 The consumer is changing, and Edge retailers are relying on Mohawk to help navigate the new landscape. For example, first-time homeowners over-index at two ages within the millennial age range: the upper millennial is around 35 years of age, and there's another group as low as 27 years of age. 
"I thought that was pretty crazy, but it doesn't mean they're buying a single-family home," she said. "They may be buying a condo. If you dig into adjacencies and the research that's been done in those spaces, you start to see some really interesting statistics around their desire to do home improvements, whether those are DIY or otherwise. They see it as a way to build equity in their investment. They see it as a way, whether they own or rent as a customization, personalization—it's a reflection of who I am as a brand." 
The Mohawk marketing team has been testing various types of creative to determine what messaging is resonating among consumers at every point of the sales funnel.
 "We've been finding, at least in display and social, that the creative inspirational has been outperforming dramatically the sort of promotional kind of offers," said Todd Skidmore, senior director of digital marketing, ecommerce and analytics, Mohawk. "We want relevant messages to reach us wherever we are in our purchasing journey. If you're just in discovery or inspiration, you don't want be asked to get married on the first date. We don't want to hit them hard. We want them to envision this could be your home and these could be your floors—if they just started."
They've investigated paid TikTok campaigns, over-the-top (OTT) media and connected TV. 
"Data doesn't lie. It helps you sleep at night to know you made decisions based on data and facts."
– Nicole Priem, senior director of brand strategy, Mohawk
"The headline is a lot of different platforms, but everything is very trackable," said Nicole Priem, senior director of brand strategy, Mohawk. "Before, it was heavy on search, but we're doing, display and native and social. We are searching out those consumers that are in the space, and then with all of this we can retarget, so we can follow them through that journey in a lot of different places. Data doesn't lie. It helps you sleep at night to know you made decisions based on data and facts." 
Mohawk aims to help Edge retailers with content marketing, helping with education and thought leadership. Today's Edge program, which incorporates the previous Floorscapes and Color Center and Five Star strategies, offers in-store support and digital marketing.
A new virtual showroom will be an experimental lab that not only connects the online and in-store experience but offers an opportunity to learn and test ideas.  Edge retailers will have a new virtual environment to use for product training, to test merchandising, and to help consumers visualize floors in their home. 
"It's going be realistic, like a hands on experience of understanding products and innovations," Widdifield said.  Retailers will be able to walk their virtual showroom in an Avatar-like environment and see which ones they want to replicate in their brick-and-mortar store. 
"If you think about the consumer journey, there's external online drivers that are about appeal and attract, but once they walk in, if that store is laid out in a way that is easy for those quickly find it and navigate it, that's going to make the RSA shop way easier," Widdifield added.