The way we perceive and interact with the environment around us has a direct impact on our comfort, health and happiness. This year, the feeling of warmth, comfort and an increased focused on community and connections are driving home building trends in 2023. Here are five of the top trends designers are anticipating for the year.  

1. Soft Transitional
Throughout the country, Craftsmen and Farmhouse designs have reigned supreme over other styles. However, homeowners are starting to show an appetite for exterior designs that are a mix of both traditional and modern styles too—also known as "soft transitional." According to a John Burns Real Estate Consulting survey of 1,184 homeowners, 50 percent of homeowners in California prefer a mix of traditional and modern designs, compared to 34 percent of buyers in the Northwest.
"Modern farmhouse continues across the country, but right alongside that is modern contemporary, transitional styles. These designs continue to grow in popularity on both the inside and outside of our homes," said Taylor Morrison's Vice President of Product Design Brian Juedes.

2. Passionate About Laminate
When it comes to durability, price and appearance, laminate flooring is a popular alternative to traditional hardwood.
"Laminate flooring combines the beauty of wood with the toughness of an engineered material. Manufacturers are now able to capture the beauty of a realistic hardwood aesthetic, not only from a color standpoint, but also when it comes to touch and feel," said Lee Crowder, national director of design and model experience for national home builder Taylor Morrison. "Laminate is easier to maintain than wood and is a flooring that will perform better and last longer."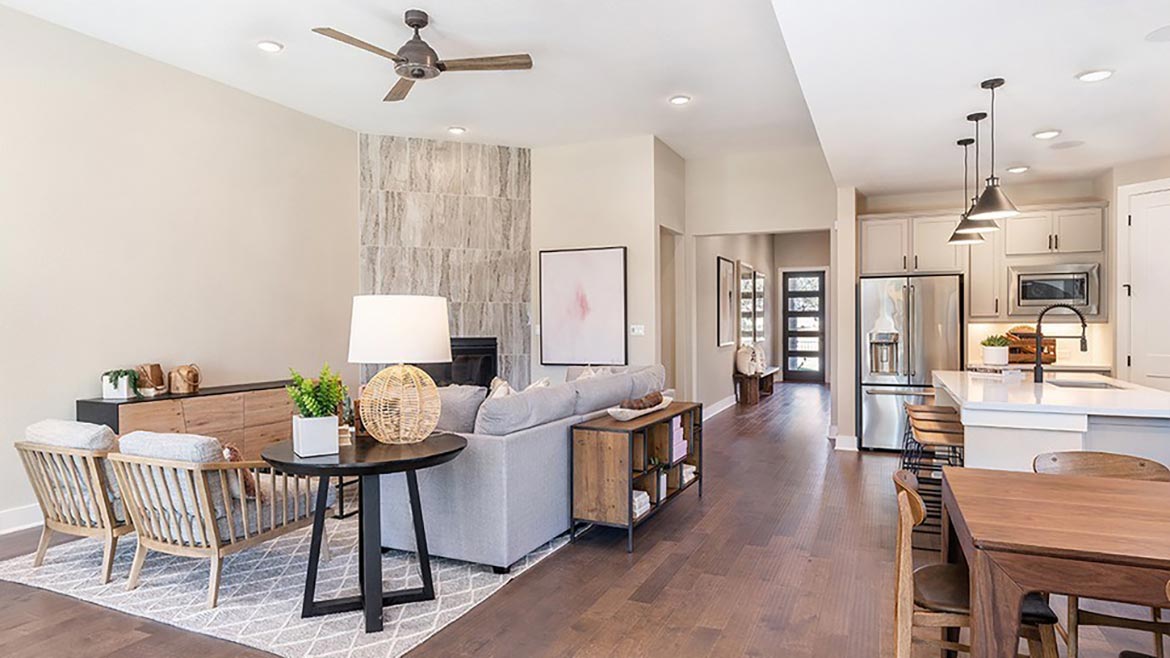 3. Meet the neighbors
If the pandemic proved anything, it's that people crave frequent social interaction. So much so that there's one popular design element making a big comeback—centered all around bringing communities closer together.
"No matter where it is—be it the back, side or front of a home—more connection between inside and outside living is a growing trend," Juedes said. "And the addition of fresh air and natural lighting also boasts important health benefits."
In addition to fostering a sense of community, front yard living speaks to the overarching trend of indoor and outdoor connectivity.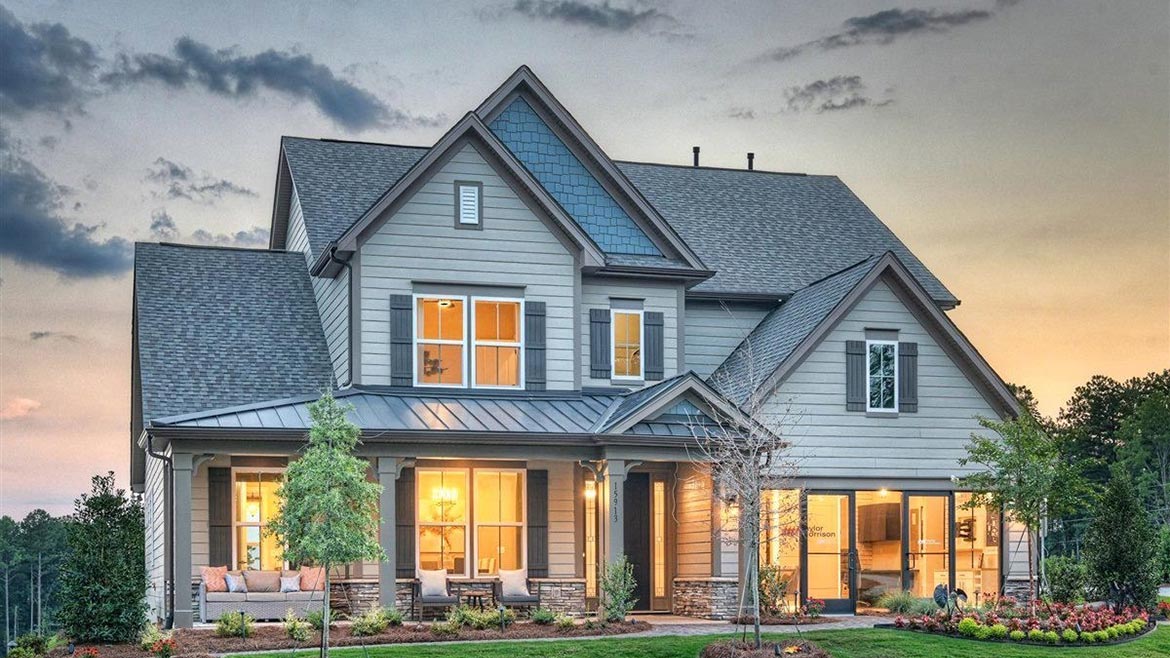 "We are seeing more and more homeowners setting up inviting outdoor seating areas right in their front yards," Crowder said. "By adding a few lounge chairs, a fire pit and some cafe lighting, all of a sudden you have an incredible space where you can enjoy being outside with your loved ones. As an added bonus, you might even befriend your neighbors."
This focus on the outdoors and connections also relates back to sustainability in home design. Many homeowners are relying on outdoor elements to decorate—bringing organic and nature-inspired features inside the home. Large, floor-to-ceiling windows showcase natural landscapes and act as a natural mood booster in states that receive consistent sunlight. Native plants that thrive inside add organic elements to the home and preserve local biodiversity. Matching décor, paint and flooring to outdoor elements, especially in rooms with lots of windows, help blur the line between indoor and outdoor living and produce an illusion of openness inside the home.

4. Home Office Gets a Makeover
With remote and flexible work here to stay, the industry is seeing a new iteration of office spaces into home architectural plans. Known as "tech spaces", these smaller alcoves conserve square footage and offer a sense of comfort and privacy when working from home.
"As long as there are companies allowing employees the flexibility to work from home, we need to accommodate that in our home designs. No one wants to be working from a kitchen island anymore," Juedes said. Rather than sharing one full-sized office, homebuyers can opt for two smaller tech spaces—which is especially beneficial for households with multiple individuals working from home.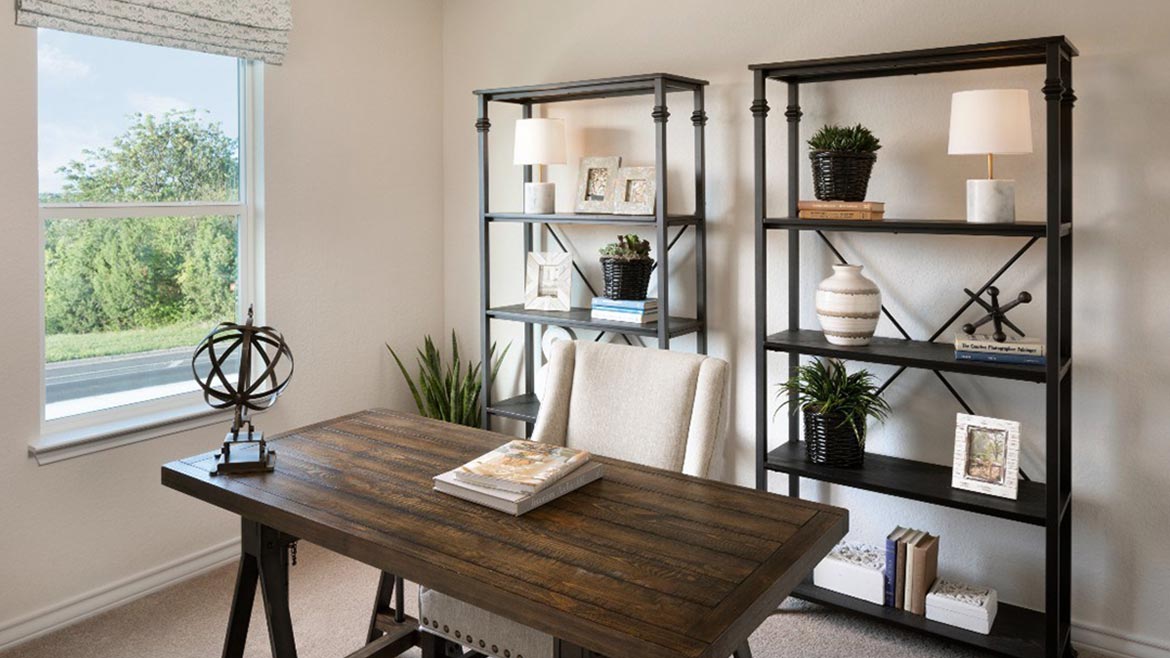 5. Warm Whites
The last few years have been dominated by a simple color palette consisting of bright whites and cool greys. Now moving away from this trend, many homeowners are opting for more colorful design options. But what about those who designed their homes around the all-white trend, and are now seeing their homes phase out of style? 
"Adding soft, warm tones and light wood accents can immediately add warmth and bring cool tones into the new trends we are seeing today," Crowder said.
Sherwin-Williams' Color of the Year, Redend Point is an example of a warm color that pairs especially well with cooler tones. Named after a sandstone rock formation in the United Kingdom, Redend Point is an example of nature highlighting how some colors work well together.
"In photos of the formation, you can see the reddish-sand color of the rock wall paired with the gray pebbles on the beach. If nature can pull off a combo of warm and cool colors, so can you," Crowder said.