In Floor Trends' new series, we're meeting rising leaders who are making a big impact in flooring. Daniel Arita, President, American Carpet One Floor & Home, Honolulu, Hawaii, tells us about his background in flooring and the differences in Hawaii compared to other states in the U.S.

Floor Trends: How did you get into flooring?
Daniel Arita: My dad started the business in 1974. I have an older brother and sister, and my dad, in a way, made us all work in the business growing up. He persuaded us by taking us to the industry trips, CCA Global's incentive trips, and made it seem like a lot of fun. When I was in college, I just made the decision to come back and work. My brother and sister don't work in the business and I enjoy it the most. I did flooring, I worked in the warehouse, in installation, and I did sales all throughout high school and college. When I came back from college, I began doing it full time. The first thing my dad made me do after graduating college was go back into installation. Then, I worked my way through the company. I was in every division in the company from sales, install, warehouse, customer care, purchasing, and the only department I didn't work in was accounting.

FT: After going to college for sales then working in the different fields, do you think that has helped you maneuver the industry?
Arita: Absolutely. Working in the warehouse and working in installation helped me a lot. I can go in the warehouse and know what's going on as well as go to a job site and know exactly what's happening. The whole installation process, especially with how I feel like the industry is getting better at having the right criteria or following the manufacturer installation instructions or different guidelines. I was never a journeyman. I was never the lead installer but I knew enough, and some of our installers were either helpers or lead installers, they remember me working with them. It helps having relationships with a lot of them.

FT: What are you involved in and how does it benefit you in the industry?
Arita: I'm involved in the Carpet One Floor & Home Advisory Council, a lot of local nonprofits, and I'm also involved with a Young President's Organization. YPO has helped my business a lot, but I'm not sure about the industry. Being on the Carpet One Floor & Home Advisory Council helps with understanding what's going on, what CCA Global is doing to help the members with some changes, and being able to give my opinions on what should be done through the council.

FT: What's your outlook on flooring as a career path?
Arita: People who get into flooring end up staying in in the industry for a long time, and you see that through manufacturer reps. You see it through business owners, or just people in in sales or installation. I think if you hit that three-year mark, you're stuck in the industry. I think a lot of it has to do with the relationships that you have and the way that you make customers happy. I don't think people grow up, other than myself, thinking about putting flooring in somebody's home. But when you do that, then you know and you see the customers really happy. I think the impact that you make gives you a lasting impression, and makes you want to stay in the industry.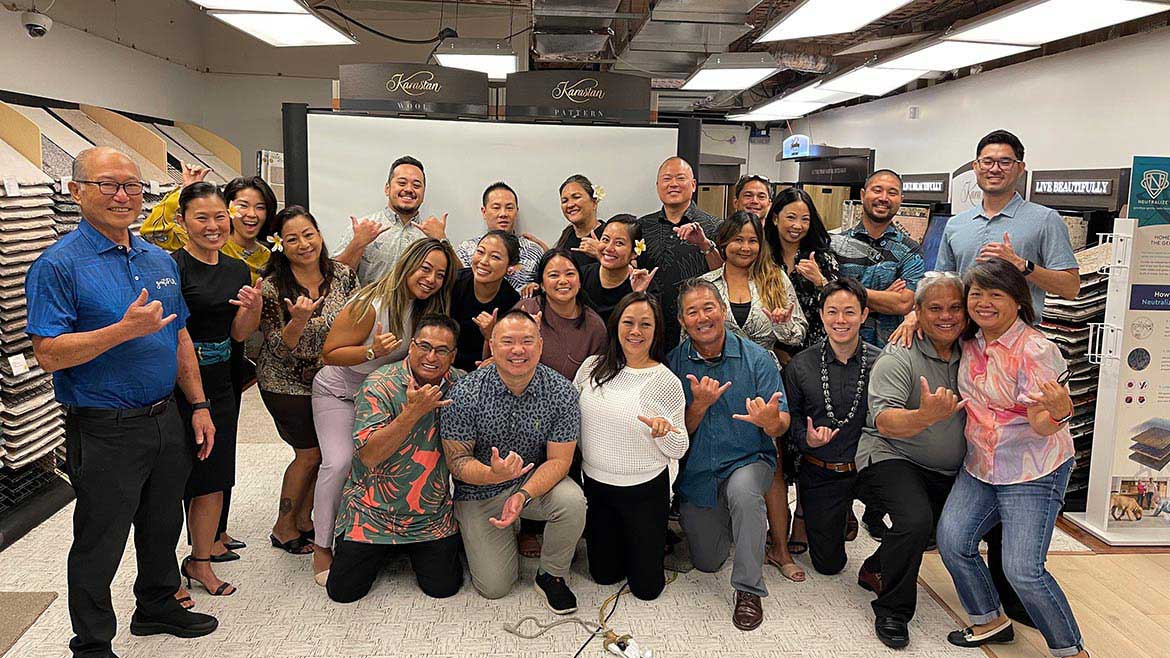 The team at American Carpet One Floor & Home in Honolulu, Hawaii.

FT: Can you talk a little bit about your background of your Carpet One Floor & Home and ProSource locations?
Arita: Our Carpet One store is member 96. We're almost 50 years in business. Carpet One has been the best decision that my dad made in business because it got us to have the resources to really grow our business to the next level. We started ProSource in 2001. It is also such a great business for us because there are so many contractors, property managers, installers, throughout the island and I don't think we would have been able to service them through just the Carpet One store. Having the ProSource model really helps to give those members a way to buy flooring and kitchen cabinets from us.

FT: How has Hawaii been affected differently with the recession compared to other states? How do you expect the coming months and new year to be for business?
Arita: Hawaii is a little bit different. I believe we saw a recession sooner than everybody else. We saw the slowdown and a lot of that had to do with the lockdown in Hawaii and the travel restrictions. We had a really good 2020, 2021 and early 2022, but around the middle of last year in the summer 2022, it really started to slow down, especially with the interest rates going up. We probably had the worst month in December that we've had in years, and so I think a lot of it had to do with people wanting to start traveling again and not spending money on their home. They're worried about buying a new place because the interest rates are so volatile. So, I believe in March of this year through this month, we've actually had really good months. I think that the economy and everything is just stabilized a lot better.
Looking at the rest of the year and going into 2024, I think it will be a lot more positive than in the last year that we've had because we are seeing the upswing again. It might not be as crazy as 2021 but definitely a lot better than the end of 2022.

FT: How has the Labor Trade Act affected your business and in Hawaii?
Arita: It definitely affects us a lot. We've had containers that we ordered in the beginning of the year get pushed back to November. Thankfully, we inventory a lot. We have over 50,000 square-feet of warehouse space. We have a lot of inventory now, and we've shifted to buying whatever is available to stock for now until things kind of normalize again. Overall, I think we've made some changes early on to still make sales and still do business.
I think one of the biggest changes for us is we're a heavy luxury vinyl state. In the beginning of the year, we decided to get more into a waterproof laminate. Those orders came in and we have a lot of inventory of that. That's helped make the sales for us because we're switching customers from luxury vinyl to laminate.

FT: Are you seeing any other challenges within this past year?
Arita: In Hawaii, our unemployment rate is 3% and more and more people are moving out of Hawaii because of the cost of living, and so the employment pool is very small. It's not just installers, it's every position. We're struggling to find people. The great thing for us is that we're an employee-owned company. My dad sold the company in 2013, and that has really changed the mindset of our employees. Our retention rate is, I believe, 85% or better. We keep our people very well and when we recruit, our employees are recruiting for us. Because they want to bring on people, plus we incentivize them. I think overall, we're not advertising heavily because we're getting leads up and new employees through our own employees. The ownership mentality is different when it's an employee-owned company. Our mission is to really teach everyone about the business and teach them about our P&L statement, teach them our cash flow, just that they have a better understanding of how to be a good owner in whatever role they are in the company.

FT: What are some trending products in Hawaii?
Arita: So, carpet was king for a long time. It's still about 30% of our business. But luxury vinyl really took over. I think because of the supply chain issues, we're starting to see laminate come back again. The laminate visuals are really beautiful and the durability of it is a lot better than luxury vinyl. I think we're going to see laminate start to take more market share again. But I don't think luxury vinyl will go away. There's definitely a good place in the market for it. We've diversified our business, so we do a lot more kitchen and bath and a lot of customers are coming in for full home remodels. A lot of customers still don't know that we do kitchen and bath. So, when they come in, they're very surprised and then we try to capture the whole project.

FT: What else is coming up for you?
Arita: Next year's our 50th anniversary. We're really excited because I think we're going to do a lot of different things that I can't really say yet.
Being in business for 50 years, I think in Hawaii, we might be the oldest, or one of the oldest flooring companies. Trying to get your community to rally around your business to support local businesses, that really helps you stay in business for 50 years. We would not be in business for 50 years if local people couldn't support us. I think it's really important that we take care of every single customer as much as we can to make them happy, because if we don't, then we won't be in business for another 50 years.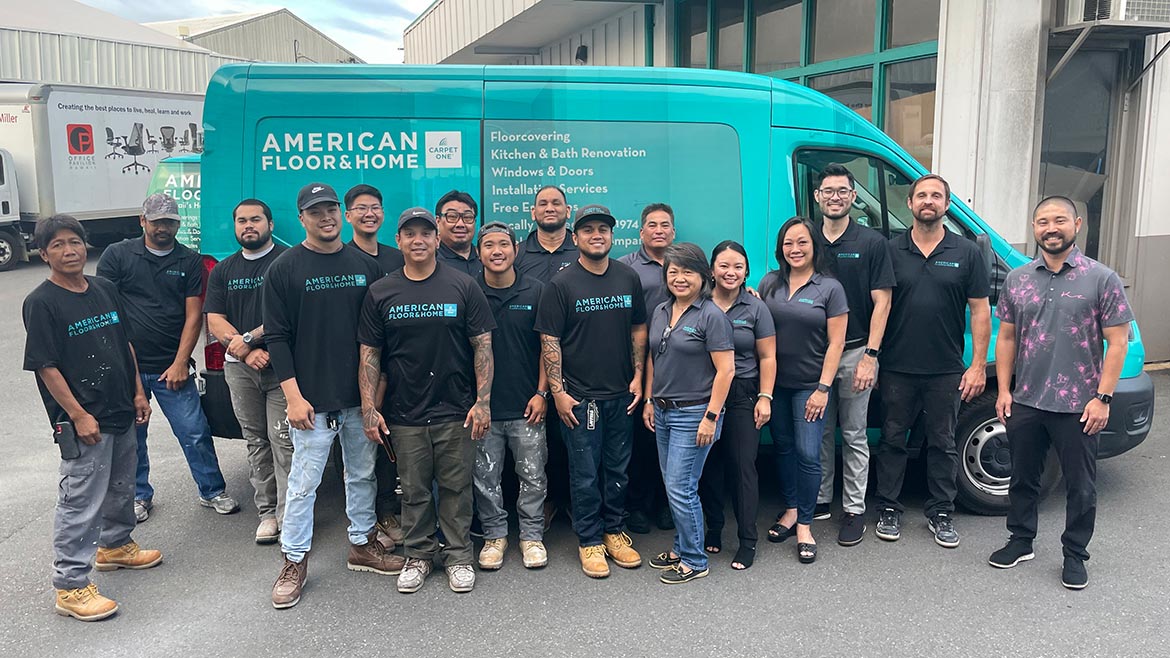 American Carpet One Floor & Home in Honolulu, Hawaii, started business in 1974.