Floor covering installers have all received some level of training to obtain the skills they need to work in the trade, but not all of them hold certifications as evidence of their training. For those who have yet to get certified, it may be a matter of uncertainty about which certifications are needed. For others, it may be a lack of clarity about how to get certified and what the benefits are.
To help installers, and their respective contractors navigate certification, it's best to begin with an understanding of the role certifications play in an installer's career and to hear from an installer who has enjoyed its many benefits.
A Certified Character 
When Anthony "Woody" Bender was 8 years old, he began picking up scraps alongside his father as he installed carpet. Today, Bender has more than 36 years of installation experience, and he attributes a great deal of his success in the industry to his dad and to the training he's received through certification programs.
Now working with Premier Flooring Inc., a full-service flooring company in Germantown, Wisconsin, Bender takes his pick of projects. Carpet, laminate, ceramic tile, vinyl — no matter what the flooring material, he is up to the task, holding multiple installation certifications that are backed by more than three decades of experience. 
By demonstrating a commitment to the trade and to his personal level of craftsmanship, Bender's certifications distinguish him in the industry and have offered him access to a wide variety of work options over the years. His reputation for quality and the unique "signature" he leaves behind on his work have also earned him a rewarding amount of repeat business.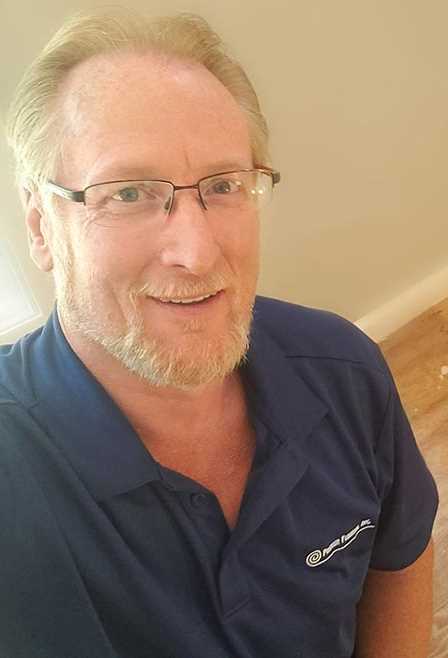 As a symbol of the pride Anthony "Woody" Bender takes in each project, he often "signs" his work by drawing a comical animated woodpecker somewhere on the subfloor. That stamp was the reason one client called him back for a second job. Photo: INSTALL.
"I enjoy the work that I do, and I've invested a lot in training because I always want to know why," said Bender. "Certification is also a phenomenal marketing tool. When someone asks what your qualifications are, you always have an impressive response." 
As a symbol of the pride Bender takes in each project, he often "signs" his work by drawing a comical animated woodpecker somewhere on the subfloor. "The woodpecker drawing is how people know me," he said. "It's like giving the work my own personal stamp of approval." 
That stamp was the reason one client called him back for a second job. After the client's builder removed a section of flooring to start a new project and uncovered Bender's signature sketch, the client immediately recalled the quality of Bender's work and insisted the builder use him for the second project. 
"The drawing is a symbol of the pride and ownership I take in my work," reflected Bender, who said he considers his commitment to continuous training and maintaining his certifications a key factor in his success. 
The Core Four
Certification has opened the door to success for thousands of installers like Bender, but while many installers are interested in certification, knowing where to start can be a bit confusing. To illuminate the path, the best place to begin is often with one of these four foundational certifications based on the type of work the installer is currently doing.  

1. Substrate Preparation Certification
With errors in subfloor and substrate preparation being some of the most common causes of floor failure, substrate preparation certification is a beneficial point of distinction. 

2. Resilient Flooring Certification
Vinyl sheet, vinyl tile, luxury vinyl plank, linoleum, rubber – with so many types of resilient flooring, this certification is a strategic way to gain experience with a variety of materials and broaden your skillset. 

3. Carpet Installation Certification
Becoming a certified carpet installer gives you a complete set of skills to be able to install any type of carpet with professional results. Whether a synthetic like nylon or polyester or a natural fiber like wool, you'll be equipped for virtually any carpet material, using the tools and techniques that ensure long-term performance. 

4. Wood Flooring Certification 
This certification program introduces a variety of common wood species used for flooring, like oak, walnut and cherry, and teaches the characteristics and advantages of each type. It also includes instruction on exotic woods like teak, which are popular in high-end installations. 
Accomplishing any of these certifications equips an installer with documented proof of possessing the hand skills and techniques that represent industry best practices. 
One for All, More for Some 
A question installers frequently ask is if they should seek more than one core certification. Since certification formally demonstrates competence with a particular flooring material, having multiple certifications can create more work opportunities for an installer to move around within their current organization, pursue new opportunities, or even relocate. Bender, for instance, holds three of the core installation certifications from the International Standards and Training Alliance (INSTALL), plus COVID-19 and Infection Control Risk Assessment (ICRA) certifications. He also has others from manufacturers like Nora by Interface and Mannington. 
Installers like Bender seek certification from INSTALL because many flooring manufacturers require it as a condition of warranty protection. INSTALL Warranty contractors use only INSTALL certified installers. Those contractors have performed more than 1.5 billion warranty installations with zero claims — a distinction that is advantageous for installers, contractors and flooring manufacturers. INSTALL also has reciprocal partnerships with more than 130 mills and manufacturers that recognize the INSTALL advantage, giving installers many options for where they can get trained. 
Certified Installers Benefit Contractors 
Installers aren't the only ones who benefit from certification. When hiring an installer who is certified, a contractor can immediately put them on the jobsite without worrying about workmanship. Also, projects operate more efficiently with a certified team because members share a common skillset and can count on each other's competence. A warranty-certified work crew also creates more opportunities for projects with flooring materials that are backed by additional no-cost, third-party warranties on the labor. 
Perhaps even more beneficial for contractors is providing an opportunity for installers to obtain the training needed to attain certification as a benefit of their employment. In this tight labor market, offering a path to certification shows you are invested in your installers' professional success, and it helps keep them engaged in the trade over time. Creating a work culture in which installers are both highly skilled and highly engaged not only builds your reputation as a great employer, it also helps ensure the high-quality installations that will build your business.
Keeping Certifications Current  
After receiving a certification, installers need to keep it current with continuing education and periodic renewal. Resilient, carpet and substrate preparation certifications are subject to renewal every 4 years with a required minimum of 8-hours of trade-related classes during that time. The hardwood certification is subject to renewal annually. INSTALL routinely updates the certification process through collaboration with the industry's leading manufacturers. In general, classes are refreshed with training on the newest products, tools and techniques. 
Choosing a Training Provider 
Certification is one of the most valuable tools installers can have, so it's important that training is delivered by a reputable provider like INSTALL or an industry-leading manufacturer. Wherever you seek certification, training should be guided by professional technical experts and industry leaders, and it should be centered on the most current best practices, product information and installation techniques available.  
"The industry is changing fast," concluded Bender. "You have to keep learning to keep up."