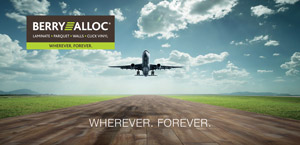 While at Surfaces 2013, BerryAlloc Regional Sales Manager Patty Banwart and Marketing Manager Cindy Thornton took some time to run through the latest product offerings, explain the company's strategy and talk about prospects now and in the future.
Looking Back
The largest challenge we had was in supporting our distributors with quick-draw inventory. We encouraged and supported our distributors to be buyer efficient; that really helped us to leap forward. We gave them a warehouse on U.S. soil to draw from, allowed them to ease into re-inventorying and getting their stocks back up. We worked hard at redefining a business model, tuning it up like a car, to where we now have three different points of purchase to help keep those inventory shortages down to a minimal timeframe.
Looking Ahead
Part of why we're seeing success is uniqueness of product, yes, but our commercial side is growing very fast, and we also identified a new DIY: the small-business owner. No one's remembering that they also went through the past five years and are now just emerging, and they're looking to remodel, they feel more empowered. And given the opportunity to buy something better, they're going to do so. And the savvy salespeople are thinking, "Unlike the recent past, I'm not just going to take them to my cheapest section. I'm going to ask them what they need, I'm going to show them a product that fits their needs, and I'm going to give them the chance to make a value-added decision."
We think a lot of retailers have lost that ability to step a customer up. It's about having a conversation, and we've actually refocused our training efforts on that because, at the end of the day, people buy from people.
Product Spotlight
The Elegance collection, the Dream Click system and our new HTLs have been extremely well received. Our distributors are very willing to support us with their purchases, and they're getting the retailers vested in it. We also make visits with our reps, just to take the retailers' temperature and get their insight, and they love it.
What to Know
There's and ebb and flow to everything, and we think that, when it comes to laminates, it's a category starving for quality right now, and that makes us shine even brighter. You need to have a product line that isn't racing to the bottom, that's not competing with everyone; something at the top of the pyramid, something that no one else has. Value-added products, performance and the ability to fulfill the consumer's vision will continue to help us win the day.