WFCA's Weitzel, Jennings promoted

ANAHEIM, CALIF.—Scott Humphrey, CEO of the World Floor Covering Association (WFCA), announced that Cammie Weitzel has been promoted to vice president of operations, and Tom Jennings has been named vice present of member services effective immediately.
Weitzel, based at the association's headquarters in Anaheim, Calif., previously held the position of director of finance and general manager. She joined the association in 1998. In her new role, Weitzel will continue to be responsible for all financial aspects of the organization as well as the day-to-day operations. She will work closely with Humphrey and others on WFCA's long-range plans and will also continue to oversee the management of the non-profit Floor Covering Industry Foundation.
Jennings previously served as a consultant to WFCA and held the title of board chairman of member services. He will now work for the organization in a full-time capacity and will remain based in Lawrence, Kan. Jennings will oversee all aspects of member services including sales training, marketing and installation programs and materials.
He will continue developing and starring in WFCA's-sponsored "Selling More Than the Floor" video training seminars and will author articles for industry trade publications on the association's behalf. Jennings will represent the organization at both industry and affiliate meetings and events and will serve as its contact for both customer and media inquiries regarding flooring products and their application.
"Cammie and Tom each bring years of experience and widely respected knowledge to their new roles at the WFCA," Humphrey said. "It would be hard to find two executives with more expertise and ability to fill these positions. I personally do not know any two people more committed to seeing our members and the overall industry thrive and succeed."
For more information, visit, wfca-pro.org, or call (800) 624-6880.
Mohawk Releases Annual Sustainability Report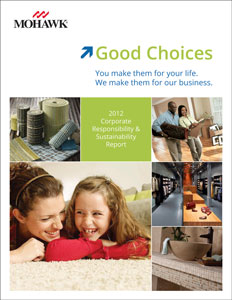 DALTON—Mohawk Industries has released its fourth annual sustainability report. Titled "Good Choices," the interactive report, is available exclusively online at mohawksustainability.com and highlights the company's "good choices" in 2012 while reaffirming its commitment to global stakeholders, noted Jeff Loberbaum, chairman and CEO.
"Our success as a company is defined by the choices we make every day," he said. "As our global footprint continues to grow we'll continue to make responsible choices that bring the most value to our stakeholders, our customers and our people."
Mohawk once again adhered to Global Reporting Initiative (GRI) guidelines and the company's data has been verified by an independent auditing firm. GRI is considered the choice for such reports and its systems and procedures are used by companies worldwide. For the second year in a row, the Mohawk's report meets GRI's requirement for a B+ application level, which places the mill among the leaders in transparency of reporting sustainable practices.
In 2012, Mohawk received recognition for its good choices from several regional and national organizations. Once again, Newsweek ranked the company the highest among flooring manufacturers in its annual ranking of America's largest publicly owned green companies, while the Southeastern Corporate Sustainability Rankings place the company third among Georgia companies in its most recent rankings.
William Kilbride, Mohawk's chief sustainability officer, noted, "Across our entire organization, 2012 was a tremendous year of progress in employee wellness and safety as well as in energy, emission and water reduction."
Highlights from Mohawk's 2012 sustainability report include:
•Repurposed more than 29 million pounds of recycled crumb rubber—the equivalent of 1.45 million rubber tires—to create door mats;
•Recycled approximately 3 billion plastic soda bottles to manufacture EverStrand carpet;
•Wellness initiatives around nutrition and exercise saw a combined 8,500 pounds lost by participants;
•Diverted more than 1 billion pounds of foam trim from landfills since 2005 and used it to create carpet cushion;
•In 2012, recycled nearly 5 million pounds of glass into tile products, and
•Reduced water usage by 30%, or nearly 1.3 billion gallons, since 2008.
Visit mohawksustainability.com to see the full report.
Beaulieu 'Indulging" Consumers with Summer Sweepstakes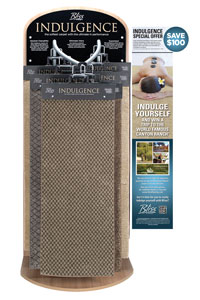 DALTON—Consumers will have plenty of reasons to be "Bliss-ful" this summer as Beaulieu America announced the consumer sweepstakes and rebate coupon in support of its new, super-soft solution-dyed nylon collection Bliss Indulgence.
Running through Sept. 30, the company is offering consumers a $100 manufacturer's rebate and a chance for an all-expense paid trip to the Canyon Ranch resort in Tucson, Ariz.
And, it is not only consumers who are benefitting from the promotion as Mike McAllister, Beaulieu's director of marketing, said the same prize will also be available to win by a lucky Bliss Indulgence dealer.
The rebate is in the form of a $100 Amex Gift Card on purchases of 40 yards or more of the new Bliss Indulgence.
Both programs will be promoted via in-store POS materials and online.
Consumers need to enter via BlissFlooring.com. Dealers should contact their Beaulieu rep for program details and how to participate or visit accessbeaulieu.com.
Changes at Beaulieu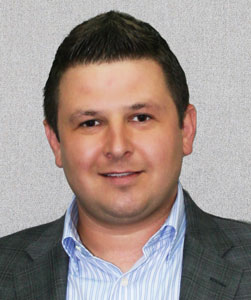 DALTON—Beaulieu, announced Gary Fisher, executive vice president of residential marketing, has left the company after joining the industry's third largest carpet manufacturer just eight months ago.
All marketing activities will be directed by Ralph Boe, co-CEO of Beaulieu America, until a new vice president of marketing is named.
In an unrelated move, veteran floor covering executive Matt Johnson was promoted to senior director of product management. He was most recently regional leader for Beaulieu America.
Prior to Beaulieu Johnson had leadership positions in sales, marketing and account management at Shaw and Invista.
For more information, contact support@blissflooring.com, or visit blissflooring.com.
LEED v4 Passes, Will Launch This Fall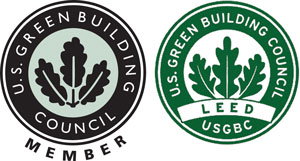 WASHINGTON—U.S. Green Building Council (USGBC) members voted overwhelmingly in favor of adopting the latest version of the organization's Leadership in Energy and Environmental Design (LEED) green building rating system.
Known as LEED v4, the final vote, according USGBC was 86% in favor of adopting the latest system. This includes 90% approval from the user category of the voting body, 77% approval from the general interest category and 89% approval from the producer category. The minimum overall percentage of votes needed for a passing vote was 66.7%.
Starting this summer, USGBC will offer education on LEED v4 in the form of webinar suites, and the full program, along with reference guides, will be unveiled at this year's Greenbuild International Conference & Expo Nov. 20 to 22, in Philadelphia.
According to the organization, there are more 100 projects pursuing certification through the LEED v4 beta program, with some expected to be certified this summer.
Scot Horst, USGBC's senior vice president of LEED, said the newest version of the popular green rating system "challenges the market to make the next leap toward better, cleaner, healthier buildings. People will also notice the improved usability of the system with an improved documentation process and more resources and tools to assist and support positive action."
LEED v4 was originally expected to come out last year but was held up due to USGBC holding additional public comment periods to try and answer the myriad of questions and concerns surrounding the new program. Despite it getting passed by a majority of the membership, many of those concerns still exist and some will most likely impact the flooring industry.
Floor Trends will have more on LEED v4 and its affect on the industry in future issues as well as online. For now, you can learn about LEED v4 and the differences between it and its predecessors by going to usgbc.org/leed/v4.
Bon Jovi to Perform at Greenbuild
WASHINGTON—As if unveiling a brand new LEED rating system isn't enough to attract attention, the USGBC has confirmed that rock legend Bon Jovi will perform to kick off the upcoming Greenbuild.
The Bon Jovi concert will be part of Greenbuild's opening plenary celebration taking place the evening of Wednesday, Nov. 20, at Temple University's Liacouras Center. The event will also feature a keynote address from the Honorable Hillary Rodham Clinton.
The three-day Greenbuild conference will take place at the LEED Gold certified Pennsylvania Convention Center, and shuttles from the convention center will be available to take conference attendees to the opening event.
Registration is currently open for Greenbuild 2013. Visit greenbuildexpo.org to register or for more information or call, (800) 795-1747.
Dixie Purchases Robertex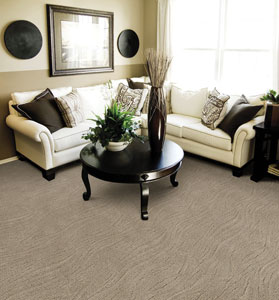 CHATTTANOOGA, TENN.—The Dixie Group has purchased Robertex Associates from Bob Rothman, who has been retained by Dixie under a five-year contract.
Robertex is a producer of fine wool floor covering products under its Robertex and Carousel brands, and is known for its "Carpet Artistry in Wool."
Dixie currently produces carpet, from wool to synthetics, under such brands as Masland, Fabrica and Dixie Home.
Dan Frierson, Dixie's chairman and CEO said the purchase allows the mill "to further extend its leadership position in servicing the wool markets, [and] we look forward to continued creative development of products and processes in our wool business with the addition of Rothman as a member of the Dixie team."
For more information, visit thedixiegroup.com.
Mohawk Campaign wins two Telly awards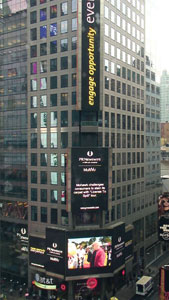 DALTON—Mohawk's coast-to-coast License to Spill campaign in collaboration with the nationally syndicated "Better Show," is not just making waves with consumers, as the promotion took home two Telly awards during the 34th annual event.
The Telly Awards honors the very best film and video productions, groundbreaking online video content, and outstanding local, regional and cable TV commercials and programs.
Over 13,000 entries were received for this year's Tellys, and Mohawk's License to Spill campaign was named tops in the Online Commercial/Campaign/Promotional and the Branded Content/Promotional Branding categories.
The License to Spill campaign has been traveling to festivals across the country showcasing the cleanability of Mohawk's SmartStrand carpet, spilling on it everything from chocolate to soy sauce to red wine and cleaning it with just water. Celebrity designers and Mohawk spokespersons, Taniya Nayak and Chip Wade, have made guest appearances along the way to address any flooring or design questions. JD Roberto and Audra Lowe, co-hosts of "The Better Show," also did an on-site report. The show broadcasts in 170 markets and reaches more than 1 million viewers.
"It is an extraordinary achievement to be selected for not just one, but two Telly awards," said Elise Demboski, Mohawk's  vice president of creative services. "Most exciting is the fact we are only halfway through the campaign. There is a lot more excitement ahead as we take to the road for the fall leg of our tour."
For more information on how your store can become involved, see your Mohawk sales rep or visit mohawkflooring.com/licensetospill.
QFloors Acquires WinSched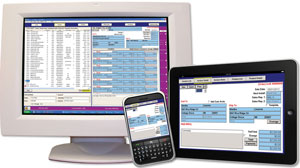 SALT LAKE CITY—QFloors has acquired WinSched Software Corp., following a long-time partnership between the two flooring software providers.
The move comes a month after Mike Myhre, founder of the Monroe, Wash.-based WinSched, and Chad Ogden CEO of QFloors announced an agreement giving QFloors intellectual property rights to all WinSched products, and specifying that all sales and support would immediately exclusively come through QFloors. Winsched has been a long time partner of QFloors, collaborating on many third party tools, including QSched, QReporter, QCutter, and Document Manager.
Ogden said the purchase is the "evolution of our long term relationship with WinSched. Myhre is a gifted developer and has created excellent software products for the industry, and this will allow even tighter integration between all QFloors products and give us greater control over future product development and new features incorporated, which will be of great benefit to our customers."
WinSched products include labor scheduling, advanced reporting, document managing, and cutting machine software specifically created for flooring stores. Meanwhile, QFloors is one of the leading suppliers of business management software to the floor covering industry
For more information, visit qfloors.com, or call (866) 563-0140. 
Nydree Forms Korus to Enter Residential Market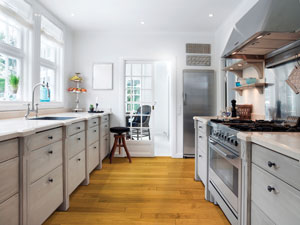 FOREST, VA.— Nydree Wood Flooring has formed Korus Wood Flooring a separate division focused exclusively on the residential market. Nydree is an established commercial manufacturer of acrylic impregnated wood flooring products.
The Korus brand will feature a full line of residential acrylic impregnated wood flooring manufactured exclusively in the U.S. in Karthaus, Pa.
Korus products require no refinishing, according to the company, but if the consumer chooses to sand and finish her floor 20 years down the road she will see the same color without having to re-stain as the color goes all the way through the wear layer.
Korus provides a 50-year non-transferable warranty. Currently, the company is only selling direct to consumers, via its online site, koruswoodflooring.com.
For more, visit nydreeflooring.com, or call, (800) 682-5698.
Mannington's rEvolve EPD Certified
CALHOUN, GA.—In response to the need for designers and end users to have standardized tools to communicate the environmental performance of products, Mannington Commercial has released an Environmental Product Declaration (EPD) for rEvolve, a thermoplastic polyolefin carpet tile that is the result of four years of product development and extensive testing, said David Kitt, the company's vice president, environment.
EPDs are the next step in a company's transparency efforts when it comes to showing the sustainability of its products as they offer an international standard of communicating a product's environmental impact throughout its entire lifecycle. EPD reports are used by government purchasers, green builders and owners, architects and interior designers to help make more informed product decisions in selecting products that meet their environmental purchasing goals.
"By releasing an NSF Sustainability-verified EPD, we are able to effectively accentuate our Mannington rEvolve carpet tiles in the marketplace and respond to increasing customer demands for more environmentally sustainable products and transparency in environmental claims," Kitt explained.
For more information on rEvolve or the EPD, visit mannington.com or call (800) 241-262.
J&J Industries Becomes J+J Group
DALTON—J&J Industries announced a new corporate name and identity to better reflect the company and its distinct flooring brands. David Jolly, president and CEO, said the company will now go to market with two brands, Invision and Kinetex, under the banner of J+J Flooring Group.
The company's flagship brand, now known as J+J/Invision, offers broadloom and modular carpet designed for a wide range of commercial interiors. Going forward, Jolly said the J+J will be removed, giving the brand a more contemporary feel.
The introduction of Kinetex, he added, gives the mill a second, distinct flooring brand. Kinetex is an advanced textile composite flooring that provides an alternative to hard-surface products. It is uniquely suited to retail, education, healthcare and institutional environments where durability is required.
"We now have two separate product lines that meet a wide scope of flooring needs. This new branding approach provides greater clarity to our company structure," Jolly explained, and "allows us to look forward with an innovative new product, Kinetex, and lets our Invision brand stand in the forefront, honoring its heritage and design-forward reputation
IVC US Achieves ISO 9001:2008 Status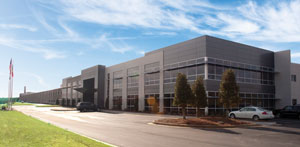 DALTON—IVC US announced its facility here has been certified to meet the requirements for ISO 9001:2008 Quality Management for the manufacturing and sales of vinyl sheet flooring for the commercial, retail and customer.
ISO 9001:2008 proven status provides committed manufacturing facilities with numerous benefits for achieving and sustaining high levels of quality and improved operating performance.
Xavier Steyaert, co-CEO of IVC US, said making the conscious decision to voluntarily pursue the rigorous criteria and assessment will "inevitably help increase efficiency, guarantee quality consistency and improve upon already established processes to save time, money and resources while increasing customer satisfaction.
To learn more, visit ivcgroup.us, or call (888) 225-8287.
Wagner Meters Takes Home Most Innovative Product Award
LAS VEGAS—Wagner Meters, a maker of moisture measurement tools, took home the Industry Choice 2013 Most Innovative Products (MIP) Award for its new DataMaster during the recent World of Concrete show. In 2006 Wagner set the standard when its original Rapid RH won the prestigious MIP Award.
Ed Wagner, president and CEO, said DataMaster device combines touch screen controls with Bluetooth technology and the Rapid RH Easy Reader for "goof proof" RH testing data storage that protects data integrity.
Jason Spangler, Rapid RH's sales product manager, added, "Knowing RH test data integrity is crucial from the first test to the final report, the new DataMaster combines with the Rapid RH 4.0 EX to protect the integrity of concrete slab relative humidity test data from the earliest testing to the final reporting."
Combined with the supporting website, f2170reports.com, he explained RH testing data can be uploaded from the DataMaster to the website for secure reporting, sharing and archiving, eliminating potential errors in data recording and simplifying ASTM F2170-complaint reporting.
"It's always an honor to have the industry recognize the effort and support we provide to the construction and flooring sectors," said Wagner. "Continued innovation will always move us forward to greater efficiency, greater accuracy and improved safety for everyone."
To learn more, visit rapidrh.com, or call (800) 634-9961.
Florida Tile receives national safety award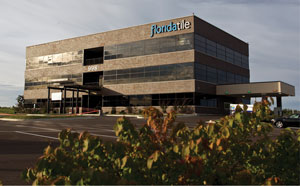 LEXINGTON, KY.—The U.S. National Safety Council recently presented Florida Tile with its Perfect Record Award recognizing at least 12 consecutive months without incurring a company-wide occupational injury or illness that resulted in days away from work or death.
To meet the criteria, Darin Dillow, Florida Tile's safety and environmental manager, said the award requires a company, unit and/or facility or an individual must have continued without the occurrence of an occupational injury or job-related illness involving days away from work or death for a period of at least 12 consecutive months, and be accordance with the OSHA record keeping requirements.
He added, the company also was cited separately by the National Safety Council with its Occupational Excellence Achievement Award for an overall job-related incident rate of half the Department of Labor's established minimum standards.
Headquartered here, Florida Tile employs 375 workers and operates its porcelain and ceramic tile manufacturing facility in nearby Lawrenceburg.
For more information, visit floridatile.com or call (859) 219-5200.
Marazzi, Others Donate to Help Children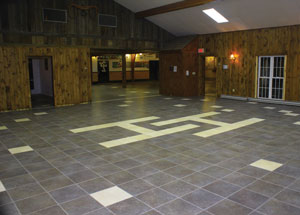 Lake Luzerne, N.Y.—American Marazzi Tile recently donated 12,000 square feet of porcelain tile to The Double H Ranch ranch here as part of a massive cooperative effort to help the not-for-profit organization.
Founded on July 4, 1993 by philanthropist Charles R. Wood and actor Paul Newman it has served over 20,000 children dealing with life-threatening illnesses from around the world and was the second "Hole in the Wall Camp" in what has become a worldwide network of not-for-profit recreational and therapeutic experiences for children with serious illness.
In addition to the 12,000 square feet of tile, 100 volunteers—ranging from manufacturers, professional tile installers and others, donated 1,500 hours for the project that was initiated and headed by Schluter-Systems' Rich Citro, territory manager for the lower Northeast. Onsite installation coordination was directed by third generation installers Anthony Mion & Sons.
Meanwhile Matt Bartkowski, Marazzi USA's New England regional sales manager, oversaw the large-scale donation of first quality porcelain tile that was used in the main building's welcome center, game room and three dining rooms plus the conference and theater areas. He called the experience "amazing…It felt great working side-by-side with all these industry professionals helping to improve this facility that does so many great things for critically ill children."
For more about Marrzaai, visit marazztile.com, or call (972) 226-0110. To learn more about Double H Ranch and the work it does, visit doublehranch.org, or call (518) 696-5676.
Cothran Joins SCS Global Services

Emeryville, Calif.—Carl Cothran has joined SCS Global Services to head its certification services for the flooring industry. The flooring industry veteran brings several decades of experience and leadership to the position, including extensive technical expertise in international manufacturing management. He replaces Nicole Munoz, who is transitioning to divisional quality management oversight.
In his new role, Cothran will continue the evolution of SCS' flooring-industry focused certification and assessment programs, including FloorScore, the indoor air quality certification program for resilient and other hard surface flooring; Green Squared, the Tile Council of North America's (TCNA) standard for sustainable tile and tile installation materials, and a range of other sustainable flooring standards. In addition, he will help advise companies seeking life cycle assessment services through SCS to support EPDs, health product declarations and environmentally preferable product claims.
Cothran will also be spearheading the consolidation of SCS' flooring programs for maximum service delivery and quality assurance, and will focus on expanding its programs into the global marketplace.
Most recently, Cothran was senior director of quality assurance for Mohawk. He has also worked for TexTure Tex, Horizon Industries, Integrated Products Plant 12 and Trend Carpet Mills.
SCS has been a leader in third-party environmental and sustainability certification, auditing, testing and standards development for three decades. Stowe Beam, managing director of SCS' Environmental Certification Services division, said "Our clients will appreciate Carl's in depth knowledge of the flooring community's quality issues and needs, and with his involvement, SCS is well positioned to continue to move our flooring certification programs in a direction that provides manufacturers around the globe with streamlined benefits and quality service."
For more information, visit scsglobalservices.com, or call (800) 326-3228.
NWFA Announced 2014 Expo Dates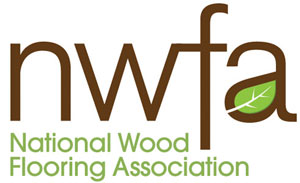 Next April 16 to 19, the National Wood Flooring Association (NWFA) wants the industry to "Strike a Cord" in Nashville, Tenn., at its 2014 Wood Flooring Expo.
NWFA officials said next year's event includes more trade show and more education hours, allowing attendees to take advantage of the more in-depth learning opportunities as well as getting to see more of what the wood flooring industry offers in terms of products, tools and equipment.
Michael Martin, NWFA's executive director, said next year's trade show is already 40% sold, "so it's a show you can't miss."
He added, Nashville provides "the perfect backdrop" for the Expo. The brand new Music City Center, the convention center, sits in the heart of downtown, not far from the exciting Nashville nightlife. And, the convention center is even adjacent to the Country Music Hall of Fame.
Check out more information about NWFA Wood Flooring Expo at nwfa.org, or calling (800) 422-4556.