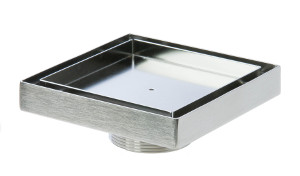 Luxe Linear Drains manufacturer a complete collection of architectural grade, 100% stainless steel linear channel drains in six standard sizes and two different styles for designing ADA-compliant, modern and stylish custom showers at home, or in any commercial setting. 
And while Luxe Linear Drains have been specified extensively by leading hotel brands and healthcare design firms for new construction (NC) projects and the hugely popular trend of tub to shower conversions, the company also developed pure stainless steel square replacement drains and insert trays to eliminate all those traditional, outdated round-center drains still out there. 
The Luxe Linear Drains line of 5" x 5" square drains with designer grate styles and popular insert trays that accept any porcelain, glass mosaic tile or natural stone materials up to ¾" for the quick, easy replacement of all conventional flanged strainers and drains. Demand for the square tile insert drains continues to skyrocket for the ability to create the appearance of uninterrupted tile design, and for creating the illusion of "vanishing" water as it just disappears below your feet.  Luxe Linear Drains use the universal design format with welded 2" diameter central outlets to make it as easy as possible for custom home builders, architects, interior designers and all kitchen and bath professionals to create modern, stylish custom showers.