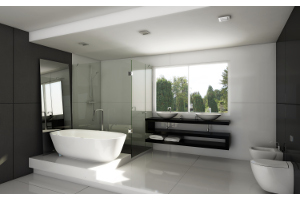 Cosentino has introduced Dekton, a new ultra-compact surface set with advanced technical properties for both interior and exterior design.The global launch embodies Cosentino's commitment to innovation, the evolution of the surfacing industry, and the future of the family-owned multinational company. 
Dekton is the most significant new product launch for Cosentino since its development of Silestone natural quartz in the early-90s. Cosentino has invested 172 million dollars into the new product, including 22,000 hours of research and development and the construction of a new state-of-the-art factory at the company's manufacturing headquarters in Spain. 
"The introduction of Dekton by Cosentino is a significant milestone for our company and the industry worldwide.  Its development has been a considerable undertaking, both in terms of investment and in utilizing the best technologies and expert minds in the business to push the envelope of innovation. The result is an entirely new product with extreme performance and unique design, and it's a very exciting to see it finally hit the market," said Eduardo Cosentino, CEO of Cosentino North America.
The new product is made from a mixture of inorganic raw materials found in glass, porcelain tile, and natural quartz.  The process by which it is made combines technologies from these three industries, resulting in a proprietary new advancement called Particle Sintering Technology (PST), developed exclusively by Cosentino's R&D team.  PST is essentially an accelerated version of metamorphism or the "change in form" that rocks and stone undergo in nature when subjected to heat and pressure over thousands of years. To manufacture Dekton, Cosentino has reduced this process to four hours with extreme heat and pressure resulting in an entirely new category of material – the ultra-compact surface.  The press used in the ultra-compaction process has a capacity of 25,000 tons, six times more than what has been regarded as the world's largest press up to now.
Dekton's technical characteristics provide unique UV resistance for color stability outdoors and exceptional strength and performance.  The product is resistant to impact, scratches and abrasion for use in high-traffic areas and has very low water absorption.  It also provides thermal shock resistance against heat, frost and thawing, enabling the product to be used outside in any climate.  This powerful combination allows Dekton to be used in multiple architectural applications including flooring, kitchen countertops, bathrooms, and many other home and architectural surfaces. For architects and designers, Dekton harnesses the potential for design to flow from the indoors to outdoor spaces using one continuous product, creating complete uniformity.
At launch, Dekton is available in 12 white, grey, black, and natural stone hues and in three polished, matte, and slate finishes.  In the future, the collection will expand to include a range of innovative aesthetics including wood, rust, concrete, and oxidized metal as well as a variety of textures, such as rippled, leather, denim, slate, brushed and coated.
"Dekton represents a giant leap in the evolution of surfacing materials with advanced technical properties and endless design possibilities.  It offers architects and designers a new way of looking at surfaces, fusing the inside with the outside and even wrapping an entire building, for a completely uniform architectural statement," said Valentin Tijeras Garcia, director of Product Innovation, Cosentino Group.
Dekton will be made in large format slabs measuring 56" x 126" and is available in three thicknesses: 1.2cm, 2cm and 3cm. It will be manufactured at the new factory in Spain with an initial production capacity of 1500 slabs per day.  Dekton will retail for $58-$96 per square foot, depending on thickness and color, at leading national retailers beginning in December 2013. For more information, please visit www.dekton.com.